I am guessing the bulk of the population already made up their mind who they are for May 2022. Yet that fact is not going to stop nauseating campaigning for all the parties and candidates. It is a fact of Filipino culture which I documented last election.
There is no campaign discussed more the same way Miller Light was discussed in classic beer commercials than the Robredo/ Cuneta Pangalinan campaign.   There are better places in GRP that detail the gulf between reality and illusion.
Before I live up to my click bait title , let's go through some other reasons why the thought of Leni Robredo as our next president makes many people throw up in their mouth:
Like Noynoy before her, Leni rose to prominence from necropolitics. Nothing like a death in the family to get people to care who you are so you can get votes. The Liberal Party playbook: if they didn't notice you in life , then point to a dead relative or two. Noynoy had no contributions in the Senate or Congress, Leni had zero contributions in the courtroom. Leni's camp tries to shake off the unintelligent label by naming honorary degrees and what her kids did. Why can't they show videos of her making sense? Instead her campaign prefer we see videos of her doing all this.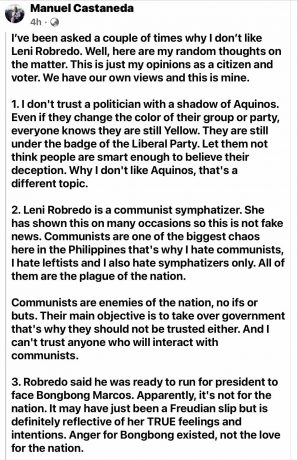 Leni was responsible for the well being of the Liberal Party. That is past tense because this election there is no Liberal Party. At least in name. To show you how fast things change in politics , the Liberal Party elected a president 12 years ago . In the here and now , that president has become radioactive.   Leni Lovers  tell us the Philippines will be a paradise with her as president.
Therein  lies the rub: she was the most visible member of the Liberal Party and they imploded. She can't lead the Liberal Party yet she will be effective with the Philippines?? She can't blame internal politics. There are none now. There was nothing to leave. How can you not hold Leni generally responsible for the Liberal Party falling off a cliff? How is that hollow shell of a party NOT about her leadership, perseverance, competence and resourcefulness?  The fate of that party says a lot about Leni and what she is and is not about. The Liberal party disappeared because nobody there was worth it . Including Leni .
Eight years ago I wrote this piece on the importance of symbols when it comes to national identity. Leni thinks simply changing her color will rid her persona of the stench of the Liberal Party. Noynoy, that complete moron only supported something the Liberal Party had total control of. Using that stupid yellow ribbon for his entire term , he was telling you the country did not matter at all. It is the symbol of the party and the interests of the party that comes before all.  Why do you think neither Noynoy or the Liberal Party stood the test of time? It is entirely comforting that Leni followed that same tactic 12 years later . Shows you why I never liked her. More than a few people agree.
Mar in 2016 dubbed himself Noynoy 2.0.  He even cried when the President endorsed him before the election that year. Weird though how he was so cavalier on the ground in Tacloban during the Yolanda aftermath. He even told CNN's audience ( there was no CNN Philippines in 2012) that  President Aquino was known as " Pnoy". What a stupid thing to have in your head with all the corpses and misery around him.
Leni believes drugs should be decriminalized . Leni believes Manny Pacquaio would make a good president . Leni believes communist supporters should be given a seat at the table when it comes to policy making. Leni believes it is ok to publicize that her daughter was in an alleged sex video that has yet to materialize just so she can blame BBM. Leni believes it is okay to use the Lord's altar to campaign alongside a non Catholic. Leni believes it is okay to change running mates with a month to go in the election.   Leni believes Auschwitz is a nice place for a photo opportunity. My question to you: Is it okay to believe in a person who believes all that?
Leni can not avoid the Mar Roxas 2.0 stink . They were running mates in 2016 and were on the ballot as "Daang Matuwid". A name you never hear bandied about today. Maybe because the practitioners proved to be very ineffective so they ditched the name. Anything Noynoy brought to the table since 2009-2016 is as treasured as a soiled condom. The only one who does not see it that way is Kris Aquino. Her brother has been dead almost a year and it's only now on stage that we find out that there is an unpublished  letter from the grave vouching for Leni's authenticity .KSP is the root of all evil.
Since 2009 , Noynoy, Mar or Leni force fed you all the Liberal Party rhetoric and symbols and songs. The problem is that in the proceeding 13 years what can we point to from them and their cohorts that materialized from their yellow brainwashing?? The same stagnant signs and slogans but nothing tangible. The same people telling you to vote Leni told you to vote Noynoy. How did that work out?? How is the Liberal party doing?? The boy cried wolf too much. A long time ago San Miguel had a beer called Lager Light which went the way of the tetradactyl. Well the brand went extinct but apparently the exact same beverage changed it's name to San Miguel Light and is the easiest beer to find in any restaurant in Manila that serves beer. I personally do not think San Mig Light  is a quality beer but it proves that things can be effectively rebranded.   Changing yellow to pink does not solve everything. It doesn't matter what color you wear , it only matters what you are . Leni believes lightning will strike twice, that this election she will be San Mig Light going from yellow to pink.
Leni of course learned from the best when it comes to necropolitics. Nobody could name one thing Noynoy ever did as a senator or congressman before August 2009. Nobody could name one thing Leni did as a lawyer prior to May 2013 . Leni back in June tipped her toe in the necropolitics pool trying to cash the cash the chips of the clueless one's death. The house it seems is not honoring those chips and that lead to the disintegration of the Liberal Party.  Noynoy exploited his mother's timely death. Leni would exploit Noynoy's death if there was anything to exploit.
I have laid out a plethora of reasons why voting for Leni would be insane. Personally the ultimate reason you can trust Leni as far as you can throw Franklin Drilon is the nonchalant way she looked at the events of August 18 2012. Rico Puno by all accounts was loved and trusted by Noynoy. Fact: He resigned because of a breaking and entering incident at the Manila apartment of Jesse Robredo while his plane was still missing. I doubt any of you relish your home being broken into. I also doubt any of you would enjoy the timing of that break in coinciding with a moment in time your spouse's life is in doubt. All that is fact.
Just based on the facts , I have simple questions. Others have taken the facts and have their own questions and their own conclusions. GRP's Ramon Ortoll discussed them here. He also believes Leni to be a train wreck of a politician. Then again what good politician would align themselves with Noynoy?  Manuel "Boy" Mejorada raises his own questions when it comes to the fatal flight that took the life of Leni's husband. Really worth the 11 minutes .
Even if you disregard the interpretations, the facts open  up a can of worms:  Why the urgency on the part of trusted Noynoy henchman Puno? Did he know something about the plane at that moment that we all did not know? If something was so important , why was it not in a government office instead of a private home? Why did Noynoy not stick up for Puno? The most important question of all: if your husband's home was immediately violated at an extremely vulnerable time would you trust the person who did the violating? Would you trust the person the boss that person was representing?? Well Leni went on to make that person her boss and was totally obedient to him.
Oxford Dictionary defines vice-president
an official or executive ranking below and deputizing for a president. "
In almost six years as vice president , she did not do her job as if she was ranking below. She looked down on the duly elected president. Leni as a vice president was not loyal to her president. Leni as a presidential candidate was not loyal to her daughter.  Leni as a wife did not seem traumatized by a fatal plane crash and a break and enter on the same day to ask the same questions I did. Her rallies make it a point to exclude the Philippine flag. Leni as candidate for president in the 2022 elections is not even loyal to her running mate. What makes you think she will be loyal to the citizens of that flag??
Epilogue
We all have been exposed to the campaign tactics by Leni fanatics. Many of them Noynoy fans who never saw him as the Emperor with no clothes. Let's go door to door, let's belittle those that think differently and let's disqualify the front runner. Making Leni out to be saint or in the image of the Virgin Mart or whatever. Fabricating sex scandals for the sake of slandering those they envy. I normally will not watch the Netflix show Bridgerton but I found myself paying attention to S02E02 and a quote hit me on the head like a large frying pan being held by Mike Tyson that screamed Leni campaign.
Attempting to influence others as to the correct course of action, well, it is often a trying and irritating endeavor that only brings out the worst in us before we discover it has been fruitless all along."
It just crystalized my thoughts so eloquently on the campaign of the yellows who are now pink.
Putting a very sharp needle into the balloon known as Pinoy Pride since 2012.