Yellowtards soldier on despite the odds of a victory. Credit them for that. Some clues as to what exactly fuels this remarkable persistence is in a tweet recently fielded by their chief "economist" JC Punongbayan.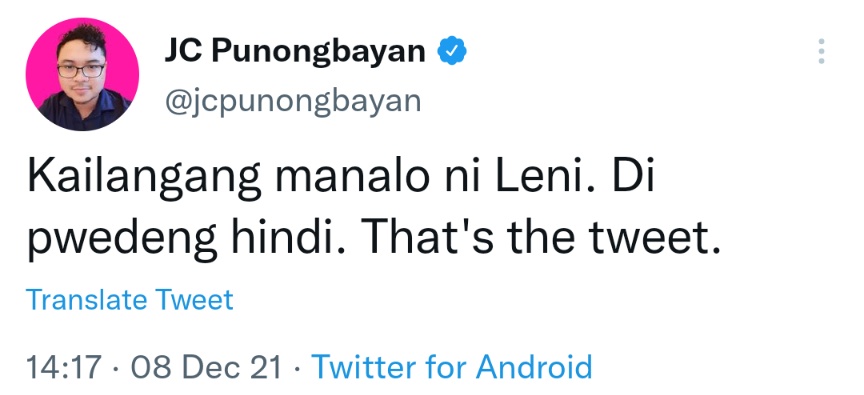 According to Punongbayan, the possibility of Robredo suffering a loss in May 2022 is unacceptable. Well, golly gee, that's an interesting one. That's like buying a lottery ticket and expecting to win a million bucks. It's like a Robredo win is an entitlement the Yellowtards are exclusive heirs to. Stop and think about this for a moment. Campaign for Leni Robredo under the premise that she must win. It's like Punongbayan is inventing an entire new sort of mathematics to support his personal beliefs on the matter.
Well, fair enough. Believing in the product is essential to mounting a convincing campaign to sell it. The surrounding context to Punongbayan's declaration of a Robredo win as fact is the recent Bongbong Marcos – Sara Duterte motorcade that graced Quezon City the other day and attracted a massive crowd. It is as if Punongbayan beheld that sight shook his head and thought, this is unacceptable, then tapped out his tweet.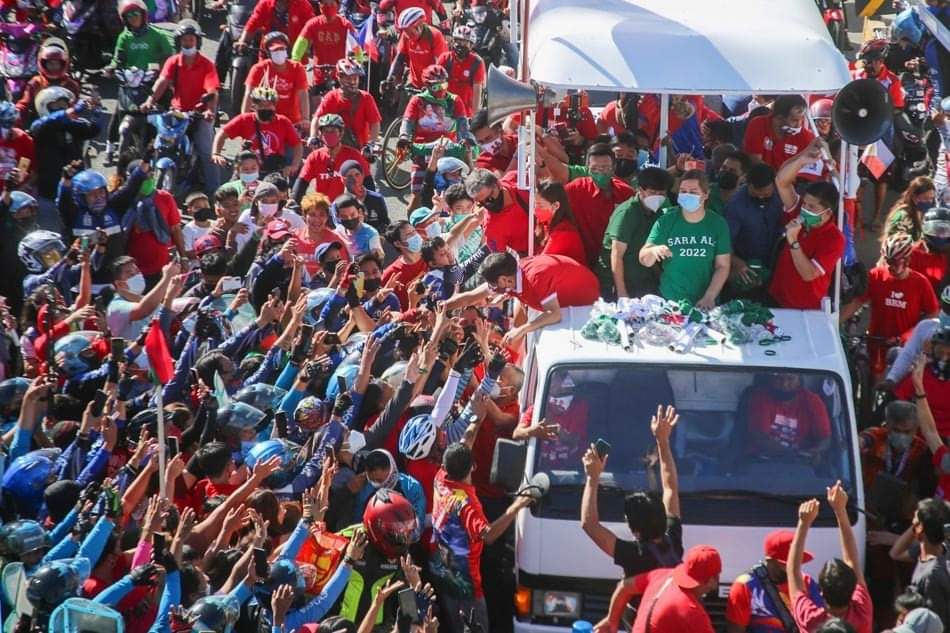 So, okay, fine. Robredo must win. Say, for argument's sake, it is so. The obvious next question is this: How do the Yellowtards plan to make good on that edict? This is where it gets interesting. Mounting a better campaign seems to be out of the question. Despite numerous gaffes and ill-thought-out stunts falling flat, there is no sign that the sissy KakamPink character of Robredo's campaign will change strategically anytime soon. Robredo exhibiting a bit more statesmanship in her demeanor? Possible but quite the tall order. Robredo is unable to string together a coherent thought stream in any language, much less English. Scratch that one too.
This leaves outright removing Bongbong Marcos from the race — either by disqualifying him or cancelling his Certificate of Candidacy. But will removing BBM mean that Robredo will win? Say again, for argument's sake, that a large chunk of votes that would have gone to BBM went to Robredo instead and, as a result, racked up the most number of votes in these elections which means she gets to be President. In that unlikely scenario, would one consider Robredo the winner? If you were a Yellowtard, yes.
Thing is, most Filipinos aren't Yellowtards. Robredo may become president if her henchwomen succeed at removing BBM from these elections. But she will not, by any stretch of the imagination, be seen to have won these elections. For that matter any one of the Opposition candidates may become president if BBM were not in the picture. But none of them would be winners.
Good luck then with the personal arithmetic that you apply to your call to action, Mr. Punongbayan. Perhaps the lot of you will find a way to make Robredo President of the Philippines. But making her actually win these elections is something you people will not succeed at.
benign0 is the Webmaster of GetRealPhilippines.com.