Last week saw a spate of rallies conducted by the leading Yellowtard bloc of the Philippine Opposition headed by "vice president" Leni Robredo. One which was held in Cavite boasted "47,000" participants. Another held in Bulacan Saturday boasted "45,000". The source of both numbers was very likely the organisers themselves and, as expected, this "information" was amplified by dishonest "journalists" like Mara Cepeda of Opposition "social news network" Rappler.
WATCH: Some 45,000 Kakampinks attend the grand rally of presidential candidate VP Leni Robredo and her running mate Sen Kiko Pangilinan in Malolos, Bulacan.

Will tens of thousands of attendees become the new staple at Leni-Kiko rallies?

? Team Kiko Pangilinan @rapplerdotcom pic.twitter.com/52JIZEDtpE

— Mara Cepeda (@maracepeda) March 5, 2022
A photo featured in the Manila Bulletin "report" titled "The battle is on: 45,000 supporters pack Robredo's grand rally in Bulacan" included the caption, "Bulacan sits in the same table with Iloilo and Cavite, as Malolos City welcomed Vice President Leni Robredo and her running mate Kiko Pangilinan with a whooping [sic] 45,000 pink-clad supporters during their campaign rally on Saturday, March 5. (Photo courtesy of Del Laddaran)". Where the 45,000 estimate came from, as mentioned earlier, remains a mystery and it is evident neither Cepeda nor Raymund Antonio who authored the Bulletin "report" could be bothered to find an alternative source to corrobrate what they were told.
An easy approach would have been to at least use the photo included in the Bulletin "report" — or, for that matter, others shared on social media — as basis to do some quick independent estimates. The Bulletin photo shows some indication of where the edges of the crowd lie and, from that, give one an idea of the ground area within the Malolos Sports and Convention Center it occupied at the time the photo was taken.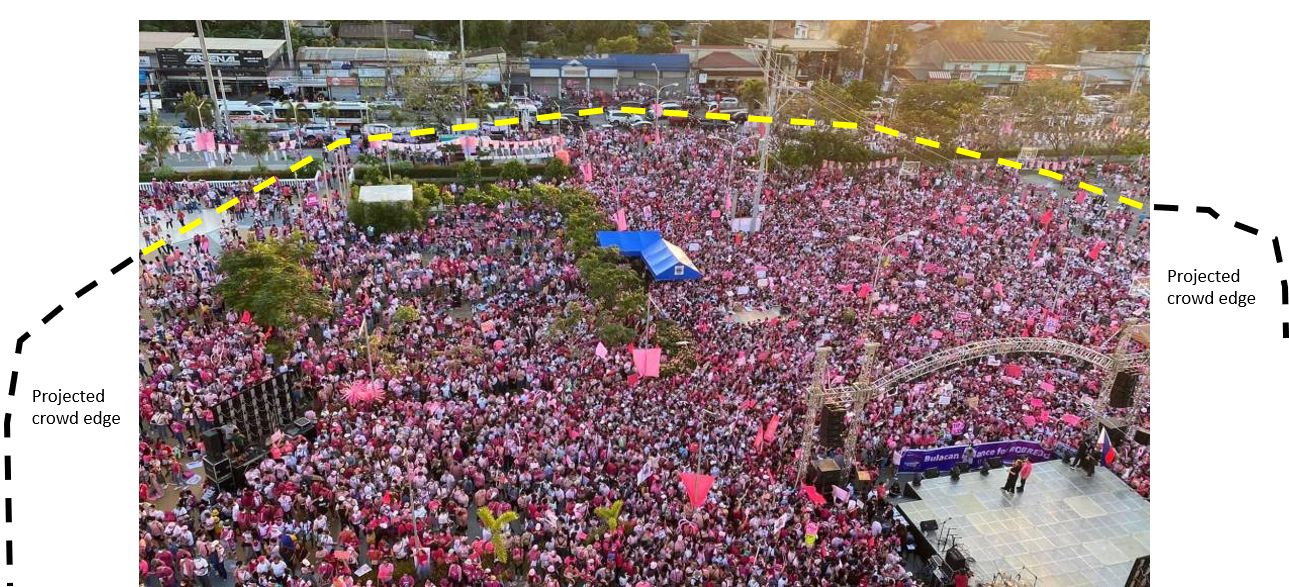 From such a simple analysis alone, it would have been easy to see that the notion of a "45,000-strong crowd" at the Bulacan rally being bandied around by both the Yellowtards and their lackeys in Big Corporate Media is not plausible at all. [NB: the analysis approach that follows is credited to Twitter user "Sysiaco" who demonstrated it in a tweet] Even if the entire complex grounds were filled to a density of three people per square metre, these grounds could have hosted only 36,900 people. And on the basis of the projected ground area taken up by the crowd in Antonio's Bulletin report, there could have only been 18,000 people in the event at most.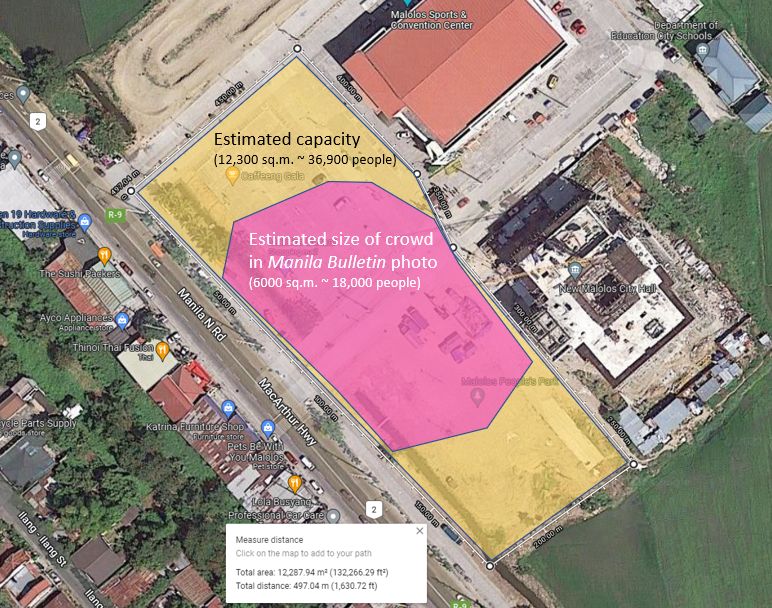 That the Yellowtards would routinely conspire with Big Corporate Media to spread misleading information about the size of their rallies — as in this instance — gives ample cause to doubt every bit of "information" they release on the outcomes of their rallies and campaign sorties. It is also further proof of the atrocious quality of "journalism" Filipinos are being subject to by what are supposed to be the largest and most prominent news organisations in the country.
benign0 is the Webmaster of GetRealPhilippines.com.