The Philippines does not have a monopoly on electoral dysfunction. In 1991 Edwin W. Edwards became the Governor of Louisiana for the fourth time.  He started his fourth term, four years later than planned because in 1987, he was mired in defending himself against federal racketeering charges. Why the comeback you might ask? His key opponent was Republican David Duke who was known as a former Ku Klux Klan grand wizard and Nazi sympathizer. A candidate so vile the Republican president at the time disowned him. Out of a whole state these were the two "standard bearers". It is almost as pathetic as winning against a former action star who was found guilty of plunder. But I digress.
My point with that story is simple. Winning anything in politics does not make you special. You can be a lousy governor who gets charged for racketeering serious enough to involve the Feds but if your key opponent happens to espouse racist views by being affiliated with the Klan and the Nazis well you win despite being a loser. It should be noted that  Edwards (2001) and Duke ( 2003) both did see the inside of a jail cell a decade later. So this bleak story does have a happy ending we can only dream of in our shores.
I will never understand pinoy pride in a million years. Many times when you look at how a pinoy makes a decision, they will not tell you what is good about their choice but what is bad about their alternative. There flaws with that kind of thinking. First you render the capabilities of your choice irrelevant. Secondly you tend to exaggerate the flaws of the choice you are rejecting. Local politics sets the bar so low on alleged human beings yet expectations ( and expenses) are set so high every campaign season. And like complete imbeciles, we never learn our lesson.
I have never been a fan of Jojo Binay. Makati Day for years have been a double whammy. The events were thinly viewed excuses to worship his family yet we still had to work. Should any of you still think of me as some starstruck Binay stooge , I was the first person in GRP to point out the one sin that Binay can never deny. One thing an intelligent man could never do. He endorsed his do nothing daughter as a senator. The scarier part of that equation is we the Filipino nation believed him. Binay knew it would work because the voters in 1998 did not demand intellect from Erap and the voters of 2010 did not demand intellect from Noynoy. Dumb is as dumb votes guys. Proud to be pinoy.
If Binay is the cancer , let me guess : Mar Roxas is the cure??? In May 2016 we will see how the Filipino voter has evolved since 2010. Granted the way 2013 turned out I am setting my hopes very very low.
In 2009, Mar gave way to the man he will continually praise, the same way John the Baptist promoted his cousin Jesus. The same way the Silver Surfer heralded Galactus. Here is the problem with that. Jesus if you believe John 3:16 is the savior of the world. Galactus is on record for devouring worlds. Noynoy in a dozen years in Congress and in the Senate could not even author one law. Noynoy 's campaign in 2010 was very similar to Jerry Seinfeld 's hit eponymous sitcom. They were both about nothing. As far as Mar and Korina were concerned it was the greatest thing in the world.
"For me, Noynoying means somebody who always tells the truth," Roxas said in a speech at the weekly Kapihan sa Diamond Hotel news forum. "For me, Noynoying means somebody who is so careful about the people's money, who does not borrow recklessly and who does not spend recklessly."

Read more: http://newsinfo.inquirer.net/167783/roxas-likes-noynoying-too#ixzz3n6T8S02h
A third into Noynoy's reign of superficiality, the Palace was faced with having to defend itself against the Noynoying craze. Protesters picked up on that defining characteristic of doing nothing and gave it a name. A fact that his campaigners boasted was an asset not a liability. Mar defended his idol by redefining the term Noynoying to his idealized vision of his idol . You really think a guy excited about hot air and none achievement makes for a good president ? I don't.
One of my favorite personal contributions to GRP is when I wrote the piece Noynoy Aquino Vampire Hunter. In it I made the point that not only was the Noynoy Aquino that this country in their infinite wisdom elected in 2010 have no achievements , he had no failures either . Which just showed you the guy could not be bothered through his whole life to do anything. He was your quintessential trapo. Yet he himself says don't vote for trapos.  You know you are witnessing an out of body whenever Noynoy tells people what to do , what not to do and who not to vote for. Often he is talking about him own flaws when he rails so high, mighty and self righteous about the flaws he sees in others .
Mar Roxas in his second take as presidential candidate does not have the blank slate his idol and former running mate did. Maybe the same blank mind but not the same blank slate. Mar has the aforementioned failures lacking from his idol's resume. Mar has been a pedicab driver, onion sack lifter, helmet less motorcycle driver and most famously a rain drenched traffic enforcer. The video was obviously there to seek out publicity since Mar obviously lacks any real substance.  Look at the use of several camera angles and editing and you come to the conclusion this was more choreographed than Riverdance. People chastise Nancy Binay for being a 20 year OJT and rightly so. Yet the Binays to their credit don't have a video of her OJT exploits. Yet the Binays are epal and Mar is not? Says who ?
Much has been made of Mar's performance in Tacloban in the wake of Yolanda. It's weird how in a way it's a Rorschach test for the yellow and none yellow. Noynoy even two years after the fact wants you to believe Mar is Mr. Reliable ,  there at the disaster site to aide the weary and the unfortunate. I have an alternate view. Mar was there in Tacloban to be an epal tool for the yellow gods. Most sane people will bring up Mar, with the backdrop of corpses and human misery, attempts to wrestle away power and control from Tacloban's Romualdez by stating last names and implying that history will affect the present relief efforts.
In my personal reaction to the events that unfolded from the Yolanda disaster, I picked up a more subtle name game Mar played in public that for me solidifies his true purpose of being at ground zero of the Yolanda tragedy.
I can not be redundant when I continuously harp on the fact Mar was doing his job with death and misery as a backdrop. Difficult for anybody I am sure. None of us would want that job. The man who wants to be president in 2016 had that job. In this video he was already there six days. The thing is what job did he do? Everybody else picked up on him throwing his weight around and bringing up family names despite the fact people spared from the super typhoon needed help and corpses littered the ground. Most normal people would have a lot on their mind. Mar Roxas with his boundless love for Noynoy can not be considered most normal people.
In the same interview where most people caught Mar trivializing the fact that the streets of Tacloban was a morgue I heard something more subtle. The best poker players can pick up on the "tells" of their opponents . For me Mar showed a significant tell of his true agenda that fateful September in Tacloban. Something I doubt your vote deserves to condone.
The world was fixated on CNN with the disaster whose magnitude we rarely see. For that moment in time Mar was speaking to the world of the condition of the community he was supposed to serve. Was he tearful and beside himself? No, he was saving that for the public endorsement he would eventually get two years later in Club Filipino. With the CNN audience paying attention and in the wake of the intense carnage he was witnessing first hand, he decides to educate the international audience on the yellow term of affection for his bumbling unaccomplished master. For some reason he has the presence of mind to evoke the term of endearment "Pnoy" to the CNN worldwide audience. Does this sound like a person who can establish priorities of substance? Does this sound like a human with perspective? You want to give this guy your vote?
Mar has served for the three previous presidents. I don't know how it is humanly possible ( unless you are a career government employee) not to be extremely repulsed by at least one person on that list. In high school science we learned that water takes the shape of its container. Water has no shape on its own. Just like his idol Noynoy had no identity outside of his corpse parents and his KSP sister, Mar was a figure of convenience who saw three presidents up close. He also had a good seat to see current Vice President Binay in "action" . You ever recall Mar standing up on principle on any of them? Making his own stand? Chart his own course? Yet you think this guy will make a good president? You envision Binay as a cancer fine, but what in Mar's history gives you even a hint that he is a cure for that cancer?
Your vote is important. A vote for Mar means you reward his penchant for photo opportunities or in the vernacular "epal" . A vote for Mar means you reward his public slobbering of his idol Noynoy. You believe cheer leading is the gateway to the presidency. If you vote for Mar you will reward him with being an accomplice to whatever president you feel was stealing from this country . Whatever president you feel was using taxpayer funds to bribe to get their way , was endorsed by Mar. Mar championed them all.
If at this point if  I still have failed in my opinion that Mar through his actions and inaction does not deserve your vote in any way shape or form I will conclude with this . Ultimately, you want a president with good judgement. Don't know about you but deciding on a lifelong partner is an exercise in judgement and is a reflection of good judgement. I rest my case.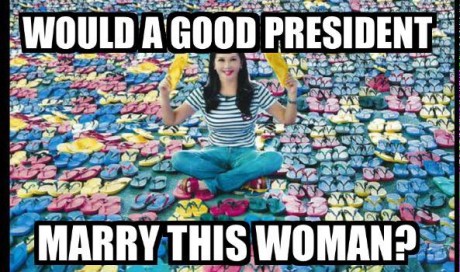 note on the memes: a few are mine, a few are from GRP FB and most are scattered around the net made from people as disgusted as I am on how Mar levels up his epal abilities every time we turn around. 
Putting a very sharp needle into the balloon known as Pinoy Pride since 2012.