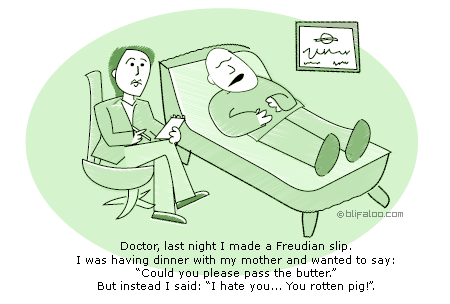 freudian slip freud·i·an slip
Noun:
An unintentional error regarded as revealing subconscious feelings.
We don't know anything for sure (is that libel) but a Freudian slip is what seems to have happened . The National Press Club initially said that the libel portion of  the Cybercrime Act was "society's weapon against bloggers".  They had since retracted that statement. Make no mistake that they made no mistake. Their choice of word was intentional.
The short version of it is that cyberspace has given more people a voice into our mixed up world. No more taking a press release at face value with your only guide being an op/ed the next day written by somebody whose opinion might be compromised by various things. The NPC is fearful that further questions may show a money trail from politicians to their most visible members. When somebody defends the indefensible with their journalistic voice they are either a family member or bribed like nuts. Then where  will the NPC be? Not sure why they resent "bloggers" so much when it was one of their own that compared a 50 year old with zero accomplishments to Aragorn of LOTR fame. Is that libel?
You read enough of anyone's opinion and eventually you will get a feel for what makes them tick. If they are employed by the same medium that they are pontificating on , guaranteed that there are some commercial aspects that are factored into whatever message they are conveying.
You really believe ABS CBN and Inquirer are there to inform and educate their audience? They are there to serve the agenda of their owners. Money is always in the agenda. I have nothing against capitalism though I do have something against stupidity.  This is the  Philippines. Audiences that advertisers crave are not lured by content of cerebral nature.
I did a GRP piece once on the stupidity of Inquirer headlines. My personal theory is that the stupidity in the headlines is there to draw away attention from certain erudite columnists with spectacular claims heaped on a very unspectacular individual .  To those that formulate the editorial policy and programming of ABS CBN specially during the 2010 election I have a question. By elevating a 50 year old non-achiever to a virtual ubermensch with all the media tools at your disposal, are you truly serving your country or yourselves ? Is that libel?
If you come to me for answers I truly pity you. Like I admit in my bio I am an MBA Sweathog. I don't ever want you to read something I have poured my guts into and have you feel that you have all the answers or I have all the answers. What I rather you do while you read me is ask more questions from what is being shoved down your throat.   Agree with me, disagree with me but please don't take mainstream media at face value. For the most part they are compromised doorknobs doing the bidding of rich doorknobs. Is that libel?
"Moderate giftedness has been made worthless by the printing press and radio and television and satellites and all that. A moderately gifted person who would have been a community treasure a thousand years ago has to give up, has to go into some other line of work, since modern communications put him or her into daily competition with nothing but world's champions."  Kurt Vonnegut, Jr., novelist (1922-2007)
News outlets in this country have been made less relevant with the new technology. Now more than ever people with a few keystrokes can be exposed to thoughts , processes and results beyond what you see in your immediate vicinity. Specially if what is in your immediate vicinity is mediocre.  That is how I feel about our journalism in this country . At least that shortfall has motivated me in a small way to probe further and invite others along in my personal quest to cut through the rubbish being served as health food by our local media.  I think the NPC got it all wrong. Bloggers are not a menace to society that they require some Orwellian piece of legislation to minimize their damage. Bloggers are society's weapon against institutions that made legends out of bums. Bloggers can be like the little kid telling the "adults" look the emperor has no clothes ( and no hair).  Is that libel?
Putting a very sharp needle into the balloon known as Pinoy Pride since 2012.