Journalist Roby Alampay who formerly held executive positions at BusinessWorld and the TV5 network asked a question yesterday that launched a thousand responses and plunged Yellowtardom into a fit of long-overdue introspection. Alampay posted his question on both Twitter and Facebook after which it attracted some interesting responses that revealed quite a bit about what goes on in the Yellowtard mind.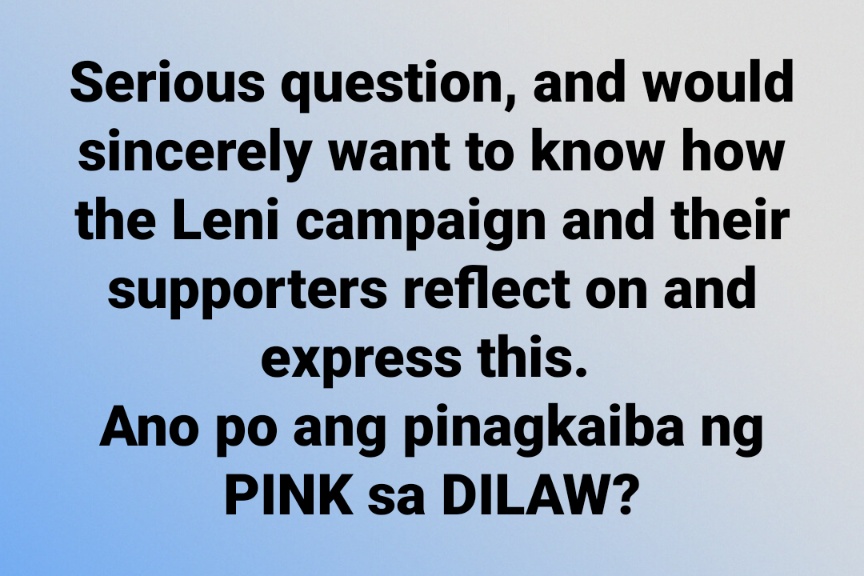 Following a quick peruse of the responses, the most common type boils down to this essence: Yellow was the colour of the Aquinos and represented "us" while Pink is the colour of a true reform movement and represents "we". In short, the Yellowtards imagine a hard line between the Yellow of the Aquino-Cojuangco clan and the Pink of Leni Robredo. They see Yellow as exclusive and Pink as inclusive. Yellow is Aquino, Pink is Robredo. Are we starting to see the pattern here? This is the sort of response coming from members of what was once a monolithic Yellowtard community that is now divided from within into two colour-branded factions. From an outsider, however, they are all essentially Yellowtards quibbling over what, in the bigger scheme of things, are immaterial differences between two Yellowtard sub-cultures.
SUPPORT INDEPENDENT SOCIAL COMMENTARY!
Subscribe to our Substack community GRP Insider to receive by email our in-depth free weekly newsletter. Opt into a paid subscription and you'll get premium insider briefs and insights from us daily.
Subscribe to our Substack newsletter, GRP Insider!
Learn more
Alampay qualifies his question as a "serious" one. But the responses it attracted borders on hilarity. The tidal wave of funny responses can only be collectively described as a tidal wave of intellectual dishonesty. Examples to illustrate this dishonesty abound even just over the last several months. To welcome the New Year back in January, no less than Yellowtard ally Akbayan repurposed an old photo of a relatively slim Robredo posing with Akbayan honcho Risa Hontiveros for use in a campaign tweet. Akbayan evidently does not see much difference between the two colours.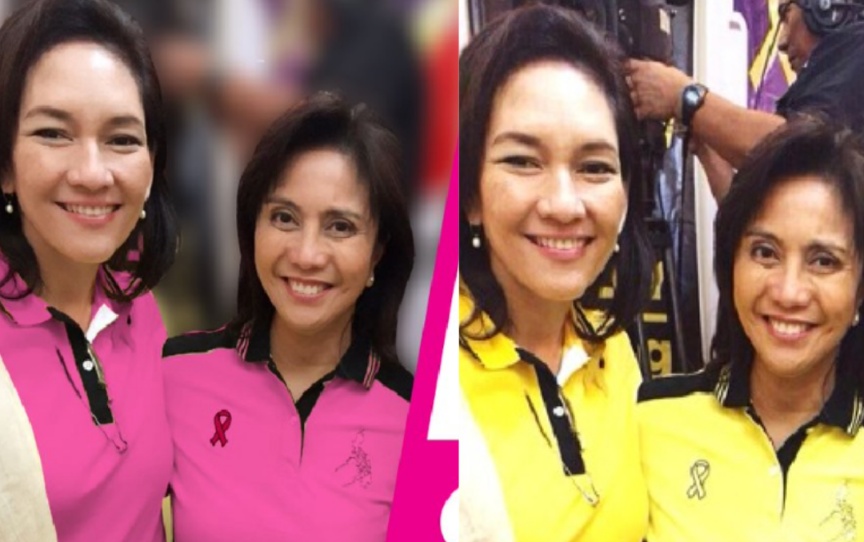 Alampay's question is all the more confronting to Yellowtards today because it is coming from one of their kind. That said, this is not a new question and is one we asked as far back as 2018 in our piece "Why do Yellowtards no longer wear the colour yellow in their rallies?". In that article is highlighted a key reason as to why the Yellowtards take so long and miss so many lessons before they learn to come together for the sort of introspection that is routine to most normal people who are consistently self-aware.
Has the colour yellow become a taboo colour in Philippine Opposition politics? The concept that yellow had become taboo boggles the mind considering how, for more than three decades, the colour yellow was regarded by many Filipinos as a symbol of all in politics that was good.

How do we go about solving this mystery? One would think it would be a simple matter of asking a typical Yellowtard the simple question:

Why do you Yellowtards now seem to shun the colour yellow?

Perhaps it is because the typical Yellowtard would likely answer in a not-so-straightforward manner or would simply outright refuse to "dignify the question" with an answer. That's pretty typical of a Yellowtard, to be fair. A Yellowtard would be offended by what is otherwise a pretty valid question. One's perfectly sensible curiosity is met with a baffling defensiveness.
Furthermore, "[the] change in choice of political colour amongst Yellowtards seems to have been driven from within their ranks. Yet, because they have long shown an inclination to externalise the perceived causes of their problems, they fail to consider that, perhaps, there is something about their very nature that contributes to the failures they've been experiencing in recent years." This then brings to the fore the inconvenient truth about Leni Robredo's dilawan partisan origins and how she morphed from one colour to another over the last six to seven years like any traditional political chameleon.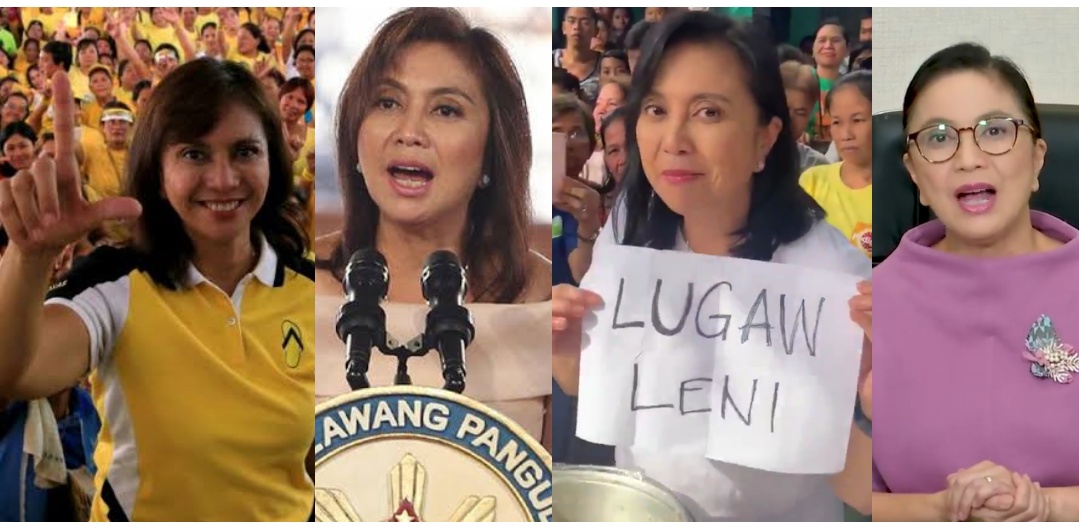 The six-year colour mutation of Yellowtardom was not any one person's brainchild but, rather, a pathetic trial-and-error journey. The colossal defeat of Liberal Party (LP) presidential candidate Mar Roxas to Rodrigo Duterte in 2016 seems to have been where it started. Robredo was part of all that being no less than the LP vice presidential candidate and Roxas's running mate. The campaign in the lead up to those elections was totally bathed in Yellow to the point of monumental cringe.
If it weren't for Robredo's dubious "win" over then rival Bongbong Marcos, the LP would have been a total write-off as a political force right there and then. Still, the top "thought leaders" of Yellowtardom evidently continued believing that the yellow stain that blights their lot only needed to be whitewashed which they literally did shortly after that fiasco. That sloppy whitewash delivered an even bigger disaster to their political brand.
What were the Opposition thinking when they came up with their latest media stunt? It's an aping of the Hunger Games salute that came across like the Nazi Sieg Heil! salute. Talk about double-whammy fail! If this was attempt at a rebranding to distance themselves from the Yellowtards, it seems they made things worse and further revealed just how confused their collective movement is.
Today, we see only the most recent flavour the Yellowtards have taken. The rise of pink as the dominant Opposition colour is a product of the very social media "effect" the Yellowtards keep whining about. Inquirer columnist Joel Ruiz Butuyan captured the spirit of this mass tingala to a dishonest brand that started it all. In his October 2021 piece "The tasks ahead for Leni supporters", he wrote of the "dream candidate of the opposition, Vice President Leni Robredo" and how her candidacy for president "generated a stirring momentum from the moment she made the announcement"…
For three days from the day she delivered her "Lalaban ako" speech, there was a sea of pink on my Facebook wall. Many of those passionately coming out for Leni on social media are millennials. If this reflects a trend, it bodes very well for her because the youth are a huge chunk of the voting population.
Therein lies the whole trouble with the Yellowtards. Rather than listen, they behave like a Taliban-like lynch mob of book burners and censors — quick to judge, utterly lacking in imagination and curiosity, and guided only by primal tribalism. You'd think you could expect a bit more from private school Katipuneros like "journalist" Howie Severino, for example. To the late National Artist F. Sionil Jose who, at risk of being burned at the stake for his views, expressed direct opposition to Rappler CEO Maria Ressa's Nobel Peace Prize award on Facebook last year, all the "respected" GMA News Online honcho could respond with is a lame ad hominem…
My opinion as a reader — I've read your books and I've read Maria's books. She's a much better writer.

Your books are hard to finish. Your dialog is stilted and unrealistic. Even your columns contain little to no insight. But I like your bookstore.
What's the difference between a Dilawan and a KakamPink, Alampay asks? Nothing. They are both Yellowtards. Often it is the simplest explanation that tends to be the most sound one. There is no squirming about that confronting reality.
benign0 is the Webmaster of GetRealPhilippines.com.