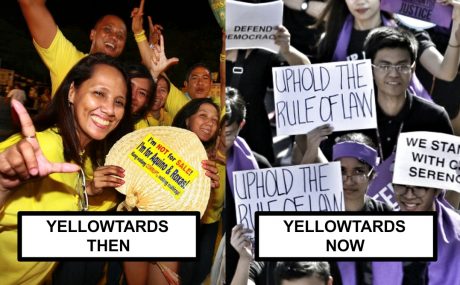 It's a mystery. Not too long a time ago, the colour yellow was worn by Yellowtards with pride in their political events and protest rallies. Suddenly the practice stopped. In fact whenever leaders of the Opposition organise and call for a rally or some sort of political action nowadays, they even issue clear instructions to "wear white" or some other colour — except yellow.
Has the colour yellow become a taboo colour in Philippine Opposition politics? The concept that yellow had become taboo boggles the mind considering how, for more than three decades, the colour yellow was regarded by many Filipinos as a symbol of all in politics that was good.
How do we go about solving this mystery? One would think it would be a simple matter of asking a typical Yellowtard the simple question:
Why do you Yellowtards now seem to shun the colour yellow?
Perhaps it is because the typical Yellowtard would likely answer in a not-so-straightforward manner or would simply outright refuse to "dignify the question" with an answer. That's pretty typical of a Yellowtard, to be fair. A Yellowtard would be offended by what is otherwise a pretty valid question. One's perfectly sensible curiosity is met with a baffling defensiveness.
This could be the reason why the question may never be answered — because Yellowtards themselves couldn't be bothered to confront the reality of why the colour yellow no longer rocks. Even more disturbing, it could be a sign that Yellowtards are incapable of evolving. The journey towards a enlightened state often starts when one is willing to answer the hard questions.
The change in choice of political colour amongst Yellowtards seems to have been driven from within their ranks. Yet, because they have long shown an inclination to externalise the perceived causes of their problems, they fail to consider that, perhaps, there is something about their very nature that contributes to the failures they've been experiencing in recent years. In their monomanic focus to find the roots of their problems elsewhere they fail to find the solutions that could easily come from within them. Tragic indeed.
benign0 is the Webmaster of GetRealPhilippines.com.