Evelio Javier's heroism, although still somewhat remembered, is only vaguely honored by the acts of his brother and nephew.
Except for the recent protests against Bongbong Marcos' campaign rally at the site Evelio's assassination, his kin's lengthy political careers didn't lead to a true battle that would end the poverty and corruption that was once attributed to the "evil" Marcos regime.
In fact, the Javier name had been stamped with accusations of plunder and abuse of privilege – leaving it an anemic and ghostly mere footnote in a history written by the victors of a power grab thirty five years ago.
Was It Heroism or Opportunism?
The EDSA Uprising of 1986 produced as many heroes as the number of people that crowded the major thoroughfare 36 years ago.
I could count myself as one of them, as many might have, for merely showing up with some sandwiches and bottles of water or for just standing around the vicinity wondering what all the ruckus was about.
While most people wouldn't have an idea of what their role was beyond threatening to clog up tank tracks with their flesh should the order be made, there were those who were hyper-aware of how the flow of vast fortunes could be changing its course beneath the subterfuge of "revolution".
I am not saying that there were opportunists everyone who switched allegiance from President Ferdinand Marcos to the junta led by Fidel Ramos and Juan Ponce Enrile, but seeing the events that played out between two Aquino Presidencies one could make a strong argument that the country is ruled by Thernadiers.
Masters of the land
Always get our share
Clear away the barricades
And we're still there!
We know where the wind is blowing
Money is the stuff we smell.
And when we're rich as Croesus
Jesus! Won't we see you all in hell!

— Beggars at the Feast, Les Miserables
One of the names that crops up in most re-tellings of the EDSA 1986 revolt is Evelio Javier, who allegedly had been gunned down by assassins hired by his political rival Arturo Pacificador.
According to Evelio's son Gideon, who was recently interviewed on ANC, Pacificador had masterminded his father's assassination with the blessings of former President Marcos. (You can watch his interview here https://www.youtube.com/watch?v=gVI5c5Avprk )
Gideon claims his family never got justice for the death of his father, who is often identified in the lore of the EDSA 1986 revolt, as an anti-Marcos martyr.
Because, perhaps, just like Ninoy Aquino's assassination, justice for Javier's brutal killing was mangled by the inexplicable way our judicial system works – even when our courts were functioning under a more enlightened, ennobled post-Marcosian phase.
Even sadder is a video posted two years ago on Facebook of Paolo Everardo Javier, son of Exequiel the younger brother of Evelio, laying a wreath at Evelio's statue. One would assume that one of the first martyrs of the Aquino regime and one that supposedly helped precipitate the EDSA 1986 revolt would be commemorated by a larger audience instead of being a small poignant family affair.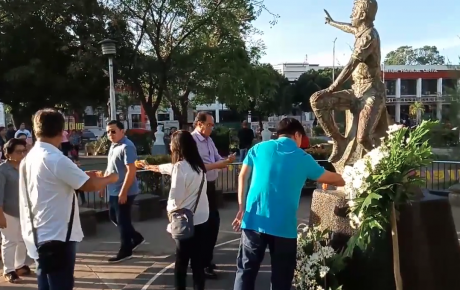 The question that seems right to ask is, did Antiquenos stop loving the Javiers after Evelio's death?
I wish I could find out more about how the Javiers (Exequiel, Paolo, and others) fared as elected officials beyond the couple of news articles floating around on the internet.
It would have been relatively a good thing if Exequiel and Paolo had a bunch of boring local government news stories attached to their names within the first 100 Google Search results, but what I found was:
Ex-Antique gov to appeal conviction (https://newsinfo.inquirer.net/1355823/ex-antique-gov-to-appeal-conviction)

Former Antique governor Exequiel Javier vowed to contest a court ruling that found him guilty of violating an election law in 2013.

"We will file an appeal this week and bring it to the Court of Appeals and Supreme Court if necessary," Javier told the INQUIRER on Monday evening

The former governor insisted that he did not violate the Omnibus Election Code because he was abiding by the Local Government Code when he implemented a 30-day preventive suspension against Mayor Mary Joyce Roquero of Valderrama town in Antique.

Javier said the suspension order, which was issued on Jan. 23, 2013, was not covered by the 90-day ban on the suspension of elective officials before the May 13, 2013 elections based on the Local Government Code.

Lakwatsa grande! Teo, 4 lawmakers going on European junket for 'gender equality' (https://politics.com.ph/lakwatsa-grande-teo-4-lawmakers-going-european-junket-gender-equality/)

Tourism Secretary Wanda Teo and four members of the House of Representatives are set to leave for Iceland and Norway this week, ostensibly to study the two European countries' practices on gender equality.

A report published by the Philippine Star on July 11 identified the House politikos joining the trip as Reps. Ma. Carmen Zamora of Compostela Valley, Mark Aeron Sambar of PBA party-list, Paolo Everardo Javier of Antique and Oscar Richard Garin Jr. of Iloilo.

Teo and the lawmakers will also be joined in the trip scheduled from July 14 to 22 by four employees of the House secretariat and at least three officials of the Department of Tourism.

Journalists sue ex-Antique governor for plunder (https://newsinfo.inquirer.net/743076/journalists-sue-ex-antique-governor-for-plunder)

Two journalists have filed a plunder complaint against former Antique Gov. Exequiel Javier and his son, Rep. Paolo Everardo Javier, for alleged rigging of projects and ill-gotten wealth.

Radio commentators Wilson Geronimo and Modesto Montano filed the plunder complaint on Friday before the Office of the Ombudsman, vowing to be critical journalists who chose not to stay silent.

In their complaint, the journalists expressed dismay at the Javiers' alleged malfeasance in office even as the former governor is the brother of slain opposition leader Evelio Javier.
—
So, in ending this glimpse into the political life of Antiquenos, there is some reason to conclude that political careers spinning off from the death of a relative have little or no value when it comes to the real challenge of establishing a brand of public service based on solid accomplishments.