According to Teddy Baguilat who is running for senator under Leni Robredo's Yellowtard flag, "the future is female". This moronic idea he pushes in a tweet he recently fielded.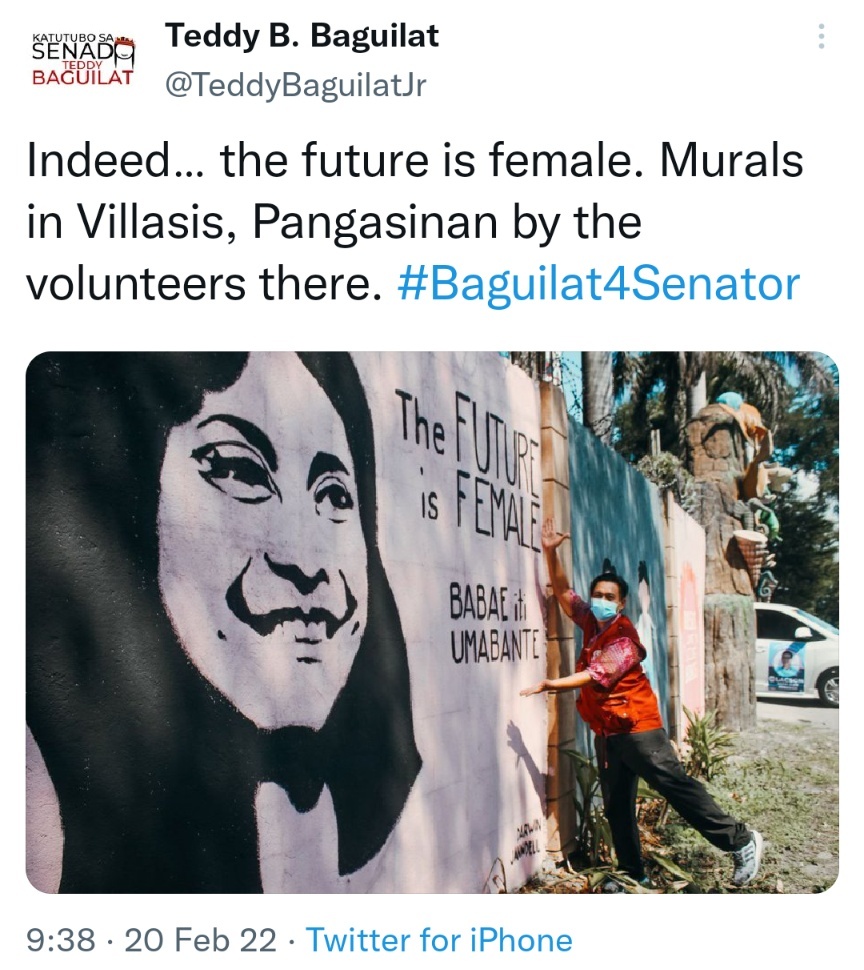 Why is the future "female"? Why it's because Robredo is a woman and, therefore, female just like her daughters. Of course, right? This is presumably why they are branding their campaign "pink" — to appeal to the idea that the Philippines is in the market for a female president. Perhaps too they take some wisdom form the late Senator Miriam Defensor Santiago who once suggested that the next Philippine president should have a vagina.
We've had 13 male and only two female presidents so far. The Philippines has had a total of 15 presidents. To achieve equality between males and females, since we have had 13 males, the next 11 presidents should be female.
Sige na nga, babae naman. This is basically the campaign motto of the Yellowtards. Indeed, I wrote back then, "If I were a woman, I'd feel monumentally insulted. This sort of talk is implying that a woman's qualifications and abilities will have nothing to do with her prospects of becoming President or a Philippine senator and will, instead, be dependent on the success of this moronic appeal to peoples' nebulous notion of what "gender equality" is all about."
It's hardly surprising that the Yellowtard campaign in these elections miserably failed. Rather than appeal to people, they appeal to "gender equality". Gender equality is not a concept that is top-of-mind for most ordinary Filipinos. Rather than listen to people, the Yellowtards' chi chi campaign "strategists" were busy exchanging high fives with their high-horsed pals in their air-conditioned echo chambers up that hill.
It's not too late to reform the Yellowtard campaign. There is still time — or so the Yellowtards lead themselves to believe. Hence they go off and campaign harder. But are they campaigning smarter? Ask bozos like Baguilat and he'll tell you; no need to campaign smarter… the future is female.
benign0 is the Webmaster of GetRealPhilippines.com.