Well, there's no denying the fact that traffic has become one of the major problems this country faces. If one were to consider the roads of cities as the blood vessels of the Philippine anatomy, one can say that the Philippines is screwed quite royally. So no President Aquino, congested roads in major cities are not a sign of a booming economy. As a matter of fact, with the kind of traffic inherent in most cities throughout the Philippines, it is a certainty that many perishable but crucial goods like food and medicine never reach their intended destinations in time. In the end, with this kind of system in place, the common people just have to make do with spoiled food when they have nothing to eat or risk taking expired medicine when an epidemic occurs.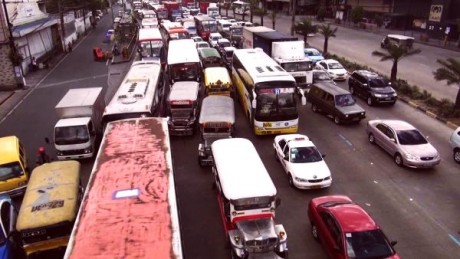 What's worse is that the MRTs, the trains that make commuting at least a little easier in major cities are all too often poorly maintained to the point of being dangerous to ride. Nonetheless, many of our countrymen ride them anyway as they are left with little choice in the matter. With great risk to their own health and safety (the possibility of being mugged, molested or killed in an accident is always considerable) and often having to show up late anyway (due to technical issues that prolong the already long and unpleasant waits at terminals), Filipino employees board the MRTs anyway, hoping they can at least arrive a little earlier and less worse for wear than their colleagues.
However, it seems that there is still hope for Filipino commuters…
Presenting: Road Trains!
General Description
Road trains are essentially buses that have been connected end to end to turn them into a kind of train. Really, just think of Human Centipede and apply it on a vehicular level. At least 40 meters long and comprised of five coaches or segments, the DOST or Department of Science and Technology hopes that it can at least help with the current traffic issues. Please click here for more info.
Pros:
Runs on a hybrid engine. For those not in the know, that means it relies on diesel and a rechargeable battery as a fuel source. This means it is slightly more environment-friendly than most vehicles out there.
Can lessen the reliance on MRTs.
Can, allegedly at least, help commuters in their day to day travel to work and back.
Cons
Isn't really feasible to use in bustling cities like Manila because of its size and the way it has to turn.
It's passengers still have to deal with the possibility of being late as it can still get stuck traffic because it also uses roads.
Due to its size, it has the potential to cause even more traffic.
***
When President Aquino contested with the approval of solar and wind power plants with silly retorts such as "How will solar power work without the sun?" and "How will wind power work without the wind?", I knew the country was doomed. Now there's talk that the bus centipede -oh wait!- road train can improve traffic in the Philippines but I think that once again, Pinoys are missing the point.
What we really need is:
Get better maintenance crews for our MRTs and their terminals
Get better traffic management strategies applied by reliable and uncorrupt traffic enforcers (no Mar Roxas is NOT an example of the latter)
Deny driver's licenses to arrogant Pinoy drivers like the Binays
I HAVE RETURNED TO LAY WASTE TO OUR ENEMIES!