Pinoy Pride is back on the hotseat as Catriona Gray wins the Miss Universe title. Of course, fantards are willing to overlook her foreign-sounding name and mixed ancestry to the chagrin who seek to champion brown and native looks. But as we at this blog ask, does winning this beauty contest mean anything at all? Personally I believe Miss Universe has lost the original claimed purpose of bringing people together from around the world for a chance at unity (I quote a former beauty queen on that), and has gone back to being a business-driven pissing contest. But since this is a personal win that others like to ride on, this new Pinoy Pride bubble deserves another pin to pop it.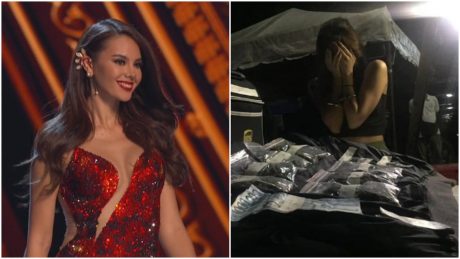 Pinoy Pride remains the one attempt of Filipinos to try and "uplift" themselves after receiving a strong criticism or when one of theirs is under attack even for actually doing something wrong (such as posting "still proud to be Filipino" afterwards). Or, as with this case, something to prop their spirits up when they're down. But of course, especially in the former case, it served to backfire and only draw even more fire towards Filipinos. And Filipinos scratch their heads wondering why they still don't get any respect. Like a jester wondering why people laugh at his antics instead of singing paeans and praises.
The operating principle behind Pinoy Pride is this piece from Filipino writer Nick Joaquin: The need for face comes from a lack of confidence. Filipinos are actually depressed or feel inferior. I say this feeling doesn't come from other countries' or colonizers' "oppression" of us. I have traced it to:
1. Filipino family beliefs. I trace it to the Filipino tradition of having children provide for their parents in old age, and how it is sometimes abused. More about this below.
2. The domination-based mindset of the Filipinos. Filipinos still seek to dominate others, and if they fail, the feel inferior. It happens whether they lose in sports or in battle, whether against foreigners or against each other. Filipinos seem to have this subconscious desire that they should be monarchs or masters, and it manifests in Filipinos' terrible behavior against others. Lack of discipline, road rage, treatment of servants (like in My Family's Slave) and even Filipino political behavior all reflect this. I also attribute this to our ethnic and tribal cultures; before colonizers came, we were tribes and ethnic groups that saw each other as enemies. Today, it's likely we still are the same.
Why Pinoy Pride fails to uplift the Filipinos:
1. Pinoy Pride is based on sense of entitlement and freeloading. Filipinos desire something they don't deserve, or shouldn't have. One aspect of the domination-based mindset mentioned above is the desire to have servants and get things for free, without working. As our webmaster Benign0 said, Filipinos like to campaign for pride, not work for it, because there is a desire to receive praises for nothing.
As I said above, it may be from family values. Yes, again that habit of raising children just for the sake of having human ATMs when they get older. And yes, even grown children abuse their parents or grandparents. All in all, Filipino family values seem to encourage believing that if one refuses to work, they can coerce someone to provide for them, or can take from anyone in their family if they want. And among these are immaterial things such as pride.
Some parents believe that children are supposed to serve their wishes to be exalted and praised. For example, when a child is seen to have good mathematics or sports skills, the parents jump in and draw the attention to themselves. "This child is great because I am great! Remember, it's because of me! Me!" But if the child underachieves, parents insult, badmouth and even hurt their children. This is the selfishness of people in full swing.
And this carries over to outside the family, such as when Filipinos free-ride on others' achievements. A Filipino wins first place or any prize somewhere, whether sports, singing or Miss Universe. Filipinos who don't know this person at all start to fawn over them, probably sharing on Facebook something like, "this is a Filipino, like me. If she's first place, so am I! So you should respect me!" I call it immaterial freeloading.
The fascination with beauty contests seems to be based on that same desire. The perception is that beauty queens did nothing or had it easy in order to obtain their prize.The contestants themselves will say that they still did a lot of work to get to where they are. Yet the fans or riders likely still get the wrong idea and still dream of getting rewards just by riding on someone else. They get a stronger desire to avoid useful work and will want to get stuff for nothing, because they feel that they are "beautiful" enough to deserve that arrangement.
2. Pinoy Pride is based on obsolete ideals. First is dugo or blood, the idea that talent and superior abilities are inborn, another source of the desire I explained above about wanting rewards merely for being "beautiful." Filipinos like to believe they have natural superior talent in them. As I explained before, I'm a skeptic of this. And this works with the domination-based mindset to produce delusions of grandeur. Even if every country has an idea of "blood superiority," it's still wrong.
It leads to yet another obsolete ideal behind the Pinoy Pride concept, to see the world scene as a pissing contest between nations. And Filipinos desire to win the pissing contest. They believe colonizers colonized for pride's sake, not for necessity. It leads to them to assume that pride is the be-all and end-all of all. It's probably a legacy of the pre-World War 2 contest-for-empire that was was happening at the time.
We're now in an age where that kind of contest is considered reprehensible in international relations. But Filipino wishes seem left in that pre-WW2 haze. They hope that one day it'll be their turn to be the empire on the world scene. I doubt that'll ever happen, however, because Filipinos still shoot themselves in the foot. Webmaster Benign0 has always emphasized economic development and necessities as the real reason for the growth of empires and powerful countries, not pride. Sadly this flies over the Filipino who loves to play the kawawang (pitiful) underdog runt. Filipinos should realize that they are not entitled to be on top. Instead, they should work to stabilize their foundations.
And another obsolete belief that could be related, that beauty is a sign of character. People these days are so still so fooled by the idea that beautiful people have beautiful character. But that's a bunch of bullcrap that came from antiquity, serving as a sort of subconscious undercurrent that drives people to buy products. Recenly, we've had something that threw cold water on that belief: the arrest of beauty contestant Teri Colmenares for illegal drug possession. And a while before that, pretty celebrities acting like jerks. If people still believe physical beauty and character are proportional, they deserve a burst of their bubble that's a bit loud and jarring.
3. Pinoy Pride only highlights what it tries to hide. Projection of Pinoy Pride only further highlights the self-created inferiority complex. They say, the higher you try to claw for, when you slip and crash, the harder the crash. It hurts more when you fail because you had the wrong goals.
People who suggest that "inferiority complex of Filipinos" can be countered by "just feel proud and project it," are actually increasing the problem. Yes, the one who shouts "I have a lot of money" is likely the one who actually has little or none of it, i.e., the empty can makes the loudest noise.
There's the idea that rah-rah chest-beating will motivate Filipinos to work hard. But what do Filipinos really do after they shout "pinoy pride?" Mostly nothing. People do the same things that have to do with getting the bread for eating tomorrow. Shouting "Pinoy Pride" is floppy and ineffectual cheerleading.
4. When people shout "Pinoy Pride," do they really think of the country? No, they think of themselves. That's what's really happening. All shouts of Pinoy Pride are simply attempts to please one's own ego, and to obtain a temporary high. There is really no sense of real sympathy or camaraderie, because if there were, after the beer and cheer party, Filipinos would return to daily helping and working with each other happily. In fact, outside of the pride party, "temporarily united" Filipinos would be back to their backstabbing ways.
Looking for pride is often seen according to traditional values as a terrible fault, because pride often involves domination and trying to make others lower than oneself. Validation is felt by feeling good at the cost of causing others' misery. Filipinos often seek that: my cellphone is better than yours, I'm prettier/more pogi than you, I have a bigger harem than you, etc., and you are nothing! There's nothing uplifting about that, and it makes Filipinos stumble.
So what to do instead of Pinoy Pride?
1. Curb your enthusiasm. Because Filipinos are very often emotional, they will shoot this advice down with, "you killjoy," or "wag mo sirain trip namin (dont' ruin our trip)!" But this trip is something that deserves to be broken. It may be painful, but as I said above, such enthusiasm for Pinoy Pride is more detrimental than helpful. So the arrogant trip, the entitled enthusiasm, is best curbed.
2. Focus on upholding principles, not people. That's why I wrote an article saying that celebrating people is nonsense. Pinoy Pride is more based on this, that certain people should be celebrated over others. Refusing to do so will elicit even foolish moralizing, such as calling the one who refuses misanthropic or fascist. But as I said before, praising and admiring people is not an act of goodness or love. Supporting discipline, order and sobriety in society is better.
3. Focus on contributing to the world, not taking from it. Pinoy Pride is based on the idea that the world owes Filipinos. Again, it's sense of entitlement, encouraging dumb "empire" and "master" desires. If you're a worker or a servant in another country, don't be depressed about it. Better be good at what you do instead.
4. Stop having pride as a goal. This applies to personal lives too. As said above, when you look for pride, you just want superiority above others, but that will not do any good in your relationship towards people. Good relationships has been identified as one of the "secrets" to happiness, and it requires recognition of equality with others. Also, pursuing pride means you are not doing anything worthwhile, whether work, a hobby, project or anything that is keeping you occupied and making you pleased with your handiwork. The worthwhile stuff would require relearning that lost art of self-satisfaction and contentment.
5. Go back to the basics. In the end, we all go back to working for our keep, to feed ourselves tomorrow. Daily life is still more important than the pride party. That's the reality that Filipinos seek to escape from, because they find it so depressing. But perhaps what we should do is believe it is noble and not depressing to work for our keep and to feed ourselves. Because that is an honest person's job.
Your can feel good about yourself without having pride. Filipinos indulge in Pinoy Pride spasms to try and chase "good feelings" to counter the depression they actually feel in life. But no one is entitled to good feelings. Truly good feelings are worked for. It is hoped that Filipinos will collectively realize this and work it into their everyday culture. I am happy to see a lot of Filipinos already thinking this way and it gives hope for our society.
I believe, as my cohorts here do, that what Filipinos embrace as their culture is what actually pulls the country down. And those who seem to be anti-dictators, who may also believe themselves to be "heroes," are the real dictators.