Ok, so I'm one of those sheeple whose first activity after getting out of bed in the morning is to check their social media timelines. That shameful admission out of the way, I'll get to the point of this piece. Today, I discovered just now, is obviously the day after the announcement of the results of a variety of college entrance exams. So what do I find clogging up my Facebook feed today? Parents of kids who passed whooping it up over how Jojo, Kat-kat, Gi-gi, Dangdang, Dingdong, Jing-jing or whoever, passed the Ateneo College Entrance Test (ACET) or the University of the Philippines College Admission Test (UPCAT).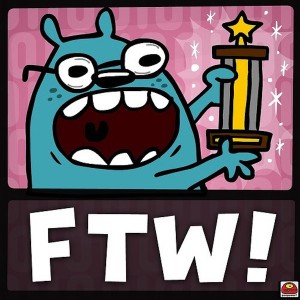 Well, gee whiz, a former boyfriend of mine who studied at the Ateneo High School said that anyone who landed on the 99th-plus percentile of examinees of the standardized test of his time, the then-named National College Entrance Exam (NCEE), an "achievement" which students of good private schools normally bagged, will have passed the ACET and the UPCAT with not much of a sweat. I, for one, applied to take only the ACET and the UPCAT. No need for a "backup", if you know what I mean.
Even during my time, there were no review classes for high-school standardized tests and college entrance exams. We just marched into the ACET and UPCAT examination rooms thinking of the movie we were gonna watch with friends after we got the whole thing out of the way. You gotta pity Filipino parents nowadays, shelling out all that cash for these prep courses must've really punched a hole in their wallets. Yikes! No wonder they need to pimp out their kids as trophies on Facebook when they make it in. There is, indeed, quite a strong motivation for an ROI on that huge outlay!
As I recall, the question that buzzed across our graduating batch at the time was NOT whether we merely passed the ACET or the UPCAT but whether we made it to one of those plum quota courses in UP and Ateneo. You know; those courses that assure you a queue of recruiters from big multinational corporations bugging you for a copy of your CV when you graduate. Otherwise, you're just another one of the run-of-the-mill ACET and UPCAT passers in our social circles.
I'm not saying parents shouldn't be proud of their kids. They should just learn to observe the same courtesies and mindfulness we observe in more traditional real-life social situations — like face-to-face conversations. I mean, would you openly brag about your kids' straight-A report cards in a gathering of mere acquaintances none of whose personal circumstances you may know in detail? Like, what if one of them had a child with a learning disability or if some of them had other priorities for their kids in mind? The thing with this social-media-driven world is we've all tilted to a degree of narcissism and level of self-absorption that, in the past would have come across as obnoxious. Today, however, obnoxiousness has become the new normal thanks to all that misused technology.
I guess it is that word I used earlier that sticks out: mindfulness
We need to put that mental virtue in the forefront again. Social media and all this technology has dulled the very thing that sets us apart from the apes. When we are on autopilot most of the day and mesmerized by the color served by our devices, we become less of the mindful creatures we were meant to be and, as a result of that, less human.
Frustrated artist doing geek for a living.