I recently realized one thing about Filipino belief in Pinoy Pride. It is likely based on the idea of natural talents. Notice that Pinoy Pridists highlight Filipino "talents," and imply that talent is always inborn. Also, notice what Yellow propagandist Edwin Lacierda said one time: that "The Filipino has an innate advantage when it comes to the arts." This idea is likely one of the main ideas driving Pinoy Pride, and driving Filipino swellheadedness, resistance to criticism and the tendency to easily become butthurt even over a real, existing flaw pointed out to them.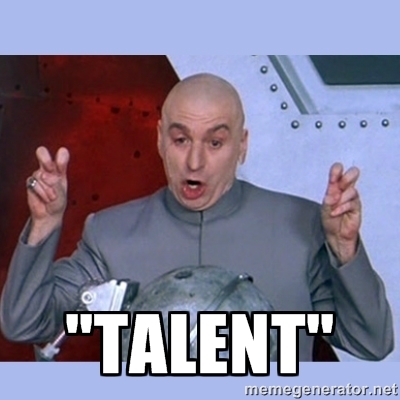 Many scientists and experts today oppose the idea of "natural" talents. Much research has been done to show that talents are mostly trained and nurtured, and there can be many external and environmental influences on talent (here's a video by Geoff Calvin disputing the idea of natural talent). One problem with the inborn argument is that it is being used to justify domination over another. In an age where equality is seen as the guiding principle for all, some people still believe in something "inborn" as the rationale for dominance over others.
Back in the days before World War 2 and human rights and equality movements, there was this prevailing belief that some people are just born superior to others. The Nazis used this for their Aryan ideology, that they are superior and should not only rule others, but get rid of people who threaten this superiority. But that's not the only thing. Remember the "divine right of kings" concept? There are still people who believe that they were born to rule others. This delusion dominated human social systems for millennia. This was among the stupidities of humankind that kept it in barbarism and primitivism, and it took 6000 years before we realized, oh, it was stupid.
But yet there are still some people today who hold these obsolete beliefs. And Filipinos are among them.
It's the classic nature vs. nurture argument. Personally, I believe that both apply. There is nature, and there is nurture. For example, I do believe some individuals, without training or other obvious external influences, can draw, paint, sing well, process numbers well or do other things that awe people early on. But there are also people whose talents come from training and nurturing, and they may surpass those with "natural" talent. Talents are also nurtured.
But Filipinos seem to take the belief in "natural" talents and create a myth out of it; that Filipinos are all "naturally talented." In effect, if a Filipino has a great singing voice, every Filipino has a great singing voice. If a Filipina looks good, every Filipina looks good. These Filipinos probably like to believe that people of other countries are not as talented as Filipinos, and so imagine themselves as "great" or "superior." They tie "talents" to race, that being part of a certain race gives you a special talent. And if one is Filipino, they are automatically "talented" and should be respected for it – even if they have done nothing to prove it. This is obvious shoehorning and stupidity, but it is likely one of the driving forces behind Filipino pride.
Perhaps this is one dynamic involved in the recent fracas involving topnotcher Tiffany Uy. Racist comments against her attack her Chinese ancestry. There is this racial stereotype, especially in the U.S., that Asians are usually better in academics. Some have the notion this is a "natural" talent of Asians. Of course, such successes can be attributed to a number of factors, such as family culture, and not on race. Also, it is likely there are Filipino-Chinese who are not doing well in school and may even be dropouts. Thus, it is not due to "natural" talent. But being racist is still what Filipinos are good at because they still believe in erroneous notions about race and "talents."
No, even if some talent seems "natural," it is not tied to race. Or country, or family or ancestry or whatever. And Filipinos just have to get rid of the notion of race defining them. They have to get rid of the notion that as a race, we have a "right to rule" or something like that. It's nothing more than the Filipino culture's immature pissing contest mentality. We should get rid of these erroneous notions that our race or ancestry defines us. Rather, what we do defines us (and also, get rid of the notion that Filipino is a race. It isn't.).
Filipinos need to drop this belief that "innate" talent makes them special. Talents are not reasons to put certain people on a pedestal above others. They should instead believe that talents (whether innate or nurtured) give them the responsibility to discipline themselves and use these talents for the good of others. They are not meant for getting them special treatment, nor are they meant to secure dominance over others. But a bunch of people who want nothing more than to be waited on by servants, who want comfort and luxury without work and want nothing more than be dons and donyas (insisting that it is even their "natural" right), may refuse to get the concept. And thus the country, as a whole, stays as backward as it is.
I believe, as my cohorts here do, that what Filipinos embrace as their culture is what actually pulls the country down. And those who seem to be anti-dictators, who may also believe themselves to be "heroes," are the real dictators.