If there is anything that "fashion" show, The Naked Truth, organised by Filipino clothing brand Bench to showcase their underwear line revealed to us, it is that kabadingan (faggotry) and kalaswaan (lasciviousness) is a Filipino condition that seems to transcend fields of endeavour.
Way back, I wrote about a similar condition that afflicts the Philippines' film industry and now my colleague Kate just now wrote about how the same characterises the Philippines' fashion industry (or at least the part of it that sells "affordable" stuff to the masses).
Before we continue, let us first clarify lest some of these hollow-headed folks who are quick to interpret the use of these words to describe idiocy as some imagined form of "homophobia". The words 'kabadingan' or even 'kabaklaan' no longer necessarily refer to homosexual men but are increasingly used more to describe someone's character whether that person be gay or straight. I've met gay people who find kabaklaan and kabadingan distasteful and malaswa and I've met very straight guys who fit the profile of the bading and bakla to a tee. I have more respect for the earlier and only have quaint amusement to offer to the latter.
I'd describe spineless straight men as bakla and their loud obnoxious ilk bading. So deal with it. That is how I define the two words here.
So guess what: Filipino's tastes as manifest in their mass cinema and mass fashion industries do reflect their character, much the same way as the outcome of The Vote — the country's crooked, inept, and inutile leaders and 'representatives' — does. Take the case of Department of Transportation and Communication (DOTC) Secretary Jun Abaya…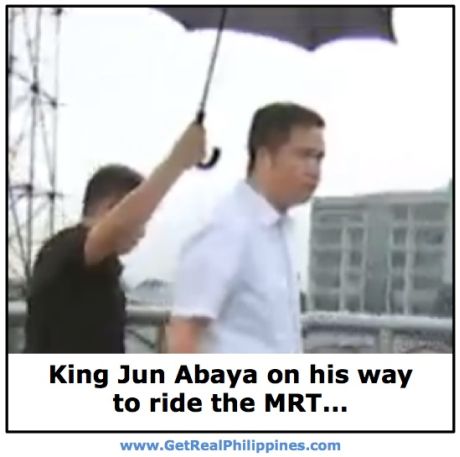 It does not really take much of a stretch of the imagination to describe this guy as bakla and his approach to managing the Philippines' transport and communications infrastructure as an astoundingly acute case of kabadingan on a national scale.
Then there is Department of Interior and Local Government (DILG) Secretary Mar Roxas who starred in a video that, at a fundamental level, is not too different from the narcissistic exhibitionism showcased in The Naked Truth. In that video, he is seen directing traffic on a street somewhere in Metro Manila (or some Philippine city) in what was clearly a staged spectacle.
One can interpret such a blatant undertaking of bald grandstanding as malaswa when one considers decent political sensibilities. Indeed, many people who have viewed the video from which the still of this photo was obtained reacted with revulsion. It left a bad taste in our mouths, so to speak — an exhibition that was meant to titillate voters rather than inform them.
We dare say, the Philippines is not just an Ampaw Republic, it is also a Bakla Republic.
So there is a conclusion to be drawn here. When we postulated the Philippines' ampaw-ness a while back I made the assertion that an Ampaw Republic is likely governed by an Ampaw President. So the logical corollary theorem to that is that a Bakla Republic is likely governed by a Bakla President.
I don't think people can really argue against that. Philippine President Benigno Simeon 'BS' Aquino III has ruled the Philippines with a bakla hand for the last several years. Indeed, his very ascent to power was characterised by abject kabadingan — surfing atop the wave of emotionalism created by his mother's death in 2009 and the underlying tidal force of moronic Laban rhetoric propped up by the political gravitational field of his parents' Yellow brand since the 1980s.
Bakla talaga.
This is a man who did not earn a single letter on his curriculum vitae. True to the tradition of the Philippines' dynasty politics, he inherited all of these pseudo-credentials and then proceeded to squander all of it as president. So it is not surprising that Filipinos suffer Cabinet secretaries like Roxas and Abaya. The kabadingan and kalaswaan of the Philippine government emanates from the very top.
This is a government that had allowed Chinese troops to march into its territory unopposed and bent over forward to allow the Malaysian government to help itself while an Islamic state led by armed bandits proclaimed its autonomy smack in the choicest spots of the country's richest breadbasket. It is a government who'd pick on a private enterprise for publishing an "anti-Philippines" infomercial while allowing its police force to terrorise the people it is supposed to protect. The list of kabadingan continues ad inifinitum.
Enough said. You can't get any more bakla on a national scale than that.
benign0 is the Webmaster of GetRealPhilippines.com.