Bad taste plain and simple. What was Bench thinking? Sure the much-hyped fashion show The Naked Truth is all about underwear. But just because it is does not mean the show needs to be borderline pornographic.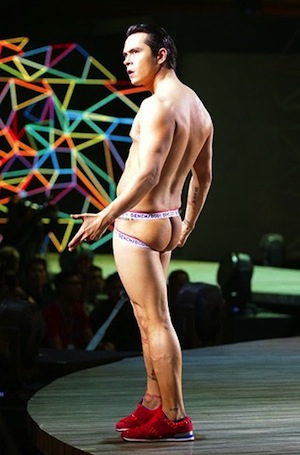 I mean, get a load of this one by Jake Cuenca. I heard this drew a healthy round of applause and cat calls from the ladies. To be fair, I've seen some girls drape themselves all over men who are so obviously more into themselves than into their girl. You can spot them a mile away. They'd walk around like this if they could thinking that men wearing skimpy clothes have the same effect on women as women in skimpy clothes have on men.
That's just dumb male-centric thinking. And thus the title of this blog (with apologies to benign0 who wrote the originally-titled Kabadingan and kalaswaan in Philippine cinema). Obviously, people who had the wrong idea about what turns women on were the creative "geniuses" behind this show. More likely these were people who planned to have their male models appeal to the 'boys' primarily, if you know what I mean.
Sure, I don't mind seeing the odd guy or two in their jocks or even less every now and then. But women demand context. Men, on the other hand, get off on just the sights alone. Whatever their sexual orientation.
Admittedly I struggle to put to words why Bench's The Naked Truth leaves a bad taste in my mouth. Bad taste, like good taste, after all, can't really be described in words. But you know it when you see it.
Frustrated artist doing geek for a living.