Filipinos have been on edge lately as the daily average number of confirmed COVID-19 infections has been breaching 10,000 the last several days. With hospitals bursting at the seams and lockdowns over the foreseeable future casting a grim pall over people's lifestyles and livelihoods, people are looking for comfort and answers. Popular Australia-born starlet Anne Curtis-Smith offers something that many Filipinos now latch on to — a shoutout for a plan issued on Twitter.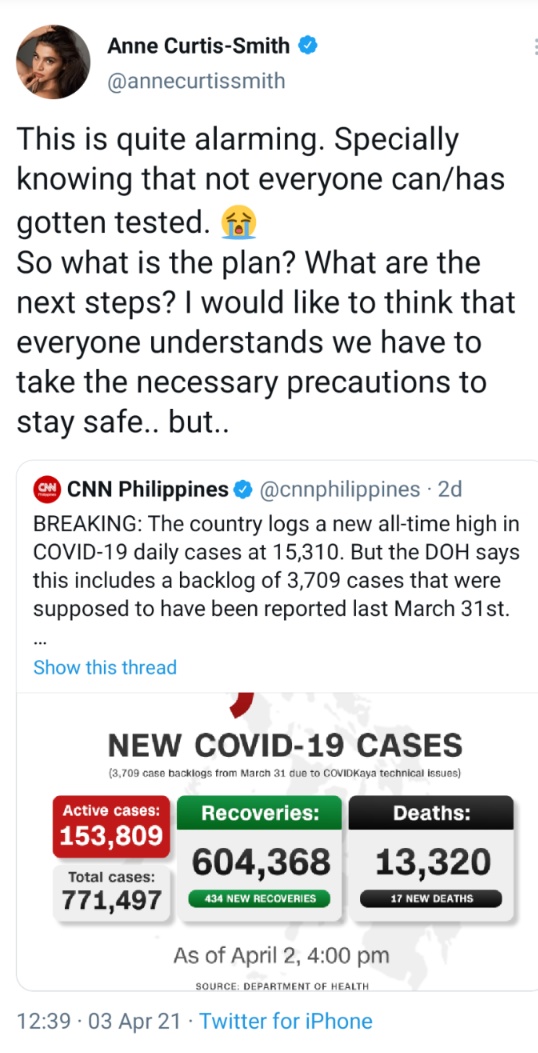 In a subsequent tweet, Curtis-Smith adds, "it would be nice to be given more light on what is to happen while waiting for vaccines to arrive.. so with what hope we have left we can work together as a nation…"
Nice, right? Obvious questions do come across more fashionably authoritative when uttered by celebrities. "Reporter" Dana Cruz of the Inquirer certainly agrees noting that, "more celebrities are voicing out their observations on what they see as the government's lack of effective pandemic response, including Janine Gutierrez, Liza Soberano and Albie Casiño." Presumably, Filipinos for their part are really grateful that such chi chi showbiz stars are right on the ball to tell them these things.
Unfortunately, the Philippines is saddled by an enormous population. It is a country that hosts a people numbering far beyond what any local public service can serve sufficiently even in normal times, much less in a national disaster like a pandemic. Not surprisingly, Metro Manila is the most acutely-impacted by the pandemic thanks to its distinction of having the world's highest population density. With thousands of small one-room shacks peppering vast swathes of steaming slums all over this megalopolis being home to several families, it is virtually impossible to contain the spread of COVID-19. Each one of such households is a virtual petri-dish where viral clusters likely form almost daily. And under a system where public administration is hopelessly federated across small local government units, the economies of scale required to efficiently co-ordinate consistent implementation of modern disaster response and crisis management measures are simply not there.
In short, Metro Manila is like a vast forest dried to a crisp in a drought that had been set alight. The inherent inability of the Philippines to deal with a pandemic of this scale was evident even back in May last year, 2020, when I wrote in my article "The best solution to combat COVID-19 is to NOT be poor"…
The fact is, the Philippines is not in a position to effectively deal with the COVID-19 pandemic in an equitable manner in much the same way it never actually ever had the capability to deal with any general disaster to begin with.
Brilliantly prescient writing right there. To be fair, however, the historical record provides ample evidence of how such a fragmented national governance frame consistently proves to be impotent in times of crisis. Back in 2013 as supertyphoon Haiyan devastated the city of Tacloban and killed more than 10,000 Filipinos in the span of just 2-3 days, then Interior Secretary Mar Roxas could only advise then city mayor Alfred Romualdez, "bahala na kayo sa buhay niyo" ("you people are on your own and your lives are in your own hands") noting that the national government pretty much had its hands tied at the time navigating the legal minefield of intervening in local government crisis response activities.
In times like these, meagre resources need to be prioritised and even solutions that are mere compromises need to be implemented decisively. Metro Manila is clearly a massive biohazard to the rest of the country. Columnist Joel Ruiz Butuyan declared Metro Manila in his column today a fallen city that probably needs to lock in all of its residents lest they make like rats scampering off a sinking ship to infest hapless communities in the hinterlands…
There's the increasing number of Metro Manila residents who are moving back to the provinces, and along with them, they're bringing and spreading the virus. Provincial folk are wary of those who are arriving from Metro Manila, and their fears are not without basis. Categorized as "locally stranded individuals" (LSIs), Metro Manila residents are subjected to mandatory testing in the provinces, and many of them are turning out positive for the virus.

Worried that they would be quarantined in provincial facilities with decrepit accommodations, there are Metro Manila residents who try to secretly move back to their hometowns without reporting to municipal authorities.
Clearly, COVID-19 already has the National Capital Region (NCR) in its grip and there's obviously the rest of the country to consider. Strong measures will likely need to be implemented to ensure Metro Manilans don't pose a health hazard to Filipinos who don't call Metro Manila home.
One wonders then if those "plans" that Manila's chi chi "influencers" like Anne Curtis-Smith shrilly demand of the nation's brains trust are to be framed within that context of the broader interests of the entire nation and not just that of Imperial Manila. We hear a lot of such "influencers" urging their followers to "self quarantine". Perhaps there also needs to be a call for Metro Manila to be quarantined from the rest of the Philippines reminiscent of the movie Escape from New York.
So what's the plan, people? Paki bilis bilisan niyong pagsagot — Anne Curtis-Smith is getting impatient! Hopefully plans that are forward-looking in nature given the current reality are acceptable to her royal highness.
benign0 is the Webmaster of GetRealPhilippines.com.