If the saying is true that pictures don't lie, then it must also be true that the people caught on video do not have to take a lie detector test. This is precisely the reason why there should be no more debate about what Department of Interior and Local Government (DILG) Secretary Mar Roxas said to Tacloban City Mayor Alfred Romualdez during a meeting at the height of the disaster caused by Typhoon Yolanda (Haiyan).
The video footage of Roxas expressing conditions to be applied before providing help to Tacloban City was very clear. He arrogantly told Romualdez that before the national government could step in to help in the search and rescue operation in the most badly-hit part of the region, an ordinance was needed to legalize the fact that the local government unit cannot perform its function anymore. No wonder Romualdez ended up in tears when he tried to recall the moment Roxas said "
You are a Romualdez and the President is an Aquino
" during a senate hearing.
I'm sure anyone of us would cry too if we had no choice but to suck up to someone like Roxas especially during a life-or-death situation. What the heck where they doing having a meeting to begin with? They should have been out at the disaster zone physically helping out checking for signs of life underneath the debris. And since he insisted on having a meeting, he should have asked someone to take the minutes of the meeting. It would have been easy to check the facts from fiction then.
Despite the video evidence of the DILG secretary's self-important behavior being passed around the Net, Roxas still insists that Romualdez's claim that the national government refused to provide help initially is not true. Roxas was even willing to take a lie detector test to prove he is not lying. As if that was going to change people's impression of him as a liar.
A lot of people will not forget the video footage of Roxas arguing with CNN foreign correspondent Andrew Stevens about the uncollected dead bodies on the road five days after the typhoon struck. While Stevens believed they were the same bodies, Roxas insisted they were not even after Stevens said he has been passing the same road everyday for the last five days and same bodies remained on the same spot.
Most people think that after watching the video footage of Roxas berating Romualdez, one cannot help but realize that Roxas is such a loser for acting like some kind of an asshole in the meeting. While the video shows Roxas adamantly demanding for a letter request for help from Romualdez and telling the latter "bahala na kayo sa buhay niyo" or loosely translated in English as "You can all go to hell for all I care", Roxas didn't have a choice in the end but to eventually provide assistance even without the letter or ordinance officially "legalizing" his agency's support during the crisis.
If one were to point out who was better at sticking to his guns during the showdown, one would say it was Romualdez. For while Roxas thought he had the power to twist the Mayor's arm into submission during a crisis meeting, the criticism the Philippine government was getting from all corners of the globe forced Roxas to give his support to a "Romualdez" even when the President is an "Aquino".
It is quite baffling why Roxas would bring up old wounds during a crisis meeting while lives were still at risk outside of the meeting room. It's as if the Aquino allies have not moved on from the Marcos years even when they are already in power. It seems Roxas takes things very personal. This is a sign that he is a vindictive person. It is a sign that he is not of sound mind to be in any government position.
What's in a name anyway? To Roxas, it is everything. He was just short of saying that it was tough luck for the people of Tacloban City that their Mayor is associated with the Marcoses, and that any other name would have received immediate support from the government and not needed a letter.
It is undeniable that all that Roxas wanted was for Romualdez to put in writing that he was unable to function as the Mayor. He wanted it for the record. Speaking of records, Romualdez noted that he thought it was "hurtful" that President Benigno Simeon "BS" Aquino said that Tacloban City was the least prepared. While it is true that the local government units could have taken extra precautions before the crisis like mandatory evacuation of coastal residents, the record shows as per Romualdez that the Secretary of National Defense and the Secretary of Department of Interior and Local Government
were there before the typhoon struck
:
"I pointed this out because parang lumalabas na Tacloban City did not do anything. But you know, we have to remember that the chief of the DND and the chief of the DILG were there before, during and after."
In fact, a tweet from Roxas on the 7th of November, the night before the super typhoon arrived confirmed that they were prepared contrary to their claims that they were not:
#YolandaPH – landfall ETA 9-10am tmrw. Just finished local DRRMC review. Mukang nagawa naman na ang lahat. Crossing fingers. God bless everyone.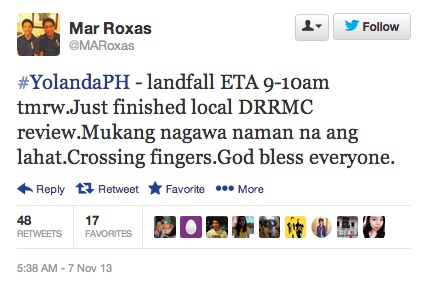 So to recap, Roxas was in Tacloban City before the typhoon. He even said they have done everything. Therefore, he has no reason to pick a fight with the Mayor of Tacloban City and its people other than to deflect attention from his own incompetence.
God forbid that Roxas ends up being the only person left who can pull you up while you are dangling on the edge of a cliff. He might demand a letter from you to "legalize" it before helping you. He will likely quibble on the details even at your deathbed.
[Photo of Alfred Romualdez courtesy Inquirer.net.]
In life, things are not always what they seem.