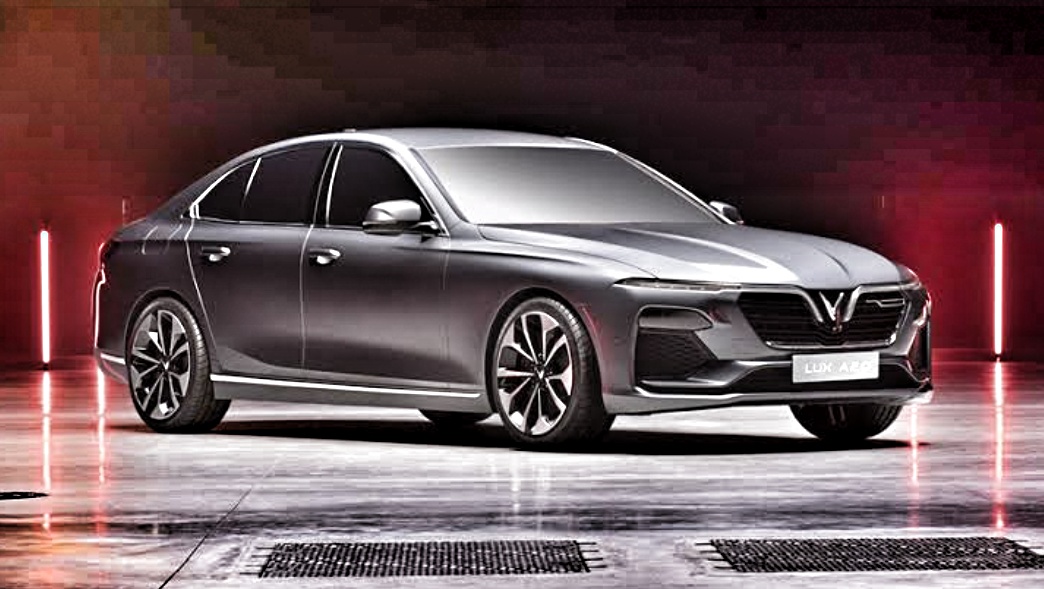 Like my recent GRP piece on Charice's "Self-destruct Mode" which got as far as the Tonight with Boy Abunda show, this article is another lamentation. This time it's over the Pinoy struggle to get into the automotive industry game, with that sad feeling of being left behind.
If you've heard of Vin Diesel of the Fast and Furious movie franchise, then you'll probably find this Vietnamese car brand to sound like the portmanteau of the actor's name and his famous Hollywood legacy. VinFast is a fresh new car brand established by the "Jack Ma" of Vietnam: Phạm Nhật Vượng, just a few years back in 2017. Filipinos hearing of Vietnam's success in the automotive market are just in dumbfounding shock to see VinFast zoom right past the Philippines and its struggling local car companies.
With an interesting business history, from producing instant noodles to investing in real estate and retail, what has now emerged as VinGroup has come of age to become an authentic powerhouse conglomerate, similar to being Vietnam's version of Samsung and Hyundai (Korea) or Mistubishi and Hitachi (Japan). In fact this behemoth is now stretching its tentacles into mobile phone and automotive industries.
In just about 3 years, VinFast already has a compelling lineup of automobiles (executive sedan, luxury crossover, SUV, city car) and electric motorbikes. It has now captured a good chunk of the Vietnamese market, with steps in place to expand internationally to Australia and America. In Q1 2020, VinFast was already the fifth best-selling car brand in Vietnam. It is clear what a huge difference there is in having a tycoon deciding to pursue a path in the technology field.
Meanwhile fledgling Filipino car brands continue to struggle to get out of prototype stage. There is a shift in material for car body from metal to fiber glass, but still it entails the traditional Filipino hand-fabrication process inherent in how local jeepneys are produced. Let's take a look at three locally developed Filipino cars of the recent decade and see where they are at:
Factor Aurelio, the first Filipino supercar, by Factor Aurelio Automobile (founded by Brendan Aurelio and Kevin Factor). First prototype came out in around 2014. Now at Prototype 3. Rumor has it that the price increased from P1.6M to P3.9-6M. Takes about half a year to produce one unit. No clear way to order. Try contacting their multiple FB pages. Aurelio Supercar Links: [1][2][3][4][5][6][7][8]
Gitano GT111  e-sports car by Michel Motorsport. Jan Kierulf (president and car designer), with Rolando Baldon (implementation). Showcased in Las Vagas trade show in 2011. No update or news since 2011 prototype debut. Gitano Sports car Links: [1][2][3][4][5]
Genius EV, eco-friendly car, by Clima Mobility, founded by Adonis Lagangan. Protoype car completed 2016. Current public message on largely empty website: We are now in search for grants and funding to build up our plant capacity. We are also open to partnership, whether local or foreign, for funding and technical assistance to improve our product. Genius EV Links: [1][2][3][4]
Oligarchs in the Philippines seem to not care at all about creating products that Pinoys can truly be proud of. Why are they not coming to the aid of these new startups? Instead they are mostly content in rent seeking, which is the easy low-risk way to suck a buck. Setting up factories and pooling tech talent to produce technology-intensive products is no easy endeavor. Thus, Filipino conglomerates have never really considered taking the arduous road of developing local tech brands. Where would a Filipino car designer or embedded systems engineer go to look for jobs where they can exercise their creativity but abroad as OFWs or immigrants.
Another issue is public support. Filipinos have had the notion that local is inferior. Imported brands are almost always better at even lower prices. It's more sulit (good deal, well worth it) to simply import Made-in-China/Taiwan/Japan/Korea gadgets, electronics and cars than come up with our own Pinoy brands and manufacture locally.
Then there's the clear issue of leadership in government since the clueless housewife assumed the reins of power. Only now under the Duterte administration are we witnessing the political will and vision to phase out traditional jeepneys and bring public transport to the next level. Imagine if Philippine mega-corporations like SM & SM (SM Investments Corp. and San Miguel Corp.) that have the capital to invest only considered entering the tech-intensive fields such as computers, phones, automotive, aerospace, and defense?
It's a sad reality that yet another ASEAN country has zoomed past us in an area that could have brought enormous job opportunities to Filipinos – a people endowed with so much talent and creativity. Vernon Sarne reacts in this BusinessWorld article:
Perhaps we can learn a thing or two from this. The only way a respectable local car company can ever be a reality is if a huge business organization like Vingroup funds its establishment. And if you're catching my drift, I'm saying the Philippines needs the likes of San Miguel Corporation to get the ball rolling.
Delta Motor Corporation was one such promising company back in the Marcos era; it apparently had the wherewithal and vision to come up with a truly Pinoy brand, but it looks like bad-old politics led to its demise. No ambitious BHAG (Big Hairy Audacious Goal, in Built to Last) technology road map in semiconductors, automotive and aerospace ever really came up for the country involving government agencies and conglomerates. All we have are small-fry entrepreneurs trying to dream up lofty tech products with hardly any capital coming in. Moving to production levels takes forever.
After the initial photo-shoots and media hype, they soon dwindle like the flashing lights of a firecracker. And like any fireworks display, all we can do is watch and enjoy it while it lasts.
Vietnam, on the other hand, has come a long way from being that kawawang war-torn communist-led country to becoming a strong ambitious people and state even China would have second thoughts messing around with. Let's hope some day Pinoy pride won't just be about white-sand beaches, dried mango, belting divas, half-breed beauty queens, and Manny Pacquiao; but instead it will be about a quality brand that showcases Pinoy technological prowess.
Will provoking Filipinos to national jealousy even just within ASEAN and pinching their sensitive Pinoy pride lead them to action and resolve? Self-made billionaire tycoons like Phạm Nhật Vượng who established VinFast for the Vietnamese people to be proud of are the real heroes of a nation (not the guy who happened to step into a bullet's path on his way to fulfill political ambitions, or the OFW who sacrificed leaving loved ones for a more convenient financially rewarding life abroad).  Let's hope one such Filipino will rise up soon.
Zealous revolutionary advocate of bringing back common sense for the common good in a land of dysfunctional and delusional zombies.