What's a political opposition to do when it can't win an election and sees no hope of ever winning one again legitimately. What else but seize power illegally. This is why they now would like everyone to believe the Philippines is a "dictatorship" — so that they could do just that.
For all their efforts trying to convince everyone that they are pro-democracy and pro-freedom, today's Opposition don't see the irony in their being the first to declare the Philippines a "dictatorship". No less than former solicitor general and failed senatorial candidate in the 2019 national elections Florin "Pilo" Hilbay insists that Filipinos "ARE in a dictatorship".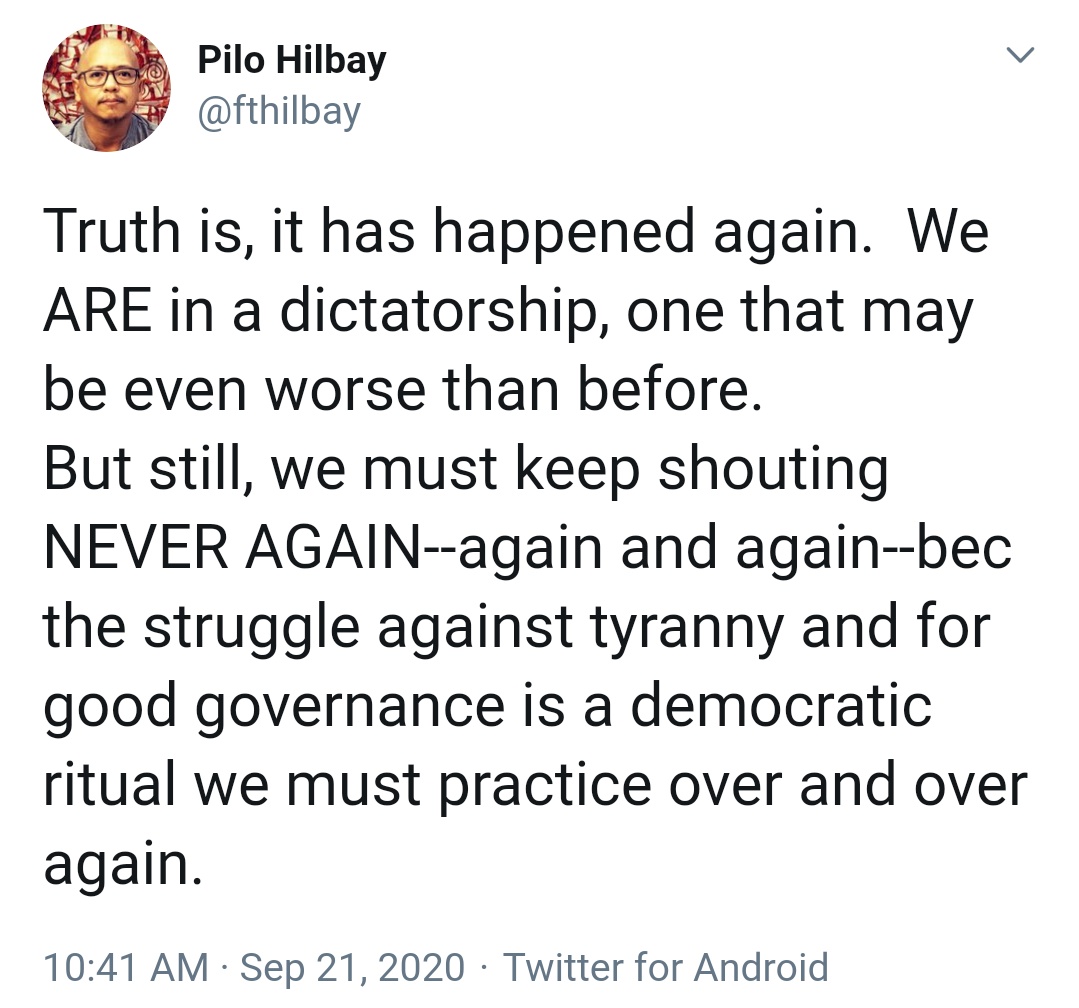 If, according to Hilbay, there is indeed a "struggle against tyranny" to be had, he would be the last person Filipinos should be looking to for leadership. In a modern democracy such as the Philippines' where institutions, due process, and systems actually work, no such notion of a "struggle" of that sort exists. Filipinos are given every chance to choose their leaders and representatives and hold them to account — through elections, for example. Hilbay, back in 2019, failed to convince Filipinos to select him to be one of their representatives. So everyone behold the whiner that Pilo Hilbay is today following that catastrophic failure on his part. What Hilbay is saying is nonsense in essence. What "struggle" is he talking about?
There can really be only one motive behind why the Philippine Opposition are rabidly focused on gas-lighting Filipinos into believing that their county is a "dictatorship". Key to understanding this bizarre political strategy is to look back to the days when the Yellowtards (the bloc of partisans loyal to the Aquino-Cojuangco feudal clan seen to be the leaders of the Opposition) were the top dogs. Back in the 1980s, a "dictator" was an essential character in the Yellowtards' dishonest narrative of victimisation and worship of "freedom fighters" and tank-facing nuns. That time, they succeeded in turning that narrative into political power. Evidently they are trying to use the same playbook to seize power again.
This is also the reason they would like Filipinos to remain stuck in the past and trembling as they "remember" those "Martial Law Years". Instead of encouraging people to imagine what they could be, today's Opposition emotionally-blackmail them to remain fearful of that which they must not be "again".
The Yellowtards, in short, derive power from a stunted society, one that is unable to move on from a perception of a past they manufactured for their political ends. This is why the Yellowtards' biggest fear is that Filipinos forget and move on from having to "remember" the "Martial Law Years" — because when Filipinos do, their obsolete Yellow narrative of prayerful "heroes" crumbles and, along with it, their hopes of a return to their glory days.
benign0 is the Webmaster of GetRealPhilippines.com.