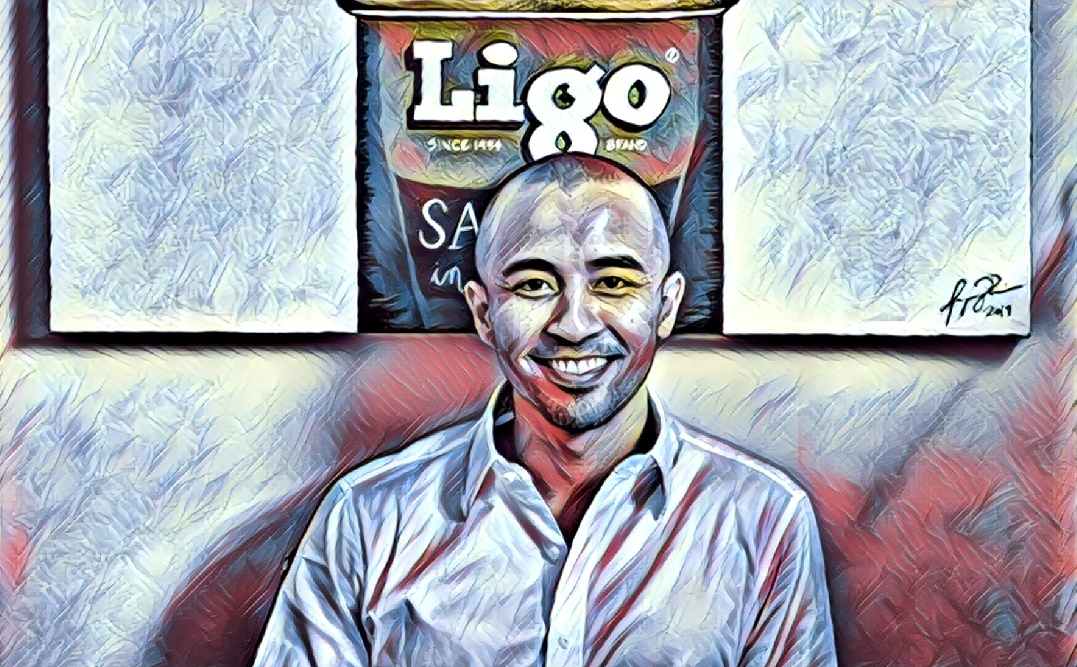 Ligo Sardines Philippines is the most recent case of a business that got too comfy with "woke" rhetoric then went on to regret it. Just a few days ago, Interaksyon News reported how the company had risen to become "a social media voice during COVID-19 crisis". Author of the "report" Catalina Ricci S. Madarang gushed about how "Ligo Sardines lately became popular online due to its witty social media advertisements which Filipinos perceived to throw a 'shade' against the government's questionable policies during the duration of the enhance community quarantine."
Madarang went on to feature the "wit" of the fish cannery's social media presence citing, for one, an ad featuring an easy-opening can followed by the line "No special powers needed." Madarang gleefully reports that the ad was "coincidentally released when the Congress was tackling the special powers then yet to be granted to the president". The "report" also featured one particular tweet that went massively viral presumably thanks to Opposition partisans who are only too quick to "support" businesses who back their dishonest agendas.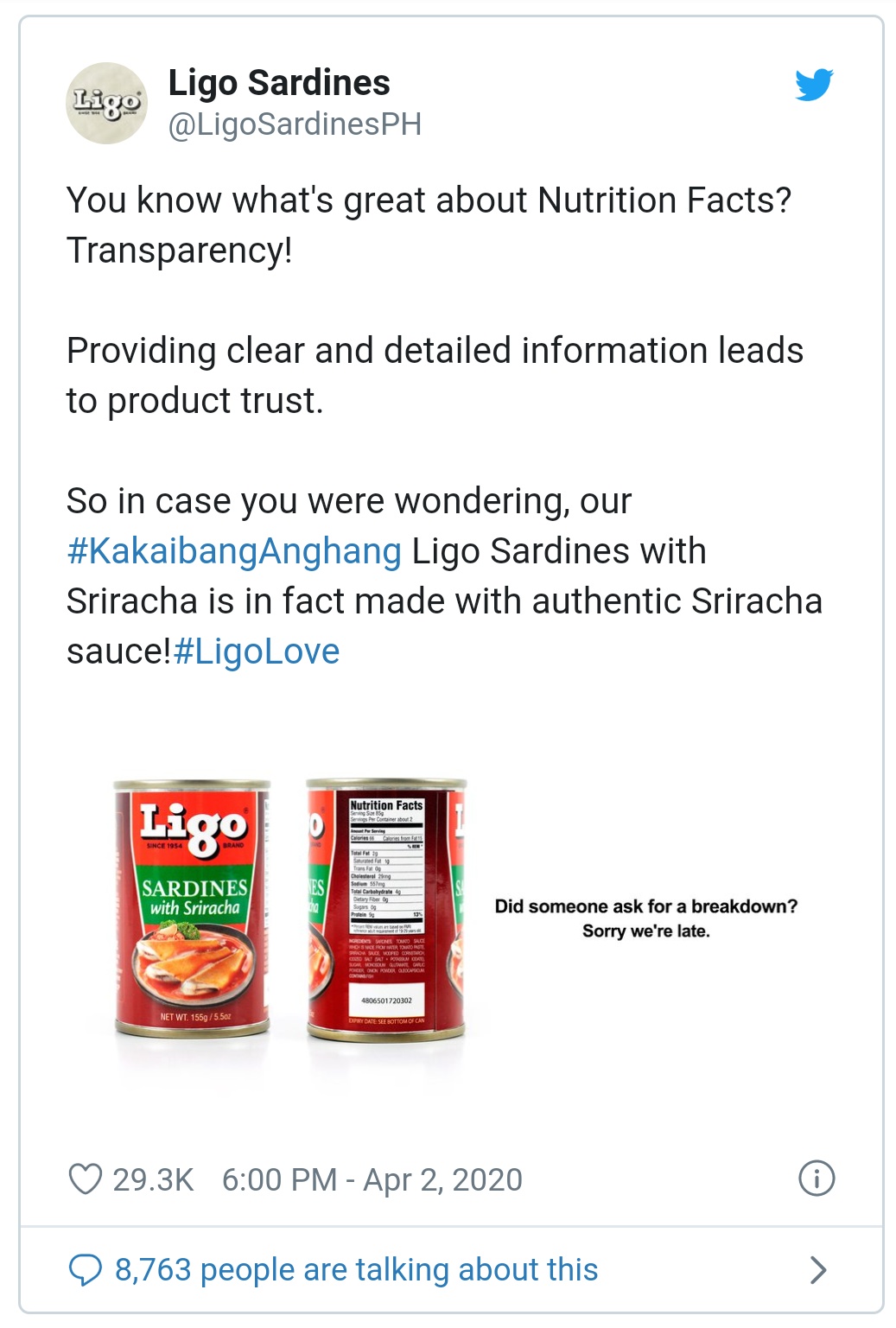 Indeed, even Madarang exhibited a similar dishonesty in her "journalism" seemingly cherry-picking interpretations of the tweet coming from "several Filipinos" who, she writes, "took it as another statement addressed to the government as it is similar to the public's call for transparency amid the perceived failure of the government to provide a breakdown of the hefty P275 billion allocated for the COVID-19 efforts."
Apparently emboldened by the the embrace of their brand by the Philippines' Opposition wokedom, Ligo Philippines Vice President for Operations Mikko Lawrence Tung issued a statement on Facebook suggesting that the Duterte government are thieves and cannot be trusted to handle funds donated by the private sector to assist in managing the COVID-19 crisis (the following two text blocks attributed to Tung are based on screenshots exhibited on Facebook by social media activist Mark Lopez).
Ligo Sardines will be making its donations directly to the hospitals, and different NGOs leading the fight against Covid-19.

Let us learn from our mistakes.

I urge all my friends from the private sector to do the same. Do not give it to these

We will do a lot more good on our own, than trusting our donations with the government.

This is theft right before our very eyes.
Tung's Facebook post even featured a photo of Philippine President Rodrigo Duterte as if to drive his point even further. Not surprisingly, the Philippines' top media channels stepped up to amplify the messaging of Ligo management with Scout rushing to press a full feature of the three Tung brothers, Mikko, Mark and Macky, who helm the erstwhile "dissenting" company. In "Ligo Sardines show us what decisive youth leadership looks like in big business", author Rysa Antonio writes, "After their digital ad went viral, people online were quick to point out the progressive nature of their posts, often referencing social and political issues."
Unfortunately for the Tung brothers, they likely had not come across what had become well-heeded business wisdom: Go woke, go broke.
Back in early 2019, razor company Gillette antagonised its biggest customer segment — men who shave — when it launched an ad campaign demonising what it termed as mandom's "toxic masculinity". The fallout was swift and in a market that had long seen a decline of Gillette's bread-and-butter product to a mere commodity and its market share ceded to competitors offering cheaper alternatives of equal quality, the company found no other choice but to do a backflip.
Ligo Sardines is no different. The canned sardines market in the Philippines is cutthroat competitive owing to products offering very thin differentiation across brands and a market that is extremely price sensitive. Mikko Lawrence Tung's subsequent backpedaling, however, was not as classy as Gillette's, issuing a catastrophic personal capitulation as the massive backlash in the aftermath of his company's ill-thought-out messaging bore down on him and, presumably, the brand he and his brothers were entrusted to manage. Here's Tung again, this time evidently properly straightened out after a proper dressing down from daddy.
To all my friends on Facebook,

I would like to clarify that the opinions I post on my private accounts reflect my personal opinions and mine alone. They do not in any way reflect that of the Ligo Brand and the company.

Ligo is committed to serve and aid the Filipino people during these trying times. May we all get through this together by God's grace…
The moral of the story? For that we might defer to the wise words of eminent modern-day philosopher Franco Mabanta who issues these timely words of wisdom.
"But if you really can't help yourself and feel the need to say something, just make sure that (1) you're always fully aware of the explicit technical legalities and (2) you have enough foresight and resolve to definitively accept the consequences of whatever you say. Free speech is amazing. You can criticize anyone — especially our leaders. I'm all for it. But you absolutely cannot commit libel. That's a horribly unfair thing to do, which is why people either get fined for it, go to prison, get their businesses boycotted, or any combination of the three."
benign0 is the Webmaster of GetRealPhilippines.com.