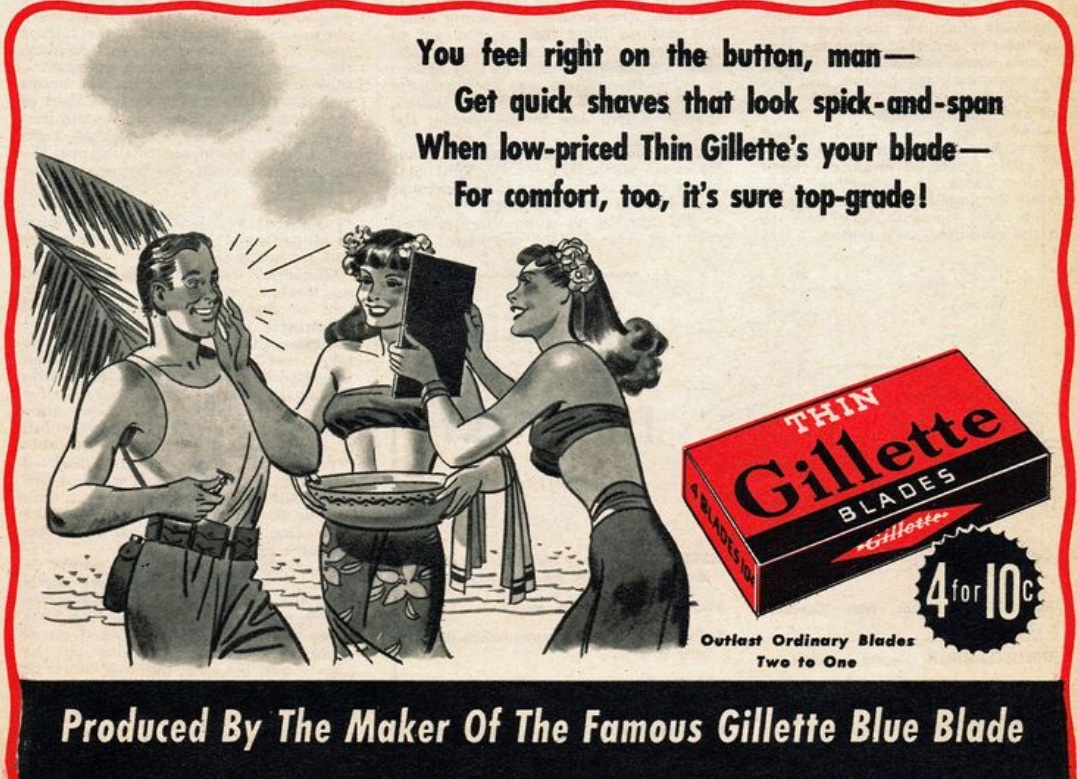 The buzz nowadays is around an ad disguised as a political statement fielded by razor company Gillette. The ad can be accessed via an official company post on Twitter and is captioned thus…
"Boys will be boys"? Isn't it time we stopped excusing bad behavior? Re-think and take action by joining us at http://TheBestMenCanBe.org . #TheBestMenCanBe
Perhaps the guys at Procter & Gamble which owns the Gillette brand should first decide which of the two is the bigger planetary issue. Is it "toxic masculinity"? Or is it toxic waste.
Gillette is, first and foremost, known for being a pioneer marketer of disposable plastic razors. While the "innovation" made shaving a lot easier for most men, its success was also hinged on a lot of suckers falling for the clever marketing of an industry in a false-innovation arms race…
…two big razor-blade companies – Gillette and Wilkinson Sword (known as Schick in Australia) – have been locked in an escalating arms race ever since businessman King Gillette invented the double-edged safety razor in 1903.

Gillette's real innovation was in the pricing: he sold the razors at a loss and made his profit on the blades, which had to be replaced every three weeks or so. The ultimate expression of how sneaky the shaving infustry had become was the arrival in 1975 of the disposable razor, made by French company Bic. More than 40 years later, users still throw away razors after relatively few uses.

The worst is that we men fell for it. A century of "innovation" has resulted in a razor having more and more blades (up to six), lubricating strips, tungsten-coating and swivelling heads, all packaged in clear thermoformed blister packs that defy unarmed efforts to open them. The prize: a share of the global male grooming market, estimated to be worth $US60.7 billion by 2020, according to a 2017 report by Euromonitor.
Dishonest marketing aside, by far the biggest issue with Gillette's bread-and-butter products is the toll they are taking on the environment. A World Economic Forum report recommends that manufacturers of single-use disposable products start marketing "durable equivalents" and "find new ways to deliver the value benefits of things such as disposable razors, diapers and feminine care" so that "consumers are willing to make the switch". This is following reports going a long way back (but only now being highlighted by the media) of bits and pieces of plastic pollution making their way into the food chain. Indeed, that same WEF report highlights even more alarming findings…
Earlier this year an entire plastic bag, completely intact, was found at the bottom of the Mariana Trench, the ocean's deepest point; a chilling example of plastic's pervasiveness throughout the natural environment.
Between addressing the nebulous notion of "toxic masculinity" and working on the more tangible, more measureable, and more actionable challenge of contributing less to environmental degradation, it is well worth the time of the management of Gillette to re-evaluate their priorities. Considering the simple metric probability of success, a smart investor will likely not see any value in investing precious corporate resources in an initiative that aims to "solve" the "problem" of "toxic masculinity". If they want to be seen to be "doing good", saving the environment falls more snugly within Gillette's domain of core competence than dabbling in wishy-washy "gender issues". That's simple business sense.
benign0 is the Webmaster of GetRealPhilippines.com.