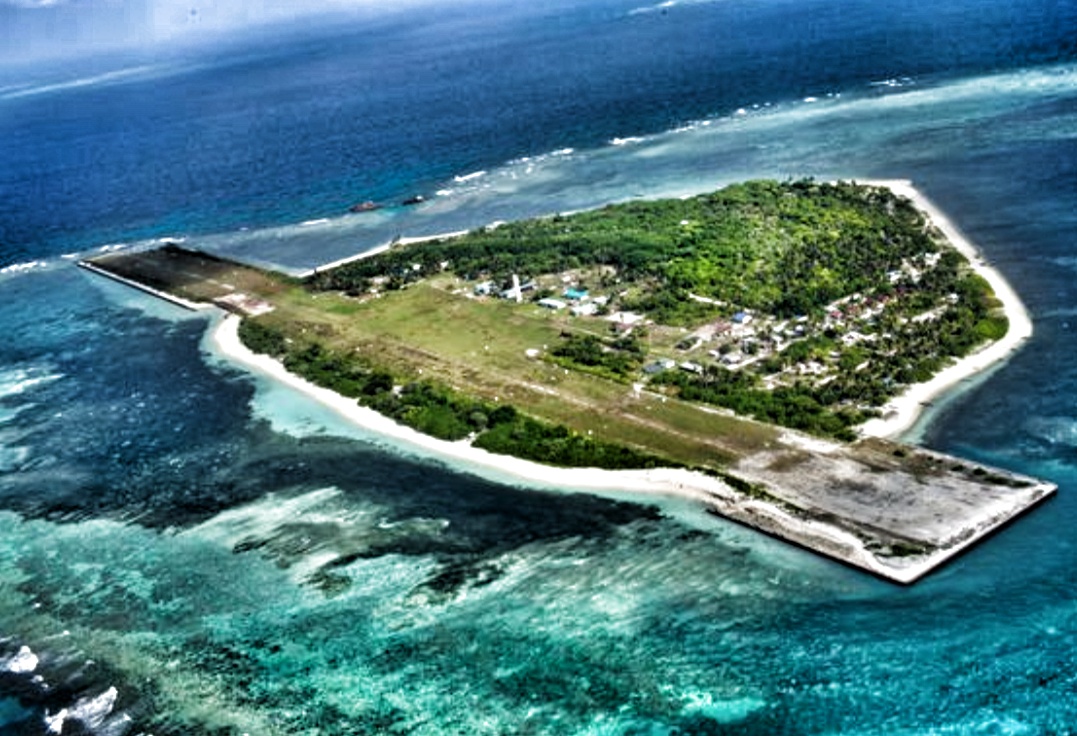 Hundreds of Chinese vessels are swarming Philippine-claimed Pag-asa Island like an army of ants feasting on a helpless slowly dying Maya bird that's lost hope. It's just a matter of time till China will have gained de facto control over the entire Philippine-side of their nine-dash line in the South China Sea (SCS). And all the Philippine government can do is cry out "the intrusion is illegal" before the hardly impressed ears of the whole international community.
For a government that doesn't even have the political will-power and muscle to eject squatter shanties on its local soil, there really isn't much to hope for on this slowly sinking Pag-asa Island. Wake up guys, Duterte won't be riding on a Japan-made Kawasaki jet ski; it was just a figure of speech made in jest to entertain you all (Note: literally, a jet ski will not have sufficient gas to get there.)
Gloria Macapagal Arroyo through  the Joint Marine Seismic Undertaking (JMSU) effectively gave China the green light to start claiming territories in the Philippine Exclusive Economic Zone (EEZ) for the purpose of extracting gas reserves and projecting their hegemony over the sea called by their name.
Then it was Noynoy Aquino who lost Scarborough Shoal close to Zambales through that disgraceful naval standoff that left our Navy vessel coming home empty-handed. That's the prize a little boy gets for arresting a handful of Chinese fishermen in the area.
Now is it Duterte's turn to lose something?
Malampaya gas field off Palawan supplies roughly a third of the electricity demand of Luzon. It is a ticking time bomb. Filipinos have until the early 2020s to start building a replacement, before the current offshore facility gets to critical near-depletion levels by 2024.
Otherwise, if we keep putting off long-term planning compounded with a faithful follow-through in action, a crisis of mega-proportions, similar to Metro Manila's recent water shortage, will come knocking on our doors.
Filipinos should be trembling by now, especially since news is out that China has just successfully constructed their first offshore deepwater rig in SCS to supply LNG to the mainland (Yep, reading Chinese online news like the link provided might help Pinoys snap back to reality).
Filipinos have two choices: Welcome back America or Fully embrace China
One thing is clear: War is not an option. And a China-vs-Philippines head-to-head collision is out of the picture given our pathetic military stats:
Military Stats: China vs Philippines (nationmaster.com, 2014)
Air force > Combat aircraft 1,500 vs 55
Army > Main battle tanks 9,000 vs 0
Budget 166 US$ BN vs 2.9 US$ BN
Navy > Aircraft carriers 1 vs 0
Navy > Amphibious warfare ships 27 vs 11
Navy > Corvette warships 15 vs 11
Navy > Cruisers 0 vs 0
Navy > Destroyers 27 vs 0
Navy > Frigates 48 vs 3
Navy > Nuclear submarines 3 vs 0
Navy > Submarines 40 vs 0
Filipinos can choose either of the two:
Ask America to come back into the picture. Bring back the balance of power. The Philippines cannot defend itself. It's military is hardly even enough to contain the local insurgencies. It's budget is prioritized in favor of offering freebies to lefties rather than securing confidence in  fundamental national defense.
Or embrace China and simply change our outlook: what most refer to as invasion or intrusion, we can instead call investment. As Senator Raul Manglapus once jested in Confusian fashion, "IF rape is inevitable, lie back and enjoy it."
China has strange ways of holding claim to new territories and the basic technique works with hardly any bloodshed or guns firing. Recall how China already began naming undersea features in Benham Rise on the Philippine Sea (east side of PH)? It's like the proverbial frog getting cooked 1 degree Celsius at a time without even noticing it.
Words are alive (Zaxxun Creed line 3.c). All that China has to do is repeat a statement enough times and it becomes brick-and-mortar reality. Just recently, they made a powerful statement of unrivaled historical claims over SCS that finally made the Palace put out the Hague ruling card for the first time in Duterte's term.
So is the Honeymoon over? Likely not. There's this good thing about being a "Province of China": quality of life. Letting China in will effectively solve the infrastructure and services woes in the country in terms of energy, traffic/transportation (esp. rail), communications/internet, and water supply, as we become the recipient of massive investments in factories and industries, raising the technological level of Filipinos and pulling out many from poverty through job creation.
It's like how fish and vegetable vendors in a local Palenke (wet market) will be in protest when a huge air-conditional SM mall rises in their area.  The outrage soon dissipates as they wake up to their new cool and clean reality of shopping convenience.
On the other hand, letting America back in by setting up bases might look good for maintaining our "national sovereignty" in SCS/WPS. But it's a false sense of pride because the Philippine military is not providing the defense shield, but a foreign power (against another foreign power). It's hardly any different from being a province or state of that superpower. Then the commies will be back in the streets crying "Tuta ng America."
It's up for Filipinos to choose between which illusion/delusion they will opt to believe and pursue. Either way, Filipinos need to swallow their Feenoy Fried dipped in Jollibee ketchup, with either American Coca-cola or Chinese Herbal Tea as panulak.
Filipinos may one day wake up with 50% of their Pinoy children running around their schoolyards having Chinese blood (aka Chinoys), but who cares – by then the country will be looking as clean, green and developed as Singapore, right? And as I've said before, there are hardly any pure-blooded Pinoys around these days anyways: You can even ask PNoy, Duterte, Bong Go, Bongbong and Cardinal Tagle if they agree.
Then after being a "Province of China" like Taiwan or "Special Administrative Region" like Hong Kong for 40 years or so, we can regain our true independence, graduating with a formidable set of 20 submarines in our fleet. Now that's what witty locals in the vernacular refer to as "Utakan lang yan!"
Zealous revolutionary advocate of bringing back common sense for the common good in a land of dysfunctional and delusional zombies.