This PM came to me the morning of March 29 2019
A not insignificant group of some 130 lay Christian leaders heeded the call. They organized themselves and discerned together the best senatorial candidates to support among the 62 contestants. Since 2015 these Christian leaders from the Catholic, Evangelical and Protestant persuasions have come up with GABAYKRISTO, a set of Christian criteria by which to measure the politicians. They researched the stance of the 62 candidates on various important national issues. They got the profiles of the candidates and they met several times to set up the criteria for screening the candidates. This is a serious kind of discernment circle that the bishops have been calling out.

They call themselves the PEOPLE'S CHOICE MOVEMENT (PCM).

They came out with two layers of screening. The first screening is to vet the candidates on two know-out issues: belief in God and federalism/charger change. They believe that a person who does not have the fear of God in him can easily abuse others. They also believe that the present state of the country is not ready for federalism and charter change. 30 candidates were eliminated on these two knock-out issues.

The 32 candidates who remained in the pool were then subjected to the second screening. They were rated using criteria based on GabayKristo, a guide of 20 specific questions which are divided into four categories –
• Character & Honor,
• Competence & Abilities,
• Faithfulness to public service,
• Faithfulness to God, the Constitution and the laws.

Each of the 20 questions was graded from 1 to 5, 1 being the lowest and 5 the highest. The ten candidates with the highest scores were declared the selected candidates.

The following, in alphabetical order, were the selected "10 BEST SENATORIAL CANDIDATES THAT OUR COUNTRY & PEOPLE NEED DURING THESE TIMES" – –

1. Alejano, Gary
2. Aquino, Bam
3. Cominares, Nery
4. Diokno, Chel
5. Gutoc, Samira
6. Hilbay, Pilo
7. Macalintal, Romy
8. Poe, Grace
9. Roxas, Mar
10. Tanada, Erin

Our lay leaders, with the People's Choice Movement, have done their work of discernment.

Now is the task for all the lay faithful to campaign the deserving candidates so as to counter the money and the political machineries that the TRAPO politicians are using. There are still two months for all to do this particular exercise of the Christian faith.

Bishop Broderick Pabillo
March 25, 2019
I replied:
I don't care what he has to say and ( name of friend)  please feel free to block me at anytime. The Catholic Church locally has allowed itself to be whored out by a desperate political party that keeps changing its name since they destroyed what they used to have . I will give you some examples and please tell me where the bishops rationally explained the following: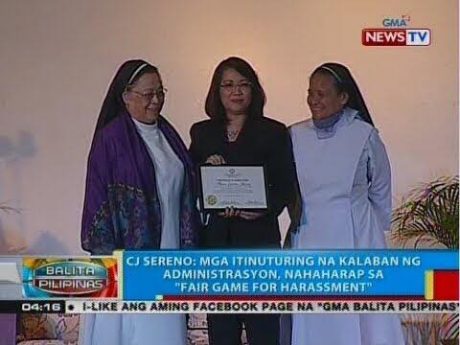 Sereno who is not Catholic in mass and with nuns. Love this !!! Yes use the Catholic voter base . Not bad for a person who is totally against  the Sign of the Cross. That is truly principled.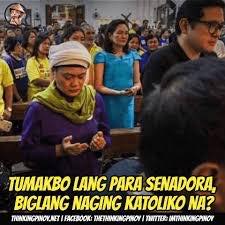 I got this from Thinking Pinoy.  Samira Gutoc  is prostituting the public worship of the mass to whore votes. Somebody please show me where the bishops condemn or approve this? Cheap attempt to appeal to multiple demographics.
TOLENTINO and the Liberals in 2015.  Why are they( Bishops) so selective ? Maybe they were paid to be selective?
When I look at this I can't help but ask what commandment was that ?
I am the Lord your God, you should have no other  gods before me .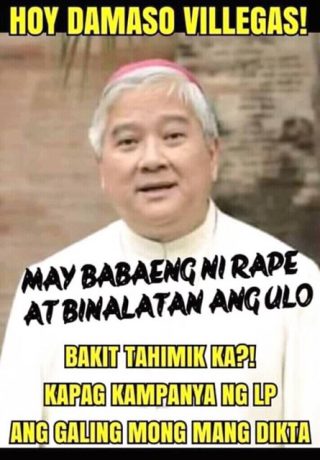 What part in the Bible ?
First, remove the beam out of your own eye, and then you can see clearly to remove the speck out of your brother's eye.
The sins of one political group  are so invisible to them . GALING !!!!Two years ago after attending mass I wrote this.  Whatever happened to separation of church and State ?The bishops could care less about SAF 44 or Dengvaxia because their sponsors won't let them
Andy Bautista. He only deprived the Filipino of their vote . No condemnation from the bishops . None !! Good Ateneo boy. Ignores his sons and is hiding in the US.
If I think INC block voting is a joke and abuse why is this any different ? Nowhere here did I say anything personal ( to my friend)  But you can not argue that for the bishops it's very personal.  And if it's personal what does that have to do with God.
************ end of my reply  March 29 2019  **************
My friend who sent me that BS  post (which is a thinly described liberal party ad paid for by the Liberal party)  had only one reply midway through my counter rant.
Hahaha. At any rate we can still make our our research and pray of course before we cast our votes.
That thing she sent me does not ask for research. It claims to have done the research for us and expects us to be like sheep and follow their prescription. Whatever that committee claims to be wanted those 10 people from the start. Then they came  up  with some B.S. formula to justify the 10 people they want. It is a lot like hiring a pinoy survey company. Before you finalize the rate they usually ask what do you want the survey to say and you pay them to come up with the justification of what you want the survey to said. So that famous D'Strafford survey from three years ago. The only thing new was the name. The technique was not.
Look at their list . They are all silent on the following issues:
Do you know why they are silent on these issues?  They only care about issues they can blame on Duterte so that makes anything  they say personal.  Their list reeks of a personal vendetta. The Catholic Church officials are one with their candidates and have been for a long time and want you to believe these candidates have merits outside their clandestine relations. Even during the previous term 2010-2016 they mostly turned a blind eye on the sins of the administration at that time. The Catholic officials that did speak out against  the balding , bewildered, bespectacled  one were not offered main stream media coverage.   Weird how we can have truly defenseless children dying    yet this is the only evidence of the Catholic Church speaking for any kind of accountability .   Of course the list is endorsed by Bam Aquino.  He who spent his entire term cosplaying the uncle he never met who he included in his initial bid for the Senate. Bam apparently is far more academically accomplished than his presidential cousin yet shares the same lack of originality.
A Google search I did using the terms " cbcp pastoral letter fake news" produced the results above. How charming! Page 1 results are exclusively composed of Rapple, ABS CBN and the CBCP itself.  A look into the Rappler article dated June 24 2017 shows that this humble website that I have been writing for since 2012 is mentioned.
The other websites they list all seem to defend the Duterte administration and nor do they  list websites fiercely loyal to the yellow cause to the point they function as attack dogs.  Funny how Rappler is not included in their witch hunt and is in fact spreading the fake news list. Rappler faces a host of charges ranging from libel, foreign ownership and tax evasion. CBCP seems to be in too much of a rush to declare certain people fake news.  If Rappler is indeed guilty of dodging local foreign ownership laws wouldn't any of their publications by definition be fake news since they have a fake foundation? Rappler like the CBCP  mouthpieces no not hide their political agenda very well. For both of them one side is flawless and one side is eternally damned.  By favoring Rappler, wouldn't they be in favor of media outlets who flaunt the local laws?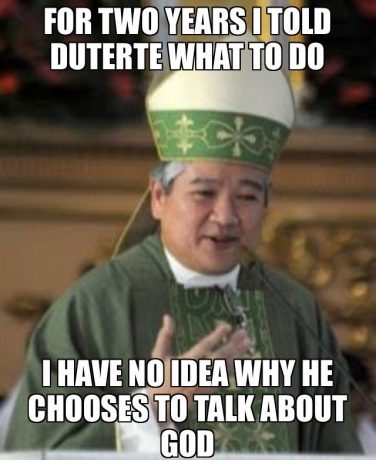 The officials speaking for the Catholic Church go through a lot to hide their obvious bias towards the yellow movement whose last president was Noynoy Aquino. They are here to dictate to you politics not morality. They had very little in terms of public sermons for Noynoy Aquino even though he faced accusations of squandering lives and public money.  They also feel extremely offended when their punching bag punches back. This is a personal fight. The bigwigs of the local Catholic Church want you to believe it is really about following God.  I believe in God and I refuse to blindly follow some agenda filled vendetta disguised as a "work of  discernment". The local Catholic Church is more focused on kissing up to the Liberal Party than respecting their flock as children of God.  If I was fond of blindly following people with a personal agenda who expect me to swallow their proclamations hook, line and sinker. I would read Rappler.
Putting a very sharp needle into the balloon known as Pinoy Pride since 2012.