Hot diggity! Yeah just gotta love the Mar Roxas' and Noynoy Aquino's part of the Liberal Party, they're a ton of laughs and they're getting funnier every day.
If I am not mistaken, it was only the other day when, in an attempt to prove that his rival Jejomar Binay had failed to curb the drug problem in Makati, he inadvertently hit current Makati City Mayor Romulo "Kid" Pena when he said that drug trafficking was still rampant in the country's premiere corporate and financial district.
Mayor Pena is supposed to be one of Roxas' or LP's man on the ground in Makati and it would have been better if "undramatic" Mar had made claims that Pena had succeeded in reducing drug trafficking under his short term. But alas, Roxas must have either been pikon or too piqued to think straight that he let his real character show — self-absorbed, entitled, and weak.
Anyhoo, so much for Makati and word is that since Pena is on his way out anyway because he is certainly no match for the Binays, in Roxas' mind he can dish out as much crap on Pena as he felt he needed to.
I guess that's how you're treated if you allow yourself to be prostituted in some political ploy.
Anyway, it seems Roxas really has no grasp of politics on the local level and in trying to create whatever leverage he can by using the good ole Equity of the Incumbent, his campaign organization misjudged a few characters which enabled them to be associated with the straight path of the Liberal Party of the Philippines.
AS IF that dancing girls simulating sex acts on stage with local leaders of the Liberal Party in Laguna wasn't enough of an embarrassment, further down south of Metro Manila is another Liberal Party local leader who is wearing egg on his face.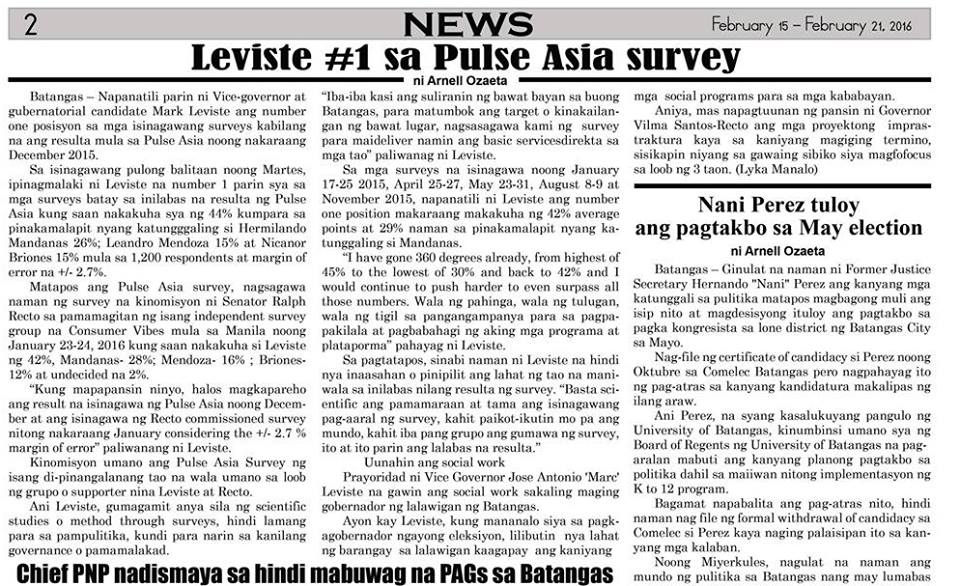 Apparently Mark Leviste, Batangas Vice Governor who is gunning for the top provincial post being vacated by "Star For All Seasons" Vilma Santos Recto is in hot water for faking a survey by Pulse Asia Research Inc..
Local Batangas weekly Frontpage, in its February 15 to 21, 2016 issue, headlined Leviste's claim that the popular – albeit often controversial – pollster that he was numer one in the southern province's gubernatorial race. Here's the main excerpt of the story – originally in Pilipino and translated by yours truly:
Leviste #1 in Pulse Asia Survey

Batangas – Vice Governor and gubernatorial candidate Mark Leviste has maintained the number one position in the surveys conducted, including that of Pulse Asia last December 15, 2015.

In a press conference last Tuesday, Leviste boasted that he was still number one in the surveys, including that of Pulse Asia where he garnered 44% compared to his opponents Hermilando Mandanas 26%; Leandro Mendoza 15%; Nicanor Briones 15% from 1,200 respondents with a+/- 2.7% error margin.

After the Pulse Asia survey Senator Ralphy Recto commissioned another survey by a Manila-based independent survey group, Consumer Vibes, where Leviste garnered 42%; Mandanas – 28%; Mendoza 16%; Briones 12% and 2% undecided.

"Note that the results of the Pulse Asia survey in December and the Recto-commissioned survey are practically identical, considering the +/- 2.7% error margin," Leviste explained…
Clear enough. But comes now Pulse Asia, through its Research Director Ana Marie L. Tabunda, which issued a disclaimer to the Frontpage people, saying that the survey organization never conducted a survey in Batangas covering those dates:
23 February 2016

MS. TINA GANZON

Editor-in-chief

FRONTPAGE

FRC Bldg.

#12 A. Pastor Road

Brgy. Pallocan, West Batangas

Batangas City

Dear Ms. Ganzon: 

This is with reference to a news article written by Arnell Ozaeta that appeared in your weekly paper dated February 15-21, 2016 entitled Leviste #1 sa Pulse Asia survey. The article reported on a Batangas survey allegedly conducted by our organization in December 2015.

Please be informed that Pulse Asia Research, Inc. did not conduct the pre-electoral survey referred to in said article. We did not conduct a survey of that magnitude during that period in Batangas. In the interest of fair play and responsible journalism, may we ask that you rectify this unfortunate error in an equally prominent news story in a subsequent issue of your publication.

In the future, should there be survey findings attributed to or alleged to have come from Pulse Asia, we suggest that you check out the information first by calling us at 927-0028 to 29 or emailing pulse.asia.inc@gmail.com.

Thank you.


Very truly yours,

Ana Maria L. Tabunda

Research Director

Pulse Asia Research, Inc.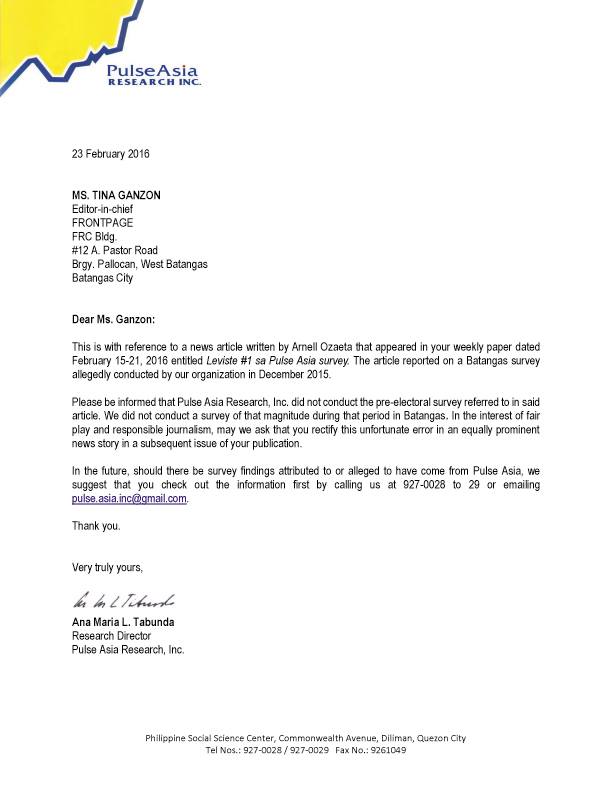 Hala!  The Liberal Party's (LP) top standard bearer and manok of Senator Ralph Recto and his wife Ate Vi caught in a super lie? A very compromising and embarrassing position for all!
Well, it isn't the first time Mark Leviste has been caught in an awkward position. The nephew of convicted killer and former Batangas Governor Jose Antonio "Tony) Leviste (did we mention ex love of Senator Loren Legarda? And out on parole under the PNoy administration? And Mark's a "Jose Antionio" namesake?) is subject of an investigation by the Department of Justice when his ranch property in Lipa City was raided by joint elements of the Philippine Drug Enforcement Agency (PDEA) and the National Bureau of Investigation (NBI) in November 2012 because it was being used as a major shabu laboratory.
Mark and his father, Conrad (twin brother of Tony), filed separate affidavits with the DOJ denying involvement in the illegal drug operation, both saying they leased out the property to a Jorge Torres.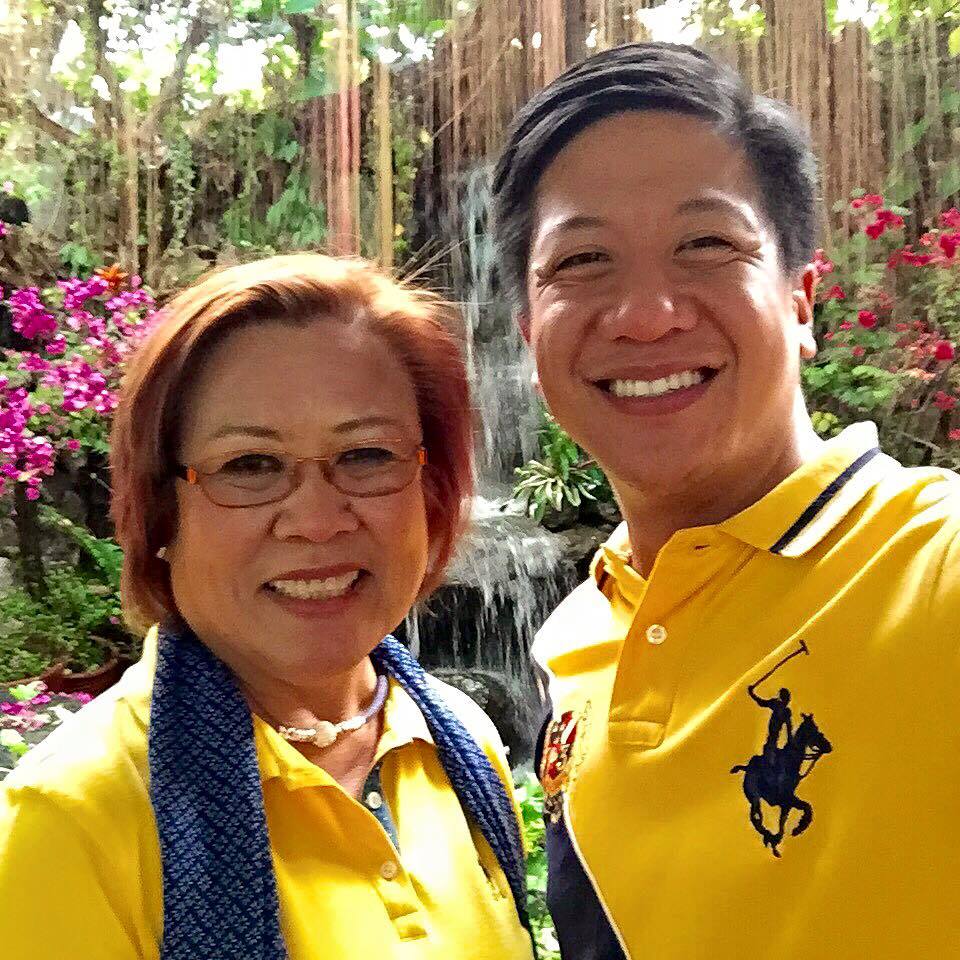 Well, the reason for the raid was because the PDEA-NBI was indeed searching for this Torres character who has been under surveillance for his high living (millions in bets in cockfights) and his connections to the Torres drug cartel of Mexico. Seems like drugs and cockfights are common factors of Filipino and Mexican crime culture.
In any case, the DOJ/ NBI, under then Secretary Lilia De Lima, of course, has since fallen silent on this investigation. Of course, Del Lima is running under LP's senatorial slate and has resurfaced for a sweet campaign selfie with Mark in his Facebook page.
Another rut Mark Leviste has found himself in is his conviction by faking a bomb scare in the Batangas Provincial Capitol. A pretty funny charge, if you think about it, but not until you realize it's a criminal offense, and conviction makes you just that: A CRIMINAL. It's under appeal right now at the Court of Appeals. But who knows, something like that can just throw a monkey-wrench in a coveted political position.
Hmmmm… Batangas is turning out to be pretty interesting.