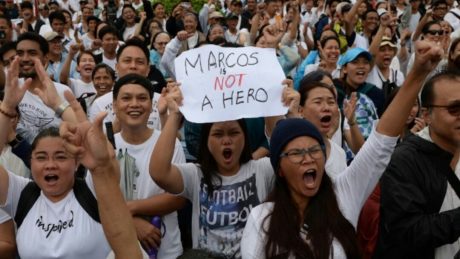 Okay ladies and gentlemen, before I begin, let me get a few things out of the way.
First off, if you really need to know, I am a Marcos supporter. Now, before you say anything, I'll just say this: Yes, former President Marcos was not an angel. He wasn't a perfect leader. He has done his share of misdeeds that ended up causing quite a grievance to our countrymen. And yes, I am also highly suspicious of Imelda Marcos and her hairdo which is probably held up using chemical compounds that are detrimental to the environment.
However, I will still say that Ferdinand Marcos has also done his share of good things for the Filipino people. Indeed, we reap many of those benefits today such as the various engineering projects he funded as well as various systems that has made life easier and more modern for Filipinos. Lastly, as for his burial, he was buried among soldiers and veterans and not the actual heroes of our history so, all in all, his burial lacked the kind of "gravitas" that is due to some of our more vaunted historical figures like Ramon Magsaysay. Besides, all things considered, wasn't it the constitution as written by Cory Aquino that states he should be buried in LNMB in the first place.
Now what I don't understand is just what is happening to the youth of today. All I see are children who aren't even aware of what they are doing. They put up placards and signs with messages that don't even make the slightest sense. Many of the Anti-Marcos protesters don't seem to even know just what it is they're fighting for and instead make their so-called "protest" more an act of vanity and narcissism rather than a legitimate act of defiance. With placards and signs that talk more about their love-lives and senseless insults, these sham protesters are more an insult to the actual victims of martial law than any actual help to them.
Next, I would like to call out my fellow Marcos supporters out there for their apparent lack of respect for others as well as themselves. I mean, c'mon guys, I don't like the opposition either. I especially hate the Aquino family and that fish-faced monstrosity Noynoy. However, the way you openly disrespect people among the Anti-Marcos crowd is just unbelievable. I mean threats of rape? Really? And I thought I was bad. Ferdinand Marcos himself is probably turning in his grave right now what with the way you openly objectify and verbally abuse women of our country.
I remember writing this article back then, asking if Rizal was right about the youth being the hope of our country. Now, I can only wonder as youths from both factions go at each other on the internet and on the streets with nothing but foolish things to say and do. I can only speculate on what will happen when Noynoy finally kicks the bucket and people start debating where the fish-faced SOB will be buried.
I HAVE RETURNED TO LAY WASTE TO OUR ENEMIES!