Imperial Manila's hipsters keep complaining that there was not enough effort to "educate" generations of Filipinos about the alleged "horrors" of "the Martial Law years". Perhaps this is why it is seen to be an "in" thing amongst a small clique of shool kids to be seen on these anti-Marcos protest rallies of late. The thinking there, presumably, is that there is some sort of exclusiveness about being "in the know" about the "truth" about Martial Law.
If that is the case, and there is, indeed, some kind of trove of information about the Martial Law years that a small clique of hipsters are privy to, it certainly is not showing in the protest paraphernalia they have been bringing to their rallies.
Check out this one, for instance.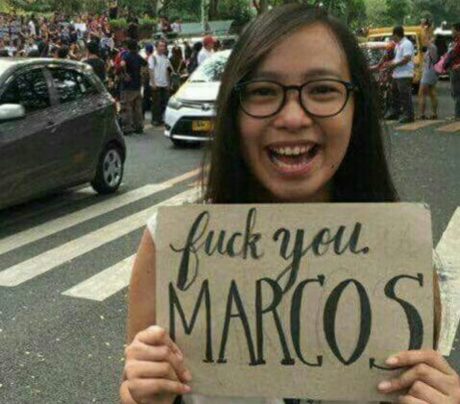 I mean, after reading that placard, does one come out of the experience being a bit more enlightened about the supposed "horrors" allegedly perpetrated by former President Ferdinand Marcos?
And what about the persistence of this bevy of "Not a hero" slogans? Last I recall, heroism was not in the case file the Marcos family used to get clearance from the Philippine Supreme Court to bury the former president at the Libingan ng mga Bayani.
This is the whole trouble with delegating grownup "activism" to the kiddies. Rather than step up and be serious about expressing their grievances through the noble channel of street parliamentarianism and uphold Filipinos' strong tradition of these ocho-ocho democratic exercises, these "millenials" have turned the "people power" narrative into a game befitting a schoolyard more than one fit to be hosted by the hallowed pavement of EDSA.
What is it exactly about the Marcos burial at the LNMB that remains relevant to the majority of Filipinos — including those who reside outside of Imperial Manila?
Until these hipster activists answer that important question, theirs will be a movement utterly removed from the realities ordinary Filipinos face day-to-day.
benign0 is the Webmaster of GetRealPhilippines.com.