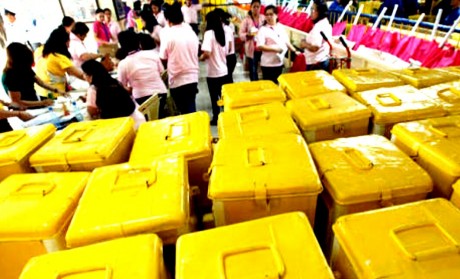 Ladies and gentlemen, I was recently notified about an issue regarding our countrymen who are voting outside the Philippines. According to what I read, it seems that the Liberal Party (LP) is already making headway by cheating. Apparently, when some of our fellows try to pick the names of other presidential and vice-presidential candidates in Dubai like Mayor Duterte or Senator Marcos, the names of Mar Roxas and Leni Robredo come out instead. Now there is no confirmation yet whether these rumors are true or not but, knowing the LP and the way they function, there's no real reason to put it past them. In fact, if this were true, it would justify Mr. Roxas' statement that he doesn't need the votes of OFW's and Mrs. Robredo's previous statement in the vice presidential debate that she alone would win the bid to become vice president. While I pray desperately that this is just another senseless rumor, I cannot help but wonder if this year's election is already rigged.
Of course, if this rumor proves true and the LP wins the 2016 elections, it won't be the first time the Filipino people will be denied any kind of justice for their troubles. Truth be told, the Philippines and its people have a long and sad history of being the victims of injustice. From the victims of petty crimes like theft and rape to national-scale atrocities like corruption and massacres, one cannot help but notice how the common people of the Philippines are the ones that always end up with the short end of the stick.
The LP and their allies like to say that the Marcos regime was a time of injustice and cruelty. A time when people lived in fear and despair. However, I must ask, is the present day any different? We are once again under another Aquino, the son of an alleged "hero" and an alleged "saint", the very same people who allegedly "freed" us from the tyranny of Martial Law under the Marcos regime. But then, what has this Aquino brought upon us under his term? The untimely death of Chinese tourists, the utter neglect of Typhoon Yolanda victims, the brutal massacre of SAF 44 members, the wanton slaughter of the Lumads and, just recently, the death of starving farmers who just wanted food but instead received bullets for their troubles.
And what does President Benigno Simeon "BS" Aquino have to say about it?
His usual answer amounts to: "I wasn't informed, it wasn't my fault and you can blame the incompetence and malicious intent of my predecessors."
The worst part is: People eat it up anyway. Even after our countrymen have been beaten, raped and butchered like animals, they are quickly forgotten and buried by senseless distractions disguised as news such as celebrity couples and crappy noon-time shows. Is this the freedom and justice promised to us all those years ago by the EDSA Revolution led by Cory Aquino and her allies? Can we say that we now live in harmony and prosperity as promised by the LP when they came to power in 1986?
Unless we are willing to confront the injustices of our society, then we can bet that the LP's Straight Path to Hell will only continue in the years to come…
I HAVE RETURNED TO LAY WASTE TO OUR ENEMIES!