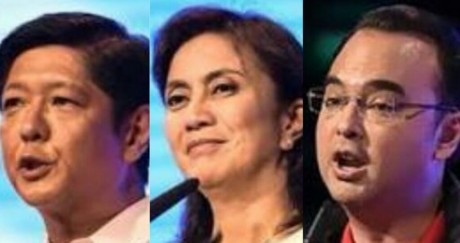 Imagine if vice presidential candidate Bongbong Marcos (BBM) was as abrasive and harsh as Alan Peter Cayetano. Yesterday's vice presidential debate would have deteriorated very quickly. BBM kept his cool because nothing could be achieved by attacking back. Yet, he could if we think about it. Rene Cayetano, the father of Alan, was a partner in Pecabar, which was the go-to law firm during Martial Law (ML), because Enrile was also a partner in the firm. So, you could say that the father of Alan was a beneficiary of ML because his family was part of the then powers-that-be.
Then you have Leni Robredo, whose father was also appointed by former president Ferdinand Marcos (FM) as a judge. Then you have Chiz Escudero, whose father was the Agriculture Minister of FM. Of course, Gringo Honasan was of the inner circle of Enrile at the Department of National Defense (DND) and privately also the COO of the businesses of the Enriles in Cebu. If they are so antagonistic against BBM, gosh their candidates are people who led very comfortable lives during ML. Surely, if BBM wanted to, he could have asked his staff to dig all sorts of dirt against the families and friends of his opponents, like what they are doing against him. But, what would that achieve? A scorched earth policy? But, what would that build when he has now chosen a path of mending and unifying?
What Alan has proven is that he is a seasoned bellyacher, which means he should remain in the Blue Ribbon Committee where his talent could be more useful. He could also be a good trial lawyer, and I believe he should pursue such. But to be in the Executive Department, much more a VP? Gosh, how could he execute policies and programs with such abrasiveness. He even outdoes his father who was a suave gentleman and thus, is the opposite of his father.
He is also trying to outdo lawyers like Rene Saguisag and Joker Arroyo, and we know what kind of lawyers they are when they become politicians. They are perfect when they are in the opposition, but flounder pathetically when they find themselves in power. No, Alan cannot be in the Executive Dept, or he would just mess up that branch and waste his talent there. See, he was trying very hard to be like a Duterte, and yet it can be seen he is no Rodrigo Duterte, so he looks like a court jester in the court of Duterte. Sonamagan, how some people will go to the extent of making themselves clownish just to be in power. These are really sad stories. Sayang ang mga talents, mga summa cum laudes pa naman sa school, but because power blinds them, they no longer know themselves.
I guess same could be said about Chiz who was trying to be the opposite of Alan; to be cool as a cucumber. But this guy is a schemer and is sneaky from what I hear in the grapevine. So, I get it when he tries to be flowery with his words. Gosh, he would be a great car salesman. Sayang din, cum laude din sa school, but really does not know himself anymore. He should be in the private sector, maybe as a commercial lawyer.
Never mind Antonio Trillanes. This guy shoots from the hip and says the craziest things. But, what do you expect from a megalomaniac?
I was quite impressed by BBM, Gringo and Leni. Unfortunately, Gringo and Leni are with the wrong groups; mga napilitan lang; they should detach themselves, or they are ruining their futures. Sayang din, the two.
Quite unfortunate then was the quality of the audience. They came not with an open mind, to listen to what is good for the country, and to decide their vote thereafter. They had already decided their candidate, so they came to cheer as if it was an Ateneo versus La Salle basketball match. But, the awful sounds they were generating, while I was watching the debates on TV, made me conclude early on, it was a bakya crowd, the gusgusin kind, therein. Indeed, it was a sabong. No wonder foreigners don't respect Pinoys; they think we never take anything seriously; it's all just joke. ..yea, it's more fun in PHL.
If the audience had been really listening to BBM, they would have heard him asking to be the Secretary of Department of Labor and Employment (DOLE). It is the Labor Portfolio. It is the most thankless job in government. This is something phenomenal. Really, an earthquake. He is looking at doing war with Oligarchs, if he really wants to do a good job in DOLE to benefit Labor.
But, this means he understands the root cause of all problems. Humans cannot have dignity if they cannot have work. We cannot play in the global competition if part of the population is unemployed, or underemployed, or underpaid; we cannot play basketball with only two or three players; all five players should be in tip-top conditions. A secretary of DOLE, who is a VP, might just correct things in DOLE, which has so far been providing Oligarchs with slaves, who are Pinoys.
His objective obviously is the growing of the middle class. If this is the objective then all other problems start to fall in their proper and respective places. A working population means also solving cultural and social problems. It is a lofty objective, but it gives a hint that BBM is profound; all the other candidates are pygmies, as Manila Times columnist Bobi Tiglao already observed.
When BBM said this, there should have been a thunderous applause from the audience. A VP who is a Secretary of the DOLE? And not just a token czar of OFWs as before? Out of this world!!! Oligarchs must have already taken notice, and that is why they sent people to shout him down, and the propaganda machine is in full throttle.
GRP Featured Comment hall-of-famer. Former executive of the Far East Regional Office of a US-based multinational company living out of a suitcase covering the market from Tokyo to Mumbai to Melbourne, and all the countries within that triangle. Got tired after logging 300k air miles per year. Now, I just have a little trading biz on specialty chemicals.