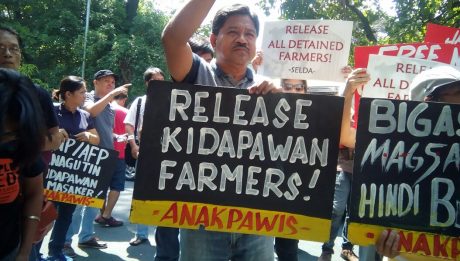 The Kidapawan massacre and the Syrian refugee crisis demonstrate an interesting parallel.
According to European Commission President Jean-Claude Juncker, a torrent of climate refugees will be a new challenge if world leaders fail to forge an ambitious, robust, and binding global climate deal in Paris held in December 2015. He emphasized that climate change is "one of the root causes" of the refugee crisis that sprang from Syria.
SUPPORT INDEPENDENT SOCIAL COMMENTARY!
Subscribe to our Substack community GRP Insider to receive by email our in-depth free weekly newsletter. Opt into a paid subscription and you'll get premium insider briefs and insights from us daily.
Subscribe to our Substack newsletter, GRP Insider!
Learn more
Recall how over 9 million Syrians had fled their homes since the outbreak of civil war in March 2011. According to the United Nations High Commissioner for Refugees (UNHCR), over 3 million had migrated to Syria's immediate neighbors Turkey, Lebanon, Jordan and Iraq. 6.5 million were internally displaced within Syria.
Based on a report from the Proceedings of the National Academy of Sciences, drought, in addition to the mismanagement by the Assad regime, contributed to the massive displacement in Syria. It argues that the long drying trend in the region had led to social unrest.
The Philippines itself is no stranger to long periods of drought. Earlier in 2015, the Philippine Atmospheric, Geophysical, and Astronomical Services Administration (PAGASA) warned that the country is likely to face up to 6 straight months of drought from July to December. The weather agency also noted that the El Niño phenomenon could intensify and persist until early 2016.
Following a similar plot, the Kidapawan massacre is also an episode of public turbulence caused by human interference with the climate.
Last March 30, farmers in North Cotabato were demanding the immediate release of calamity aids from the local government. They had been experiencing severe hunger because of the extended periods of drought in the area that greatly affected their crops.
The farmers took to the streets their protest of the government's failure to deliver on its promise to provide relief goods after declaring the province to be under a state of calamity.
The situation went worse when a number of protesters began attacking policemen escorting a group of social workers out to rescue minors in the barricade set up along the Davao-Cotabato Highway in Kidapawan City. At least one farmer died while a dozen others were wounded after the violent clash between the two parties.
Walking the UN Climate Talks
During his speech for the leaders event of the 21st Conference of Parties (COP21) in Paris, France, President Benigno S. Aquino III said that the Philippines continues to pursue vital reforms to address climate change.
He said that the country is willing to share its experience, knowledge, and best practices like the so-called massive re-greening program that started in 2011. Aquino bragged that the goal of this program is to plant 1.5 billion trees on 1.5 million hectares in 2016, which would translate to an absorption capacity of 30 million tons of carbon annually.
What he perhaps failed to mention before his fellow world leaders is the 50 coal power plants he approved to operate under his administration.
Indeed, the Paris Agreement adopted last year reflects the collective vision of 195 participating countries that signed the deal. So many grandiose speeches were delivered and promises made. But the question remains: how sincere are our leaders in implementing these policies?
These climate policies need more teeth to be in full effect. We need to incentivize the use of green energy and strongly discourage the utilization of coal as fuel. We need a sound agricultural policy that truly addresses the needs of the farmers, such as irrigation and credit facilities. But most of all, we need leaders who can stand up for the planet and are serious in achieving their goals of reducing dangerous greenhouse gases, so we may not risk soaring over the 2-degree mark.
Break free from fossil fuels
The threatening effects of climate change are all-encompassing. Disruption of climate patterns is not only an environmental issue; food security, public health, and even national safety can all be linked to climate.
The Kidapawan bloodshed and the Syrian refugee crisis show us how its effects can lead to social unrest, which can ultimately precipitate a civil war. Being one of the most vulnerable to the impacts of climate change, it is puzzling how the Philippines can champion a strong global climate deal and at the same time continue to fuel its economy through burning coal.
If we continue to allow the operation of coal power plants in the country, then we can expect even drier and longer droughts in the next few years, and therefore, a replay of these tragedies in the near future.
[Photo courtesy Anakpawis.]
Roy Joseph Roberto is a Climate Tracker of the Adopt a Negotiator Project. He is currently part of BREAK FREE!, a worldwide online writing campaign against fossil fuels.