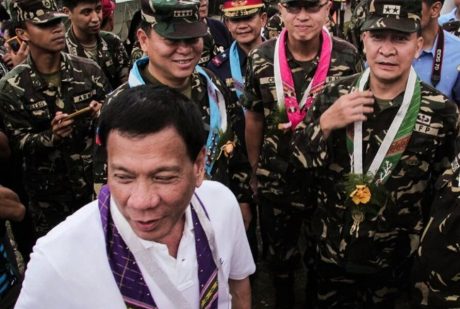 RODRIGO DUTERTE's unorthodox language and idiosyncratic campaign style have skyrocketed his popularity to such mind-blowing proportions.
The tough-talking mayor of Davao city recently drew flak for cracking a joke on the 1989 rape-slay of Australian missionary Jacqueline Hamill.
"She was gang-raped, (the prisoners) had lined up for their turn. But she was so beautiful, the mayor should have been first. Sayang!"
Human rights activists (and netizens, of course) were quick to denounce his snarky remark in both traditional and social media. But his devotees made an even swifter move to defend their glorious presidential bet.
In the Philippines, rape is a heinous crime punishable by life imprisonment. The ugly culture of rape is surely no laughing matter. This is not even a debate, we can all agree. But why do fans and supporters of Duterte still justify the mayor's rape joke with extraordinary passion?
Psychology can give us some hot tips.
BASKING IN REFLECTED GLORY
According to social identity theory, one's self-esteem and self-worth can be enhanced through basking in others' victory or through broadcasting one's association to powerful and successful people. Think of a mother posting about her daughter's achievements on Facebook. Or a student proudly wearing his school uniform during an intercollegiate academic competition.
It is human nature to associate oneself to known successful others, as if the winner's success becomes one's own accomplishment. We used to identify ourselves with our favorite sports team, school, celebrity, popular brand, and yes, even political preference. For example:
Duterte supporters tend to associate themselves with the mayor's stratospheric survey ratings.
Miriam fans identify themselves with the senator's intelligence and outstanding government record.
Poe tries to bask in her father's blockbuster popularity and appeal to the masses.
Some politicians may prefer to support Roxas because of the former DILG secretary's close ties with the current administration.
People have the tendency to shy away from Binay because of the Vice President's corruption charges.
ABANDONMENT OF NORMS AND VALUES
There is nothing wrong in associating ourselves with our favorite political figures. The problem comes in when we identify ourselves with them so excessively that we lose hold of our own personal values. This is called the psychological state of "deindividuation." It is characterized by a partial or complete loss of identity or self-awareness that leads to antinormative behavior, restraints, and inhibitions due to too much involvement in a particular social group.
Conscious or not, Duterte supporters think criticism thrown at the mayor will threaten their public image. This explains their violent behavior online, trolling on anyone who expresses even the slightest trace of dislike for the controversial mayor. And despite being well aware that rape isn't something to be joked about, that killing people is a grave human rights offense, that not insisting on ownership of the disputed seas would mean giving up our sovereignty, still, they have been patient to make sense out of the mayor's contentious positions.
They said one blunder won't change their minds. Ok, fine. But what about two, or three, or four? Sooner or later, Duterte will once again find himself caught between a hard place and a rock. But I assume his legions will support him all the same. Their individual personalities become dominated by the collective mindset of the crowd. Social psychologist Gustave Le Bon viewed this behavior as unanimous, emotional, and intellectually weak.
It is no longer a question of Duterte's own set of moral standards. It now becomes an issue of how we remain firm to what we believe in and to the values we uphold as individuals. Recall that the popular comedian Vice Ganda also cracked a joke about rape, and notice how the people reacted differently. Duterte's and Vice Ganda's jokes constitute an essentially the same offense, but how we see or interpret them becomes oddly variable.
But an offense is an offense. One does not need to adjust her moral principles just to favor her own presidential bet. A candidate's mistake is an avenue to reflect, to rethink of our choices.
A PRINCIPLED BATTLE, NOT A COCKFIGHT
We still have a few weeks before we finally express our votes through the ballot. Recognizing a candidate's weakness bespeaks of one's ability to choose better and more deserving leaders. For a moment or two, let us step back and disengage ourselves from our political associations and neutralize our political colors.
Let us try to remember who we are as individuals.
It is not a battle between you and a random Facebook user who happens to be wearing a political color different from yours. It is rather a noble, principled fight between you and your own self, a test of your integrity, a decision that can change your future and your countrymen's.
Year after year, we seek to change our government. Maybe the problem is not those who are in power, but the very people who elect them.
Even more than defending our candidates, our duty as the electorate is to vote for leaders who can best deliver results. But our responsibility does not end there. Real change can't be done by just one; it entails the participation of all.
It's never too late to think again.
Roy Joseph Roberto is a Climate Tracker of the Adopt a Negotiator Project. He is currently part of BREAK FREE!, a worldwide online writing campaign against fossil fuels.