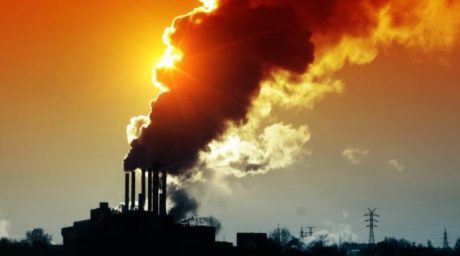 "The ethical role of corporations is environmental protection.
Therefore, the fossil fuel industry is immoral, and so are the government leaders who continue to support it."
The effects of climate change are comprehensive. They encompass issues on environment, public health, food security, and even national safety. And by going a little bit further, we can see that is also an issue of morality—or as Pope Francis would put it, our attitude towards nature. But don't worry; this article isn't going to be about religion. Your Facebook wall has more than enough about it.
Morality is how we differentiate our decisions, intentions, and actions between those that are generally perceived as good and bad. These perceptions can be derived from a person's philosophy, religion, or culture and are said to be subjective. But this should not be the case; Morality should be a set of standards that is acceptable to all—in other words, it should be universal.
The burning question has to be asked. Do owners of coal companies and government leaders who support them occupy the moral high ground? You be the judge.
The morality of coal corporations
Should businesses be subject to moral valuation? According to Prof. Leonardo de Castro from the College of Social Science and Philosophy in the University of the Philippines, Diliman, it is meaningful to speak of the morality of businesses because they affect various aspects of life such as our values and well-being. De Castro further argues that business acts have the potential to generate benefits or injuries, violate or respect moral rights, justly or unjustly distribute benefits like wages and burdens like work, and contribute to the environment crisis such as air, water, and land pollutions and the depletion of natural resources.
However, there are also arguments saying that morality carries no weight in the business sphere. De Castro has identified these arguments as (a) The Invisible Hand Argument, (b) The Legal Argument, (c) The Amorality Argument, and (d) The Immorality Argument.
Recall philosopher Adam Smith's metaphor, the Invisible Hand. It is used to describe how individual efforts may actually benefit the society regardless of the intention. Therefore, even the motive of an act is essentially selfish; such an act will eventually bring about the common good. For example, the owners of a telecommunications company are only after profit, even without the intention of satisfying the need of their customers, are still helping the community by providing a platform for human connectivity.
However, this argument can be held correct only when the business caters to the basic needs of man like food, shelter, and education. Selling of illegal drugs and prostitution will in no way bring any good to the society in general. Now, think about a giant coal-mining corporation that not only destroys nature but as well pose threats to human health.
The Legal Argument, on the other hand, argues that in the business world, morality should be out of the equation, as the laws implemented by the government are sufficient. Following this train of thought, any business is morally upright unless it violates the constitution. This logic appears to be flawed because it equates legality to morality—obviously a false equivalency. Note that abortion is still legal in some countries, as slavery was once considered lawful in the past. It is also worth mentioning that the Aquino administration has approved the building of more than 50 coal power plants in 2015, despite strong opposition from different environmental groups.
Third is the Amorality Argument, which asserts that all business activities are amoral or having no moral value. Notice how a magician deceives her audience when doing a trick. Although trickery and deception are key factors of a "good" or a "bad" magic show, it has nothing to do with morality. However, what this argument fails to consider is that unlike a magic show, people affected by business activities do not have the freedom to engage in or disengage from it at any time upon their will. Consider TV commercials that use deceptive marketing techniques. Consumers may not always know if they really get what is advertised. Another example is how some of our government leaders keep on selling the idea that we need coal to meet the country's energy requirements. If out top-rank officials continue to say that investing in coal is good and that it will not have significant impact to the environment, then people under them will be less worried of the threatening impacts of climate change.
The fourth and last argument is called the Immorality Argument. It goes with the notion that all businesses are naturally immoral and are driven by greed. What if fails to take into account is that an action can have more than one motive. An act can be both selfish and beneficial to the society at the same time, as explained in the first argument. For example, a solar company can be driven by profit, but they can help reduce carbon emissions by providing an alternative source of energy other than coal.
Break free from fossil fuels, occupy the moral high ground
The Aquino administration continues to believe that renewable resources are simply not enough to meet the country's growing energy demands. It made a firm stand that investing in coal is essential to fuel our emerging economy and propel industrial growth.
The sad truth, however, is that ecosystems in the planet will continue to flourish—perhaps at a much better rate—without humans. They can thrive and function well without us, but we cannot survive without the presence of a viable ecological unit. In terms of priority, the society comes only second to a well-functioning ecosystem. We cannot mistake modernization for quality of life. We cannot truly achieve economic growth at the expense of a healthy, livable planet.
The ethical role of corporations is environmental protection. Therefore, the fossil fuel industry is immoral, so are the government leaders who continue to support it.
Roy Joseph Roberto is a Climate Tracker of the Adopt a Negotiator Project. He is currently part of BREAK FREE!, a worldwide online writing campaign against fossil fuels.