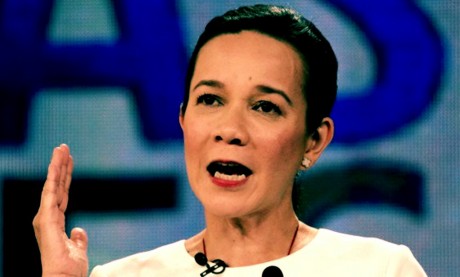 Okay, I know I've already established myself clearly as an opponent against a Mar Roxas presidency but now, it's time to move on to another candidate to bash. Granted, I really hate Mar Roxas for his association with the Aquino family but Grace Poe has earned quite a bit of suspicion due to a good number of factors which I will discuss here. Truth be told even, I have some suspicion that she could very well be an alternate candidate should Mar Roxas lose the election which is now more than likely considering how much ire he and his party has earned from the people of the Philippines.
Her Disloyalty
Now before I begin, I'm going to say that I don't have anything against Americans. I was raised by an American and yes, a lot of my good friends in my gaming community are Americans. However, after telling them about Grace Poe, they tell me not to put my trust in people like Grace Poe.
Her sudden change of citizenship just for the convenience of it should ring some kind of alarm in some people because its telling of what kind of personality she really has. Unlike the many OFWs who are slaving away in other countries, Grace Poe is already the daughter of a rich and famous action star. Her residence in the United States was done out of convenience and comfort rather than necessity.
However now that it seems like she can make a name for herself as a president in the Philippines, she wishes to once again become a true-blue Filipina. Indeed, her claim that her stay in America was a "sacrifice" almost feels like an insult to Filipinos who travel to the United States just to make sure their kids eat three meals a day even if it means having to scrub toilets and worse.
Let me make it clear to you: Grace Poe never sacrificed anything for the Filipino people when she lived in the United States and she will probably return there should she lose this year's election.
Her Lack Of Substance
Another sad fact about Grace Poe is that her biggest bet in the presidential election is that her father died. Truth be told, while her father did make some memorable movies, I don't think that's a qualification for being president. This isn't all that different from President Aquino's reason for running (and winning) in the 2010 election or Leni Robredo using her husband's death to get voted into vice presidency.
Indeed, whenever Grace Poe says "I will continue what my father started!", I want to ask her what did her father start asides from starring in a film where he was a heroic blacksmith.
Her Naivete
During the presidential debate, I remember Mayor Duterte asking her about how she would handle the troubles of the West Philippine Sea. Like a typical beauty pageant contestant, Grace Poe replied that she would seek out diplomatic solutions among our Southeast Asian neighbors.
The problem here is that, as history has proven over the years, diplomacy can only go so far. While I don't like the idea of an open war with China, if we continue to just be passive-aggressive in our efforts to regain our lost territories, then we might as well say goodbye to our islands in the West Philippine Sea. Grace Poe has forgotten the reality that not everything is negotiable and not everyone is willing to negotiate.
I HAVE RETURNED TO LAY WASTE TO OUR ENEMIES!