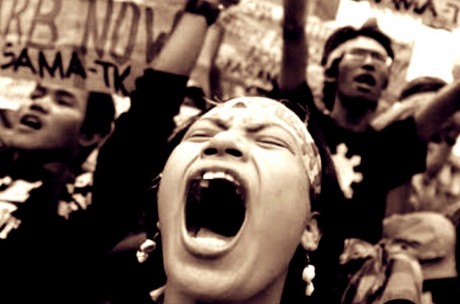 The trouble with the Philippines is that it hinged all of its aspirations on one thing: being a "free" and "democratic" society. Thus, on that idea, was built the flawed notion that freedom under a democracy was the one and only key to national prosperity. And so out of that was bred the ideas that (1) authoritarianism was singularly behind the failure of the Philippines to prosper and (2) freedom and democracy was to pave the way to achieving that long-elusive prosperity.
Well, it's been 30 years since 1986 when that "revolution" supposedly transformed the Philippines from a dictatorship into a democracy and supposedly "liberated" Filipinos from oppression. Has the Philippines prospered since? Whether or not Filipinos are better off will forever remain debatable as 30 years of "freedom" has not convincingly delivered results. Indeed, democracy "won" in 1986 removed a "lack of freedom" as an excuse for failure. In short, the failure to prosper in the last 30 years is, by all intents and purposes, inexcusable — because Filipinos no longer have anyone or anything else to blame for that failure but themselves.
The Philippines was liberated from Japanese occupation and gained its "independence" in 1946. Strike 1. 1986 was Strike 2. Thirty years is a long enough time to prove that Pag May Laya, May Nilaga ("where there is freedom, there is prosperity"). Instead, Filipinos have since proven that freedom does not necessarily pave the way to prosperity any more than a lack of corruption underlies a lack of poverty. President Benigno Simeon 'BS' Aquino III's Daang Matuwid ("straight path") slogan and its derivative Pag Walang Kurap, Walang Mahirap tagline are products of the same thinking that came up with the notion that freedom causes prosperity.
Pag may laya, may nilaga.
It sounds nice and poetic. Unfortunately, like its cousin Pag Walang Kurap, Walang Mahirap it is a non sequitur on a national scale that Filipinos latched onto with fatal consequences. Rather than make freedom work for them, Filipinos abused their freedom. Instead of expanding their horizons and enlarging their minds, freedom's effect on Filipinos was to further shrivel their collective intellect as well as broaden and deepen the scope of their idiocy.
The truth has finally dawned on Filipinos that "freedom" cannot be served with rice on their dinner tables. Nor did it result in a faster road trip between Quezon City and Makati. Neither did freedom support Filipinos' efforts to develop a longer-lasting lightbulb. Indeed, the lights, instead, went completely dark recently at the country's premiere international airport named, in all glorious irony, after the supposed "father" of that "freedom" Filipinos supposedly enjoy today.
Rather than lament the thought processes of today's Filipino youth, more credit should be given to them. To the consternation of the aging guardians of these old Yellow notions borne out of that 1986 "revolution", the Philippines' young voters are showing what real reform is about — by solving a problem using ideas different from the thinking that created that problem.
What is the Philippines' biggest problem?
None other than poverty. It hasn't changed. The Philippines remains an impoverished Third World basketcase. Did "freedom" prove to be enough to bring about prosperity? There is ample evidence that it didn't. Freedom in the hands of Filipinos was more akin to a blowtorch in the hands of a two-year-old let loose in a wooden house. Democracy was more a form of entertainment than a means to work. Instead of being used to lay a sound foundation to build a strong nation, democracy was used to demolish what little was left of the pillars of dignity, discipline, and capital in Philippine society.
Credit to finally seeing beyond the much-vaunted but ultimately-poisonous perks of "freedom" and setting sights on the disciplines required to earn that freedom should go to today's youth — the "millenials" who some people would rather diss for not properly interpreting history. On the contrary young Filipinos have learned history's lessons a lot better than people twice their age have. They have earned their right to vote.
benign0 is the Webmaster of GetRealPhilippines.com.