Ladies and gentlemen, before I begin, I would like to offer a moment of silence for the citizens of Paris. My heart goes out to those whose loved ones have been taken away from them by violence and hatred. Let us hope that those who have been injured recover quickly from their wounds so that they may return to their lives as need be. Most of all though, may those responsible for this atrocity be located and arrested quickly by authorities so that peace and normalcy can finally be restored in Paris. Finally, let us spare a moment for those who have been lost in the attack that (should they still exist and perceive the world as we know it in some form) even we who live so far away have not forgotten them and wish them eternal peace.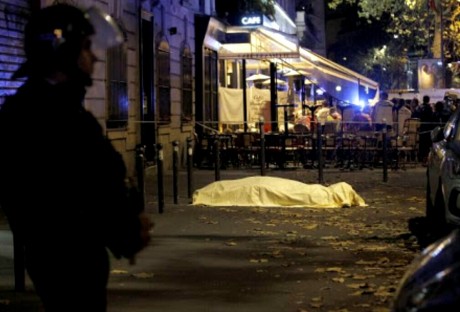 Now that that's done, it's time to once again address an elephant in the room that many of us feel too hesitant to even approach. Look, the truth of the matter is that there have been attacks on the French capital with more than a hundred dead and the Islamic State is claiming responsibility for the attacks and considers their acts of violence as a response to the various strikes of western world powers against Syria. As a side note (in my opinion only at least), I can only wonder why these "brave" defenders of Islam have chosen to attack the French when it seems that the Russians have done more damage to them than any other European power. Indeed, why did it have to be one of the most open-minded peoples of Europe who were one of the most welcoming to refugees and not some of the more hardened folk like the British or Germans? Oh well, that's their "bravery" for you…
Anyway, I hope that these recent attacks have at least brought to mind the kind of troubles we face as a people especially with President Aquino and some of his constituents continuously trying to make us believe that BBL is the solution for all the troubles of Mindanao. This, despite the fact that some of the more radical elements of Islam aren't just not interested in peace but are hungry for violence against those they deem "nonbelievers". Look, I'm not trying to insinuate or imply that all Muslims are terrorists, I am simply trying to point out that there are three facts we should learn from the recent crisis that has gripped Paris.
Willingness To Negotiate Doesn't Always Work
I know that most of you are already aware of this but for those of you who aren't, well, this is for you.
Just about everyone wants peace in their lives. Unfortunately, there are those who simply aren't interested in peace or simply have a different definition of "peace". These are people who will stop at nothing to hurt and eliminate those they see as not one of them.
This cannot be any more obvious than with what has happened to Paris. Truth be told, as I've already mentioned, the French are probably some of the more "nicer" people of Europe. They can be rude sometimes, as I know from experience, but they are more open to other cultures and have always shown a healthy respect or at least a sense of tolerance for others. However, the Islamic State chooses to attack them anyway despite their efforts in espousing a more tolerant and pacifistic stance when it comes to religious and ideological debates.
What's sad is that President Aquino and majority of his lackeys would have us believe that the approval of the BBL as is will end the various conflicts of Mindanao. Okay, so for the sake of the argument we do approve of the BBL, is there any way that the MILF and their cohorts can assure us that there will indeed be peace in the region? If the BBL is approved, can we be sure that they won't maltreat our non-Muslim countrymen in their territory?
Fear And Peace Do Not Mix Well
Tying in with what I've mentioned above, we all want peace but is it really peace many of these Muslim insurgents are calling for or is it dominance? As I've mentioned before, peace isn't just about being quiet. Peace is about having a feeling of safety and opportunity of happiness. Remember always that peace seen through the barrel of a gun is not peace at all.
We can talk about peace all we want but when our own people live in constant fear of terrorist attack, can we truly say that they live in peace? Can you call a society peaceful when it is the threat of violence that keeps everyone in line instead of a united vision for a better future? Most importantly, is peace simply about the lack of troubles or having the proper facilities to cope with and counter troubles?
Caution Is Different From Discrimination
Based on the hullabaloo about the Starbucks coffee cup alone, we can tell that there's something definitely off about society at large. Christians take insults at face value and are somehow expected to take it while so many seem to be so worried about offending Muslims that it's getting silly. Heck, based on some research from one of my friends, there are even those who want to take the word "Muslim" off of the media for fear that it might offend the Islamic community.
As I've said before, I'm sure there are moderate and tolerant Muslims out there but I doubt a lot of them can deny that majority of insurgents committing these atrocities are part of the Muslim community. While I harbor no hatred for Islam and its constituents, it's more than a little glaring that media people seem to be afraid to even call these terrorists "Muslims" for fear of offending them. Would the media display the same amount of hesitation if the terrorist group in question are Christians, Buddhists, Taoists, Scientologists or worshipers of the Flying Spaghetti Monster?
[Photo courtesy IB Times .]
I HAVE RETURNED TO LAY WASTE TO OUR ENEMIES!