Just in the previous week, there has been much talk of the Syrian refugee problem especially after the drowned body of Aylan Kurdi (Allah bless his soul) was discovered. The heart-wrenching pictures of the dead boy has triggered much controversy around the world with some questioning why more developed countries like the U.S., Canada, Australia and parts of Europe aren't accepting more Syrian refugees. Finally, not long ago, the Philippine government has issued a statement that our country is willing to accept Syrian refugees who seek to escape the bloody civil was that has gripped their country. Of course, now comes the question: Are we really serious about that statement?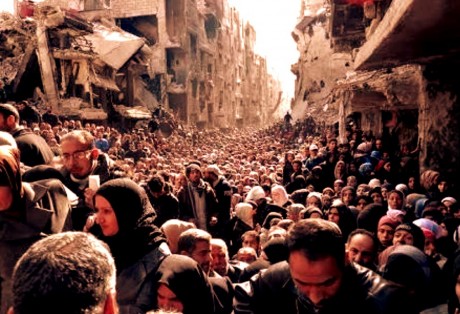 Look, as a friend once told me, there's nothing wrong with being nice. But then again, there is also a considerable difference between being genuinely kind and feigned kindness which is just another form of hypocrisy. It's the difference between saying that you'll help someone out and then run out on them or turn them away when they come to you and actually doing something to help. Words are easy to say after all, but actually doing something is another matter entirely. While the situation in Syria is indeed deplorable and the refugees could do with some help, we have to ask ourselves what kind of help can we actually provide these people.
SUPPORT INDEPENDENT SOCIAL COMMENTARY!
Subscribe to our Substack community GRP Insider to receive by email our in-depth free weekly newsletter. Opt into a paid subscription and you'll get premium insider briefs and insights from us daily.
Subscribe to our Substack newsletter, GRP Insider!
Learn more
Here are my three points on the matter:
We Are Too Far Away
Sure, helping Syrian refugees find a place to stay is a good thing. But as is the case, we're simply too far away for majority of them to reach. Unlike the case with the Rohingya Boat People, the Syrian refugees are almost halfway around the world and won't have an easy time getting here if ever. From my own perspective, offering them refuge is like giving them false platitudes because there's no realistic way for them to reach us so quickly. If anything, offering them refuge is like dangling unrealistic or outright false hope for these already desperate people.
If we really are going to help these people, let's give help in the form of relief goods so that they'll have something to eat or wear while they wait for more countries to open up and give them shelter.
Can We Really Keep Them Safe
Okay, for the sake of the argument, they manage to get here, what then?
Can we really keep them safe from violence and worse? Whose to say that local crime syndicates won't take an interest in them and make them victims of human trafficking? Remember also that our own country has problems with terrorists and whose to say that said terrorists won't seize the opportunity to get more recruits and hostages.
Will we truly be giving the Syrian refugees a safe haven, or are we just bringing them into a different kind of hellhole?
We Need To Fix Our Issues First
Connected to the above, are we really ready to accept refugees from a distant land when our own lands are still in disarray. We are still bogged down by organized crime and terrorist organizations and here is the president and the rest of the administration saying that we are ready to accept Syrian refugees and provide for them a "safe" haven. I haven't heard a more preposterous statement in my life!
How can we offer Syrian refugees safety when our own people, namely the native Lumads, are under the threat of genocide? How can we take care of Syrian refugees when our own Yolanda survivors are still homeless and starving? How can we hope to succor Syrian refugees when countless Filipinos in our country are forced to eat pagpag which isn't even fit to be considered dog food?
***
Remember ladies and gentlemen, we cannot give what we do not have. We cannot give food to a starving child when our own children are starving back home. I am not saying that we shouldn't accept Syrian refugees, in fact, if things were a little different, we not only should accept them but be honored to do so. Unfortunately, as a nation, we still have a lot to think about before going out of our way to help others. Are we even fit to help others when we can barely help ourselves?
Please stop and think about that…
I HAVE RETURNED TO LAY WASTE TO OUR ENEMIES!