Disclaimer: This is another of my parody articles. This is essentially a dedication to commenter Hyden007Toro and his carabao Kardong Kalabaw. While this is not true like all the other parody articles I've written, it's one that I wish was true.
Ladies and gentlemen, in observance of this year's Philippine independence day and the oncoming approach of the 2016 Presidential Election, I am proud to introduce you all to the candidate I will be voting for!
From the fields around Vigan City, I give you Kardong Kalabaw, a hard-working and forward-thinking blue-collar (actually wooden) worker. His aim is to change many aspects of Filipino culture and society to make the Philippines a better place for both its people and its animals.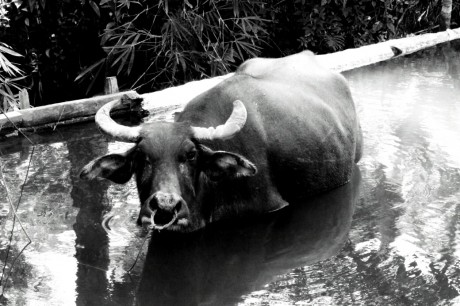 Here is a short list of some of his party members:
Asyong Aso for Vice President
Pepay Pusa for Secretary of Defense
Dodoy Daga for Treasurer
Kelly Kambing for Auditor
Kikay Kuneho for Muse
Momoy Musang for Escort
But don't take my word for it! Here are some of the changes that Kardong Kalabaw seeks to espouse once he moves into office:
Government
The government will change from being a presidential system to a parliamentary one.
All political candidates must undergo several tests for qualification as a politician before they will be allowed to run for office.
All citizens attempting to vote must also undergo several tests in order for their votes to be counted as legitimate votes.
Immediate scrapping of the BBL or any other treaty or agreement made with terrorists.
The Philippine government will no longer negotiate with the MILF (unless they're Sarah Pailin) or any other armed rebel group unless they surrender themselves and their weapons to Philippine police and military personnel.
Complete and total dissolution of the senate and congress and installment of a new one.
Enactment of the anti-political dynasty bill.
All personnel involved in politics will not be allowed to run for any political position on pain of excruciating pain.
A formal apology about the bus hostage crisis will be submitted to the Chinese government followed quickly by a declaration of hostilities and then another apology (but not withdrawal) of said declaration of hostilities.
Business
The business sector of the Philippines will be placed under the supervision of Kiko Kuwago until further notice.
Protectionist policies will be abolished.
40%/60% will be made into 150%/150%.
Foreigners will be allowed to establish and own their own businesses in the Philippines including/especially lemonade stands.
All businesses are required to create their own song and dance routine which they will perform every 6 p.m..
Military
The Philippine Armed Forces will be placed under the supervision of High Marshal Buboy Buwaya until further notice.
Minimum military training (proper handling of firearms and basic hand-to-hand combat) is mandatory for all citizens 15 years (actual combat roles will only be given to those aged 18) and up, regardless of gender, creed or social standing. Exemptions will only be allowed for people with disabilities and health risks.
ROTC will be a requirement for all schools, both public and private alike.
Religion
A new religious sect headed by Pope Totoy Tupa will be immediately established and recognized by the government. It will be an "animals-only" religion.
Religious groups will be closely monitored by the government.
The Catholic Church will be henceforth disallowed from interfering with government policies until further notice.
Any other religion sect or group attempting to interfere with government policies will not be allowed on pain of excruciating pain.
Stockpiling of weapons will be considered grounds to disband a religion.
Bloc voting will be considered grounds to disband a religion.
Education
The Philippine Department of Education will be handed over to Amorsolo Ahas until further notice.
The K-12 system will be retracted from schools and will be placed under thorough review before it is re-implemented into the system.
There will be a substantial raise for all teachers in both public and private schools in order to encourage them to provide better education for our children.
Foreigners will finally be allowed to teach in schools in the Philippines.
School books that are biased, inconsistent or laden with propaganda will be committed to the incinerator immediately after they are discovered.
The anti-bullying law will be strictly implemented in all schools and in all levels and those caught bullying students will be used for the target practice (non-lethal rounds, mind you) of the ROTC and other military trainees.
A uniform code will be made for all students 18 years and above:

Female: All female students 18 years and above must wear skirts that are NOT longer than their upper thighs.
Male: All male students 18 years and above must wear shorts that are NOT longer than their crotch level.

Teachers in the college level are not required but encouraged to wear BDSM gear complete with riding crop.
Judicial and Law Enforcement
The Supreme Court and PNP will be subjected to the authority of Gina Sanchez the Giant Siphonophore until further notice.
The Commission on Human Rights will be disbanded permanently and will be replaced by the Council of Human and Animal Rights headed by Pipoy Pating.
Alan Purisima will be immediately expelled from office and must join a meeting with Gina Sanchez at the bottom of Mindanao Trench.
Police officers who are caught committing crimes against the common people will need to be executed immediately or will have to visit Gina Sanchez in her office at the bottom of the Mindanao Trench to argue their case.
Police officers who are caught riding motorcycles without helmets will then be forced to ride their motorcycles without pants as punishment.
Littering will be considered a grave offense and the punishment will be severing of the fingers.
Urinating in public will be considered a grave offense and will be punished by mutilation of genitals.
Vandalism (spitting in public, desecration of public property and heritage sites) will be considered a grave offense and will be punished by public humiliation (being whipped while nude).
Media
The Philippine Media will be strictly supervised by Kikay Kuneho until further notice.
The MTRCB will be disbanded and the PMW or Philippine Media Watch will be established in its place in order to monitor all forms of media from movies, TV shows, books to video games.
Anino Studios is to be re-established immediately to produce new games for Filipino gamers.
Teleseryes will be forever banned from Philippine TV on pain of excruciating pain.
TV5 will be disbanded and changed to a channel that only shows and produces documentaries both foreign and local until further notice.
GMA7 will be disbanded and changed to a channel that only shows and produces anime 24 hours a day.
ABS-CBN2 will be disbanded and changed to a channel that only shows and produces pay-per-view hardcore pornography 24 hours a day. There will be a special on weekends that will show local celebrities engaged in BDSM, bestiality and scat porn.
So remember everyone!
Kardong Kalabaw Para Sa Marangal Na Pag-Unlad Ng Pilipinas 2016!
KARDONG KALABAW FOR PRESIDENT!
I HAVE RETURNED TO LAY WASTE TO OUR ENEMIES!