This aerial photo of what could be a suburb of Metro Manila made desolate by a wilderness of urban shanties as far as the eye could see has been making the social media rounds over the weekend.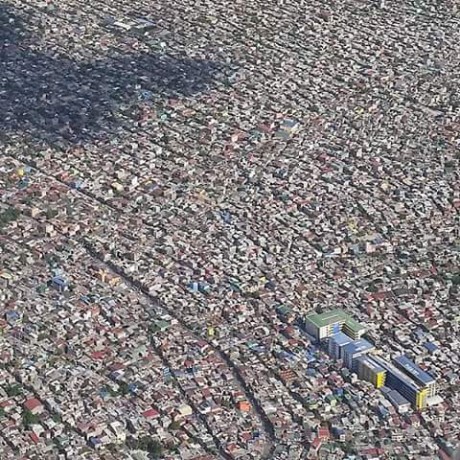 The first I came across it was on a Sunday morning post on the Get Real Philippines Community on Facebook (original source here).
A report from Manila Coconuts confirmed that it was taken by a certain Daphne Oseña Paez on a Philippine Airlines flight and that the area shown is part of Metro Manila's Pasig City. "I took this photo on June 12, 2015. It was not edited or filtered. I just cropped it. This is Pasig City," says Paez confirming that the photo is an authentic depiction of urban blight in said city.
The extent to which the Philippines' premiere megalopolis has been developed in the dense haphazardly manner shown in this photo is not readily apparent to the affluent class of Filipinos who are in the best positions to solve the Philippines' many intractable problems.
The most evident result of sprawling human habitation such as this is the degradation of the river system upon which Manila is built.
Metro Manila is, by its very nature, a city vulnerable to flooding. Yet it has grown and developed into a monstrous megalopolis that, today, teeters on the brink of catastrophic failure. Manila is bisected by the Pasig River into which connect a system of natural waterways that both feed into it and absorb excess water in times of heavy water flow (say, brought about by heavy rains).
Much of the forests that once covered highlands from which water that feeds Manila's river systems originates once served as the lowlands' first line of protection from torrential water flow into the low-lying rivers and waterway systems. With that forest cover gone, Manila would have benefited greatly had its natural river system channels still been intact today — perhaps, had city planners applied a bit of foresight, these might even have been enhanced and even turned into key features of the city.
Unfortunately, Nature has caught up with Filipinos' decades of irresponsible urban development. Metro Manila is as flooded by water as it is by humans. When you increase throughput without increasing channel capacity, you get latency. Just as Filipino commuters are bogged down in traffic on their roadways everyday, Manila's rain water is suffering from the same condition — heavy traffic along Manila's waterways. Just as Manila's roads have been clogged by street vendors and buses and jeepneys driven by idiotic drivers, rivers and canals crisscrossing the city are blocked by silt, garbage, and human refuse.
How much more "resilience" can Metro Manila residents exhibit? When flood waters come knocking at the doorsteps of the very folk who like waxing poetic about Filipinos' legendary "resilience", perhaps we can expect a bit of a change in the tune traditionally sung by our venerable "thought leaders" soon.
benign0 is the Webmaster of GetRealPhilippines.com.