Shortly after the Loma Prieta Earthquake hit California in 1989, I remember the Philippine Daily Inquirer running a lower-right column headline about a stronger earthquake that would hit the Philippines in the near future. True enough, the great Luzon Earthquake of 16 July 1990 struck with a magnitude of 7.8 on the Richter Scale. Indeed this was stronger than Loma Prieta's 6.9, and it also claimed the lives of around 1,700 people. The worst hit major city was Baguio, which was virtually isolated from the rest of the world for day after the quake, and with aid coming mainly from the US Armed Forces that had bases in the country at that time. People old enough to remember the quake still perhaps have memories of the giant hotel buildings collapsing into heaps of rubble all over Baguio, especially the grand Hyatt Terraces. As a world-class international tourist destination, Baguio never really recovered after the 1990 quake. Though I was still only in elementary school at that time, I can still remember much of what I as a Baguio native had to go through when a major cataclysmic event would strike. The Bohol Earthquake of 2013 is still fresh on many Visayans' minds; I hope that the recovery there is swift, and that they can learn fast from experience.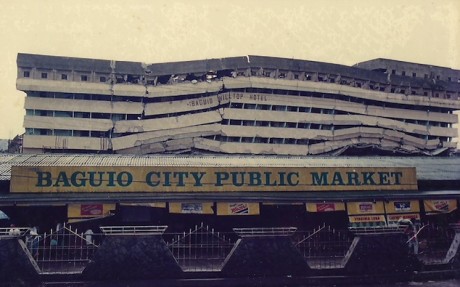 Metro Manila was spared in 1990. A moderate earthquake hit the City in 1998, but this caused only the most minimal of damage. Twenty-five years after 1990, however, I have doubts if Manila and its environs would quickly recover from something that is inevitable. Recent headlines have emphasized the long overdue future shifting of the West Valley Fault, and that a quake as strong (or perhaps even stronger) than that of 1990 would strike Central-Southern Luzon at any time. The Philippine Institute of Vulcanology and Seismology (PHIVOLCS) and the Department of National Defense (DND) have projected that when a major earthquake strikes the capital, deaths can run into the tens of thousands, and the economic losses can potentially run into the trillions of pesos. In other words, if the residents of Manila don't act up soon, they're quite literally and figuratively f–ked.
So how exactly are people reacting these projections? Not very well it seems, based on these articles. Here are a few sample comments:
Wag ng mag sisihan….magdasal na lng tayo ("Don't blame each other, let's just pray.")
walang imposible sa Dios ipanalangin nating hindi mngyyari. ("Nothing is impossible with God, let's pray that this doesn't happen.")
In JESUS name sana wag matuloy ("In Jesus's name, wish that it doesn't occur.")
GOD will not allow it to hapen,LORD pls hev MERCY on US !
May God and with intercession of mama Mary prevent this Amen.
READ THE BIBLE. THE END IS NEAR. JESUS IS COMING BACK AND GOD'S JUDGEMENT IS SURE. ARE YOU READY??
…ad nauseam. Clearly a lot of Filipino internet users would rather turn their backs on the scientific reality of things and resort to blind religious faith. Now I'm no atheist, but to ask higher powers to "stop" something from happening or to "spare" people isn't exactly the best kind of prayer to offer, and it definitely isn't a good application of religion. No amount of "hashtag pray for the Philippines" would stop billions of years of geologic activity. Filipinos should be quick to be reminded that Nepal, one of the most religious nations on Earth, was recently hit by TWO major earthquakes, one striking a week after the first. If any devout Filipino Catholic reading this would claim "Oh, but Nepal is a Hindu country," then look no further than the 2010 earthquake that hit Haiti, a predominantly Catholic nation. That calamity claimed more than 200,000 lives, and Haiti has barely recovered afterwards.
Manila was slow to respond to a PREDICTABLE disaster in 2009. Religion and triumphalism couldn't save it then, religion and triumphalism would not save it when the West Valley Fault gives way.
Fine, the Philippine government might be a shitty cesspool filled to the brim with money-grubbing fat-encrusted blowhards, but that doesn't excuse the private citizens of Manila (or any Filipino, for that matter) from physically preparing for its own Big One. Understandably, the government can only do so much. If your house is within at least 50 feet of the West Valley Fault, then you need to get the hell out of there. If you plan to buy real estate, make sure that your property can withstand any kind of sudden natural disaster (such as an earthquake or tsunami), and try your best to buy insurance as well. Retrofit your property, or ask your landlord to do it for you. Participate in disaster drills, and be aware at all times where to go when disaster does strike. This blog might help, for those with questions about locations in and around the West Valley Fault.
The Filipino "bahala na" attitude should not apply. In any case, when (not if) the earthquake does come for Manila, buildings will fall and people will get killed; only you would determine if you'd want to be a fatality or not, and the blame will (and SHOULD) fall on yourself. Anderson Cooper may have talked about "resilience" when typhoon Haiyan struck Tacloban, but religious fatalism won't cut it this time.