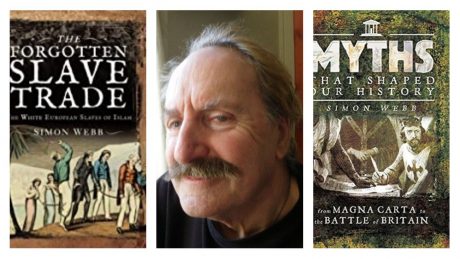 Since history was recently the topic of the hour, I'll let you know I've been watching
History Debunked by Simon Webb
on Youtube. His tagline is that the popular view of history is not necessarily the correct one. Indeed, some views become corrected as new information becomes available, such as learning that the Vikings did not really wear horned helmets and Cleopatra was not really Egyptian in ancestry, or our own local example that the Code of Kalantiaw was actually fictitious. Among Webb's own books are The Suffragette Bombers, Suffragette Fascists and Secret Casualties of World War Two, the content of which you may surmise from the titles.
Webb may be highly opinionated and nationalistic, and I may disagree with a few of his views, but I think his research stands up to scrutiny. Many of his recent videos see him criticizing apparent condoning of illegal immigration to the UK, the woke movement, and so on. People will first assume he is racist because of how he says
human races is a valid concept
and that it likely is a factor on people's intelligence (I myself once took on the belief that there is no concept as race, but have now reversed my position). I however believe he is not racist. What he's cautioning against is reckless acceptance of immigrants because it is leading to increases in crimes and other effects that are detrimental to society in the British Isles, threatening British culture and
overloading the health care system
.
However, what he really raises the alarm on is seeming misinformation in British media about races. Webb claims that history is being rewritten by media to force acceptance of illegal immigrants, especially black ones, with claims like
black people invented the Internet
, the light bulb and other things (Hmm, sounds
awfully familiar…
Filipinos invented the yo-yo, Armando Lite invented the Armalite rifle, etc.). Some even want to push that half of the British army was black some centuries ago, or that thousands of blacks were in England during the medieval ages (a key name dropped by Webb is
David Olusoga
). All of these can be proven false with the historical sources that have always been there.
Webb also laments the forcing of diversity in TV and movie casting in roles that should be taken by whites. For example, some high-class characters in the period TV series Bridgerton are cast as black or people of other color. What happens is that watchers with no knowledge of history will assume that people of color were really part of nobility, even if the truth is otherwise. And if no effort is made to correct this, it will indeed be a deliberate rewriting of history.
But, Webb claims, instead of listening to criticisms against these, the British government and BBC instead seek to put down such dissenting opinions by saying, you are racist. This makes for convenient strawmanism, doesn't it?
And we in the Philippines have a similar situation with fake history and "fake news." This usually involves the Marcos-Aquino narrative. We here at GRP get accused of historical revisionism when we say that Bongbong Marcos won this year's elections not because of misinformation, but because many people have been believing in him for a long time already. But we also claim that even some of the anti-Marcos side have made use of misinformation. This misinformation includes saying that only the Marcos regime killed and tortured people in the country in the 1970s, when in fact communist insurgents and others also tortured and killed civilians.
And there are many other things. Anyone who is anti-Marcos can do no wrong? Just look at Presidential Commission on Good Government employees who were caught committing corruption. When Marcos saw the Edsa 86 demonstrators, did he flee Malacanang like the president of Sri Lanka did recently? No, an official of the Reagan administration
phoned Marcos and told him to step down
. Then the US sent choppers to pick him up. There are some even saying the Mendiola Massacre was done during the Marcos Era. No, get your facts straight, it was during Cory's watch.
Immigration, or rather refugees, had been a topic in GRP too, such as the
controversy over Rohingyas
. Some parts of the Pinoy chi-chi Netisphere called for our government then to accept Rohingya refugees without question. I said then that if refugees are to be accepted, they should be kept in camps (as we did with the Vietnamese Boat People), carefully monitored and not integrated into society yet. They need to be tested before acceptance. And then there were members of the GRP Facebook group who said not to accept them at all and I now understand the reason why.
In the UK, as Webb lamented, refugees immediately get integrated into society. The reason given by the government is that the healthcare system needs more employees to care for aging people. But, Webb says, this falls flat as earlier immigrants who came in also age, develop dementia and themselves need care.
I see as the real reason for forcing acceptance of immigrants the desire of businesses to have more customers. When the refugees arrive, they'll be shoehorned into British society as paying customers.
It seems to be the same reasoning behind the late BS Aquino's utterance of "traffic congestion is a sign of progress." The assumption behind that is that people moving about bring money and are customers driving consumption. I disagree with this. I believe that people moving about do not necessarily carry money and can move about without it. But even when they do have money, will they buy food or other goods as expected when they're in the area? Some might even demand for free things or steal.
That's even more true about foreign refugees, they mostly bring no money with them. The plan might be to settle them with jobs once accepted. However, given the signs described above, crime and all, their integration may never be smooth. They are unlikely to assimilate into British culture and will cause trouble in relation to this. Their consumption patterns may not follow the expectations of businesses. And, they might even send remittances out of the country, which won't really benefit the UK. I agree with Webb that pushing to take in immigrants as the next major customers is an unsound business strategy and is actually causing more trouble than it is worth.
I don't say immigrants are necessarily bad by fiat, and neither does Webb. But reckless acceptance (well, reckless anything at all) would make for bad policy. If a diverse society will be successful, diversity should not be deliberately pushed.
It may also be related to the Woke Problem. Rewriting of British history to shoehorn in people of color is likely part of the Woke Agenda. Wokes have infiltrated much of the political, business, media, educational and entertainment communities (well, pretty much everywhere). I'm guessing that businessmen find it fit to cater to the Woke Agenda on the assumption that wokes have the money now. However, I think this assumption will be proven wrong in due time, especially if it gets revealed that many wokes don't work and live on allowances.
I recommend people watch the History Debunked Youtube Channel for some interesting views and refutations of other myths like the idea that the Magna Carta is a pioneering human rights document. I follow him not because of right wing views (I'm sure we both will deny it). It's because of what he says, the popular view of history is not necessarily right, and often, the popular view was a product of propaganda. Aside from the historical corrections I mentioned above, propaganda was key to marketing the Aquino side as saints and heroes and marking anyone not on their side as belonging to the devil. It created a divide that was advantageous to vested interests; and yet those spreading the misinformation claim to have the monopoly of truth. Webb and we at GRP offer alternative information that may actually turn out to be the real truth.
On propaganda and business, there is indeed some double-dealing and doublespeak being committed by certain organizations and businesses together with governments who market themselves as the "good guys" for a "higher cause." But all they're after is your money and they're willing to curtail your rights for it. More about that in a later article.
I believe, as my cohorts here do, that what Filipinos embrace as their culture is what actually pulls the country down. And those who seem to be anti-dictators, who may also believe themselves to be "heroes," are the real dictators.