After a considerable amount of thinking, I can't help but speculate over how Pinoy media is essentially destroying the minds of our countrymen, especially those with no access to other channels asides from local ones. What's difficult to accept is that while our media tries to keep a veneer of "wholesomeness" to their programming, I can't help but notice that the contents of moth local programs today are quite far from it. Implied sex is very prevalent in many shows today and the cheap fan-wank fiction sold as "romantic comedies" to our youths seems to be all the rage. Looking at it now, I can only wonder how all of this affects the minds of our people.
One thing I've noticed is how much we tend to sugar-coat things. Once, while watching a noon-time show with some of my American relatives, they asked me if one of the actresses shown, I think it was Gwen Garci, was a porn-star. I answered, telling her that she was what was considered a "sexy-star" and focus on what can be best thought of as softcore pornography. My cousin (at least, I think she would be) asked me if there was any real difference between the two. After all, softcore porn is still porn.
Later on, after watching a brief segment of a teleserye and watching a full-length Italian porn film (I watch it for the art, really! Hey, why is my nose longer?), I couldn't help but note that their plots were almost completely identical save for the Italian porn film involving hardcore sex acts and the actors and actresses were a bit more expressive. Now that I have time to think about it, many plots in Pinoy shows, especially teleseryes and even fantaseryes (which usually just has magic, scantily-clad fairies or topless mermaids or all three thrown in for good measure) are as simple and predictable as a typical porn film.
Speaking of porn, it's more than a little egregious that Pinoys like to flaunt how "righteous" and "pure" they are compared to promiscuous foreigners but are actually closet perverts. The recent observation regarding that a considerable number of visitors to Pornhub were Filipino (who probably just go there for the art) is proof of this. While we might posture to other people about the Philippines being the only Catholic country this far east, I doubt a lot of us really understand what our doctrines even mean.
So okay, let's go back to the question that started it all: Can porn save the Philippine media?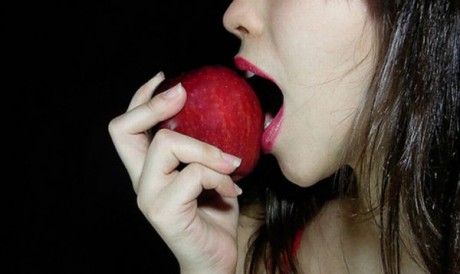 I'm not saying this lightly okay. Even I am well aware of Pinoy mentality and how it corrupts concepts to fit its own twisted ideals. Take for instance how we use Catholicism as a kind of scepter which we flaunt to other people and bash those that don't agree with us. Porn might also be bad, in fact very bad, for Philippine society but I was hoping that it could at least do some of the following for our people:
Providing An Outlet
Sexual frustration is a common problem. You'll be surprised just how many people out there are frustrated over not having anyone to bonk with. As I've been taught, sex is a biological need and isn't that different from eating or wanting to use the potty. Of course, sex has a considerable stigma and sating our need for it isn't as easy as, say, eating a snack unless you're married and even then, it's not easy to get, unlike a snack.
I was thinking that by providing people with strictly controlled pornography, some of us could at least air out our sexual frustrations in a limited manner. Maybe not enough to make us seem perverted but just enough so that we won't be preoccupied with sex all the time. The thing is, especially with guys, the sex drive tends to be considerably powerful and difficult to control.
As I've been told, it is better to let a boiler leak rather than letting it explode. The same can be said with the human sex drive. Perhaps if we can let it out in controlled bursts, we won't have to worry about it seeping into our other works which might go on to corrupt the minds of our youths.
Making Mainstream Shows Less Scandalous
The thing with most mainstream shows in the Philippines is that they are centered on dysfunction and scandal. Just about every teleserye I've watched has featured a good amount of implied sexual encounters which can often be watched by young children. This is what I'm talking about in the above. By denying our sex drives, the theme of sexuality is now seeping into our other works like our prime-time shows and films.
I was thinking and hoping that with a porn industry, we could just focus all the scandal in one portion of the media and keep it there instead of letting it pollute the mainstream. I am more than a little worried by the kids imitating some of the scandalous antics in a teleserye script or that they find out too soon about what adults do in the bedroom.
Place Better Control On It
The thing is, while we like to flaunt about our moral superiority, the rising number of pre-teen pregnancies and the common Pinoys who like to watch porn on their smart phones are evidence of the opposite.
As a trivia, prostitution was once banned throughout many parts of Europe by the Catholic Church (yes, them again). Unfortunately, prostitution was so widespread and rampant at the time that some church officials simply decided to regulate it so that they could at least keep it under control. I am citing this as an example because prostitution isn't all that different from porn after all as the latter just involves cameras and recording.
The same can be said with the Philippines and its stance on pornography. With child pornography becoming a problem and human trafficking a glaring issue, I have to wonder whether or not assuming control of the issue might be a better idea so we can monitor the less savory aspects of society. Instead of letting child porn and human trafficking slip under our noses, we can simply regulate the porn industry and root out slavers in the process.
***
Of course, this is all just a suggestion and I am not saying that porn is the solution to our problems. I am merely saying that acknowledging our sexuality as a people might be a better idea than denying it as our outdated elders have taught us. Sexuality is just another aspect of life, or so I would like to think, and by denying it, we are only frustrating ourselves with dangerous lies.
I HAVE RETURNED TO LAY WASTE TO OUR ENEMIES!