Ladies and gentlemen, I have always been big on video games. I've played a lot of games over the years and I'm about as hardcore as you can get when it comes to being a gamer. I play all day, all night and in between. Right now, I'm currently playing The Elder Scrolls V: Skyrim, and still in the process of wrapping my head around just how big the game world is. Onto the point though, I cannot help but note the many reactions to the introduction of Josie Rizal, a Filipina fighter, to the roster of the Tekken series in the up and coming Tekken 7.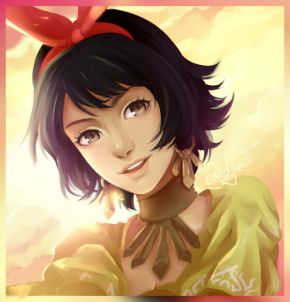 Now my point is here, why are people being so offended by the character? Asides from that, why so much the fuss for just one character? I will tell you now that there are far more important issues for us to consider other than just one character. For instance, why can't we ever get off in making a worthwhile game of our own? If issues like this continue to take center stage instead of more important issues, then I am telling you now that we really are screwed as a nation. Over the years, I've seen more offensive stereotypes in some video games other than Josie Rizal. Allow me to enlighten you:
Morrigan Aensland is a succubus from Scotland and is probably my favorite female character in gaming. Just in case you didn't know, a "succubus" is a female demon that eats the life-force or soul of people by having sex with them. Morrigan originally came from the game Darkstalkers, a fighting game about monsters, but has since gained enough fame to get to other games in various crossovers from duking it out with Spider-Man and Deadpool in Marvel vs. Capcom to joining the fight with hotties from Gods Eater in Project X Zone. However, there has been little complaint or any comment about Morrigan since her debut. If anything, the Scots are more offended by Scrooge McDuck than by Morrigan Aensland.
Zangief is your stereotypical Russian big guy who seems to be a staple of the Streetfighter series. Bulging with muscles and wearing soviet design undies. In almost all installments, he speaks broken and largely unsophisticated English the same way that most Russians unfamiliar with English speak. However, instead of being offended, there are Russians who are proud of the character since he is one of the first Russians to ever be depicted in a game that is played all over the world. The few Russians that I know like to say that Zangief represents the strength and resilience of the Russian people and that, while he may not have fancy or flashy moves like Ryu or Ken, he more than makes up for it with brute force.
Mahatma Gandhi. Yes, the Mahatma Gandhi. He can actually be found in the Civilization games by Sid Meier. He serves as a leader the same way that Napoleon Bonaparte and George Washington. What makes Gandhi so different from his real-life counterpart is his willingness to use nuclear weapons. The Indians are only slightly amused (there are a few detractors as well) by this gesture but are nonetheless proud that the man who freed their country from British rule is forever commemorated in a video game of epic proportions.
So no, Josie Rizal isn't the most offensive character out there and even if her design and name leaves a bad taste in the mouth, her presence will make way for more Filipinos in the world of gaming. Besides, it's Tekken we're talking about and not an over-sexualized game like Dead or Alive or Rumble Roses or total brutality like Mortal Kombat or Thrill Kill.
I think I'm going to wait for the next installment of the Darkstalkers series because they might just introduce a manananggal character after the success of Josie Rizal…
Para kay Josie Rizal
Huwag ka sanang padadala sa mga kababayan mong mapanghusga at ang gobyerno mong wala rin namang paki-alam sa mamamayang Pilipino. Tandaan mo, nandito kaming mga Filipino gamer na sumusuporta sa iyo sa darating mong laban diyan sa Tekken. Mahal na mahal (pero mas mahal ko siguro ng konti si Morrigan) at ipinagmamalaki ka namin. Kaya, tulad ni Talim sa Soul Calibur, lumaban ka sana ng buong puso at ipaglaban mo ang bansa na nagmamahal sa iyo at ang mga gamer na sumusuporta sa iyo. Pagpasensyahan mo na sana ang mga mang-mang na hindi makaintindi sa iyo dito sa Pinas.
Ang maipapayo ko lamang sa iyo habang nandiyan ka ay lagi kang magpapakabait at umiwas ka sa mga negatibong tao at ang mga masasamang impuwensiya. Kung pupuweda lamang, kay Julia Chang at kay Zafina ka na lamang sumama dahil paniguradong mababait ang mga iyan. Lumayo ka kay Nina at Anna Williams dahil balita ko mga maldita daw ang mga iyan. Huwag kang magpapaloko sa mga katarandatuhan ni Kunimitsu. Pagpasensyahan mo na sana ang kaartehan ni Lili dahil ganyan talaga ang mga taga-Monaco. 
Sa ibang dako naman, mag-iingat ka rin sa mga ibang makakahalubilo mo diyan sa industriya na iyan. Lumayo-layo ka sa Koreanang baliw na si Juri Han. Paki sabi na rin kay Mileena na sana lagi na lang siyang mag-mamaskara para lagi siyang maganda. Mag-iingat ka rin doon kay Poison, balita ko kasi hindi daw siya tunay na babae at may tinatago daw siyang lawit. Maging mabait at magalang ka lalo na sa mga katulad nina Kasumi at Helena Douglas na, sa pagkakaalam ko, ay mababait naman daw. At parang awa mo na, huwag na huwag kang pupunta sa Silent Hill kahit no pa ang sabihin ng abi ukol doon dahil walang diyos na puwedeng tumulong sa iyo kapag napad-pad ka sa bayan ng Silent Hill.
Mahal na mahal ka namin Josie at ipag-dadasal namin ang bawat laban mo diyan. Hinding-hindi namin kakalimutan ang tapang pinakita mo sa pag-sali mo diyan sa Tekken tournament. Huwag mo sanang kalimutan na maraming susuporta sa iyo kahit walang paki-alam ang gobyerno at ang mga artista sa iyo.
Nagmamahal at sumusuporta,
Thaddeus Grimwald
P.S.: Pag nakita mo nga pala si Morrigan Aensland, paki-hingi na rin ako ng autograph.
[Image courtesy Deviant Art.]
I HAVE RETURNED TO LAY WASTE TO OUR ENEMIES!