Many of our detractors often call out GRP for being "negative" and for not offering any suggestions that could help the country. If so, this is mostly because many of us writers are actually hoping that you, our readers, can figure it out for yourselves. Unfortunately, this is most certainly not the case for many Filipinos. In fact, as is often the case, many of our less astute readers want to be spoon-fed again. An unwillingness to engage in critical thinking is all too often the reason why the problems of the country are never solved and even if some small efforts are made, these turn out to be insignificant in the face of our greater troubles and sometimes become problems in and of themselves.
So okay, if you people want some suggestions, then I am going to lay out my opinions here and now. Remember, you asked for this so if any of you indolent bums feel at all offended, that was the intended effect and no, I am not apologizing for it. The time for apologies is over ladies and gentlemen. The time for atonement, the time to act to save ourselves is here and now, not next year, next month or tomorrow. The more we delay, the further down the abyss we go.
Ditch the Padrino System
As fellow realist Ilda cites here, one of the things effectively killing the progress of the Philippines is "Padrino Politics". This act of only appointing or favoring people we are related to or agree with is hugely detrimental to any kind of progress in the country. As we continue to patronize this kind of system, we forfeit any hope of imposing positive changes in the Philippines because we eschew the idea of variety, further stagnating our already squalid country.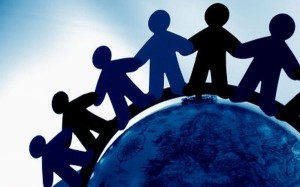 Now, I'm betting that the less informed of you out there is probably wondering: "How is the padrino system bad?"
Well, let me tell you how:
For instance you have some schmo running the country who is your typical Pinoy politician and is into padrino politics. Then you have his friend/cousin/lover who is vying for a spot to be his secretary of defense even though he probably can't tell the difference between an assault rifle and a plunger. Next, you have a young guy without much experience but with a few new ideas that might be able to change things around like introducing new technologies and tactics to improve the military. You already know how this will end don't you?
More likely than not, that political schmo's friend/cousin/lover will be appointed the position. The military will end up using plungers the next time they're forced to face terrorist elements like the MILF or Abu Sayyaf instead of actual firearms and be slaughtered in the process. The young guy will end up unemployed and will have to find work in the Middle-East where he will be raped repeatedly by Arabic closet gays.
Worse yet, this does not only work in the government. The padrino system permeates nearly all systems in the Philippines as I have cited here. From the academic sector to the economic sector, you will find people who will favor whom they know or are related to rather than those who are truly competent. Unless we realize those who are truly competent for the job, we can expect our nation's well-being to continue to plummet to the depths of the cultural abyss.
Start Caring
Here's a situation I remember well from my college years. I was a student nurse reading a copy of the Manila Bulletin during lunchtime while my clinical instructor was discussing the advantages of having a foreign spouse with another of my classmates. When they finished talking, I asked my clinical instructor what she thought of the food poisoning issues that are caused by Chinese-made snacks. In response, she just stared at me as if I had asked her what she thought of an alien invasion or what the weather on Mars was.
This is all too often the case when Pinoys are faced with difficult questions. As I've mentioned before, Pinoys don't like being faced with what they think of as "Ms. Universe Questions". Well, (pardon my language) goddam it, why are we even calling them "Ms. Universe Questions"? Do we expect our beauty queens to actually come up with answers to the problems that are staring at us in the face? Shouldn't we, the common people, think about where our society is headed instead of just following the herd and believing what our leaders are shoving in our faces?
Do we honestly expect our corrupt politicians and misunderstood pageant candidates to come up with answers to our problems of flooding, littering, corruption, illiteracy, domestic violence, health risks and organized crime, just to name a few? If you're naive enough to think that the answer is yes, then I doubt you live in the Philippines or even live in this universe…
Stimulate Critical Thinking in Yourself
Look, while I openly hate local TV shows, I'm not gonna stop you from watching them. What I'm asking you to do is to start thinking critically and to stop letting your emotions decide everything for you. Consider carefully the shows you're watching and think for yourself whether or not the situation depicted therein is accurate or realistic. Think about the theme of the shows you watch and consider whether or not they are relevant to your everyday life.
Also note the news and other shows that you watch on a regular basis. Learn to separate what is real and what is presented as propaganda to you by the media. Learn to note what news is relevant and what news is just there for entertainment purposes. Learn to weigh what you watch by thinking about which is more important to you and your day to day living and what is only trivial.
To each his own they say but please consume your media wisely. It's okay to eat at fastfoods but always eating at fastfoods is not good for your health. Please do the same for your mind and minimizing consuming media that is not nutritious for your brain.
I HAVE RETURNED TO LAY WASTE TO OUR ENEMIES!