Ok, just when the whole brouhaha over the grandiose wedding of Marian Rivera and Dingdong Dantes is simmering down, I came across this supposedly recently-completed painting by Dante Hipolito…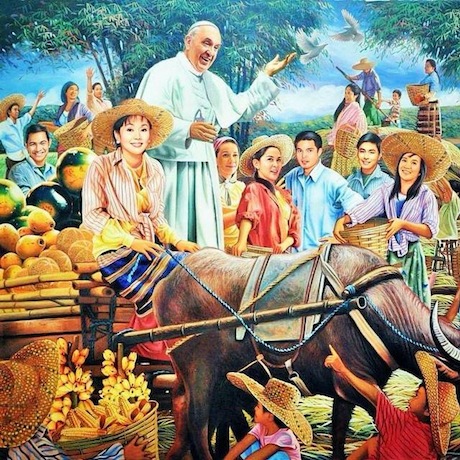 Apparently Hipolito is known in art circles as a "hyper-realist" and his favorite subject involves depictions of scenes of traditional Filipino rural life. Well, the scenes in this one may be consistent with his style, but, dang, what the hell, man?
What's up with the celebrities??
The image of the painting was posted on the Facebook page of starlet Marian Rivera along with the following caption…
Pope Francis and several Filipino celebrities are featured in the painting 'Salubong' by Dante Hipolito

Inspiration begets inspiration. This motivated visual artist Dante Hipolito to paint Gov. Vilma with Pope Francis in the 29" x 24" oil on canvas titled Salubong. A distinct style of vibrant rural realism, it follows Pope Francis' didactic intentions.

Dante did this by redefining art, what he terms as Composite Realism, which is the smooth interplay of filmmaking elements of production design, photography and digital art based on his experience in stage production and advertising. Thus, he creates a distinctively exuberant depictions of country life on their basic principles.

In an ambiance of rural peace and prosperity, Dante shows Gov. Vilma as a farmer leading stars (from left) Gary Valenciano, Sen. Grace Poe, Marian Rivera, Dingdong Dantes, Coco Martin and Kris Aquino who are also costumed as country people in the festive welcome.
I don't get it. What exactly is the point the artist wants to bring across with this painting? Didn't the Pope make it clear that his visit to the Philippines was all about the poor and, specially, the victims of Typhoon Haiyan?
Or maybe I'm missing something. Could this be some kind of satire piece? Hey, I'm Pinoy. Pinoys don't get satire remember? Could this be some kind of joke? Maybe someone photoshopped these faces into what could otherwise be a legit and more sober work of art?
Seriously, first an "outrageously extravagant" wedding circus and now this. It's either certain people are allowing all this royal treatment to get into their heads, or artists like Hipolito are getting waaayyyy ahead of themselves. And are all of these celebs here even Catholic? Gary Valenciano, for example, is also in this picture. He's a born again Christian, if I recall right. Does Gary V even believe in the pope? And don't get me started about Kris Aquino…
What is this society coming to? His Holiness ain't here yet and we are already turning his visit into a spectacle!
Frustrated artist doing geek for a living.