A Google Alert gave me one of the biggest shocks of my life late last night despite being pleasantly drunk from the beer I had with a dear old friend from past political campaigns.
You see a couple of days ago I set up Google Alerts for PWU and members of the Benitez clan to keep tabs on the ongoing PWU STI controversy and when I had flipped on my laptop to check on my email before going to sleep, a single item in my inbox looked like as if it was screaming.
Opening the link in the email, it opened to one article followed by another in a site called "The Aristocratic Thieves" which related scandalous accounts about the Benitezes of PWU and reading through it both entries last night, the words that flitted past my eyes exploded like bombs in my brain.
What I went through last night seemed like that story of a kid who discovered that his grand father was a Nazi or that iconic scene in Star Wars where Darth Vader tells Luke Skywalker, "I am your father!"
People whom I revered when I was a kid were unceremoniously accused of being big time embezzlers and almost saying the revered clan of educators was running a ponzi scheme worth hundreds of millions of pesos. After reading the last few words, I reeled from the revelations and had to confide with others who had gone to PWU and JASMS.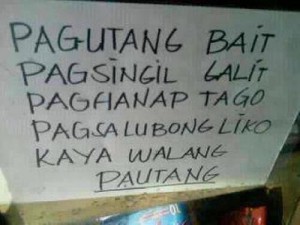 I haven't read any as vile about so-called members of the Philippine social and political elite, well, not since the scorching hey days of The Council of Dona Victorina and Brian Gorrell's "The Not So Talented DJ Montano" where the shenanigans of the Gucci Gang were bared. 
Like Gorrell's tale of mad love and financial loss, the revelations in "The Aristocratic Thieves" recount how the Benitezes practically begged for loans amounting to several hundred million pesos and then attempted to stonewall the demands for payment of their creditors.
The first post recounts that in 2011, PWU was gasping for dear life and unable to pay a P223 Million loan from Banco De Oro (BDO).
This P223 million loan with BDO was supposed to be used for improvements in the school, such as building improvement, computerization, and purchase of facilities. For reasons known only to the Benitezes, the money was gone and the school remained a veritable dump. Elevators had no elevator shafts, the roof was leaking, windows were broken, computers were part of the 90s era, and the electrical wiring was almost as old as the school, making the place a complete fire accident waiting to happen.

Even its basic education school, the Jose Abad Santos Memorial School in Quezon City, was in the same decrepit state. The young pupils and students were constantly at risk of getting leptospirosis because rains would raise water levels in the nearby creek, leaving the grounds and classrooms flooded for days.
In the article it is claimed that just as the Benitezes were about to announce the closure of PWU, it was able to convince STI to buy its loan from BDO.
The article goes on to say…
The Benitezes promised STI that the loan would be paid either via shares of stocks or cash. Since the Benitezes had no money to begin with, they promised STI that they would allocate 40 percent of total shares to Mr. Tanco's group. To make this possible, PWU – though Unlad – would raise its capitalization from P20 million to P1.2 billion to allow the fresh money to be paid through stocks.

However, the stocks that was supposed to pay the loan never happened. Three years after the dream deal, the Benitezes kept coming up with excuses to delay the assignment of stocks to STI. The Benitezes suddenly wanted to file for divorce as Conrad Benitez, in a meeting last December 5, 2014, said the Benitez family wants to discontinue the partnership.

It was a classic Benitez move. After sweet talking many debtors and investors, the family would find a way to get out of their agreements, then they would be on the lookout for new groups to make promises to. They pulled off the same scheme with Jardine Land (when the Benitezes wanted to turn all of its JASMS property on QC into a mall), with Metrobank, and with BDO.
The first post merely recounted the stories that were already out there but upon reading the scandalous second post, I figured it must have been merely the set up for a heck of a wallop.  This is where it was revealed that the Benitezes, contrary to their seemingly sterling reputation as a clan of educators, actually had some rather bizarre pre-occupations that bled their enterprise into the red.
One story that was told was former PWU President Amelou Benitez Reyes and her P100 Million Yamashita gold hunting expedition which, the article claims, was financed using money that was supposed to be used for PWU's operations. (That Amelou was said to be former President Ferdinand Marcos' lover kinda jarred me a bit.)
Another story it narrates is that of Jolly Benitez, former deputy prime minister of Imelda Marcos in the Ministry of Human Settlements. Apparently, when he became PWU President Jolly sank P88.8 million from PWU's coffers to buy 250 hectares of land in Caliraya, Laguna and lost the investment after it revealed that the land he was acquiring was inalienable forest land!
But then, could Jolly be so dumb to pour money into a venture without carefully studying the land's classification? If I had a dirty mind about it, I'd say someone made a jolly killing from this doomed land deal!
 The second scandalous post reveals that…
The P207 million dubious transactions were reportedly the main reasons why the Benitezes applied for a P223 million loan from BDO. That is probably the reason why no improvements in PWU resulted from this loan; it was really meant to cover the mess the siblings Amelou and Jolly got themselves into.
As of this writing a third article was posted on the site, spewing even more revelations that may prove challenging for the Benitezes to live down.
I can only imagine how these old wounds and the seething recriminations might make it difficult for the Benitezes hold true to what was called a "unity" pact which was purported entered into by members of the Benitez clan and supposedly commits them to pool assets as well as inheritance in order to pay its debt to STI.
I don't know about you, but if I were a Benitez and didn't benefit at all from the seemingly fool-hardy ventures that drove it into near bankruptcy, I'd be pissed if I were in any way obligated to pay for the loan to STI! I'd probably tell them, "You guys dug the hole, you guys fill it or shove it up where the sun don't shine!"
But if that isn't enough to make any unity pacts worthless, here's something else that someone from deep within PWU told me this morning that some of the Benitezes on the PWU board just can't wait for PWU Founder Helena Benitez to breath her last so they can get their inheritance and fly the coop. It wouldn't be far fetched either that some members of the Benitez clan in the PWU are wise enough to have cut a deal both ways like a lagaring hapon. Who knows but some of them may have struck a deal with STI to retain their positions as well as get a commission from the Ayalas should the land development project on the EDSA JASMS property finally push through.
In the meantime, the parents and the kids who are counting on PWU and JASMS are somewhat like leaves twisting in the wind.
Sigh…