I mean, seriously, WTF? That video showing Filipinos dancing amid the devastation left by Typhoon Haiyan in Leyte is in bad taste plain and simple. There is nothing to be "happy" about what happened there. And no amount of dancing will change the simple fact that what happened to Tacloban is nothing short of horrific.
More than dancing and this supposedly symbolic representation of Filipinos' bizarre notion of "resilience", it is really results that we need. Imagine coming home to your house and finding a big pile of dirty dishes on the sink and your maid greeting you as she dances to Pharrell Williams' "Happy" so as to assuage your horror at the sight of that mess. You'd be anything but happy, dude.
It seems to me that the psychology behind Quentin Messit's video stems from how one would react to the sight of a baby smiling even as she wallows in the sorts of messes babies make around themselves owing to their, well, babyish behaviour. It's a cute sight while they are babies. But the cuteness quickly wears thin as they grow up. For that matter, I think a common error made by parents is assuming that other people necessarily find their kids cute. Having been a frequent flier for most of my career, I can attest to the error in that common assumption.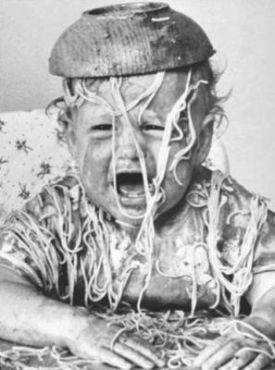 By the time kids are six or seven parents are given an evil eye by even the most tolerant people if their kids are still tossing bowls of spaghetti onto the floor. Many child psychologists agree that if you haven't disciplined your kid by the time they are six or seven, they're likely to be well on their way to becoming serial killers as adults.
There is a limit to positivity and the "positivity" Messit's video was trying to bring across has definitely crossed the line.
The trouble with advocates of "positive" thinking is that they do not respect a person's right to grieve and embrace this grief. I recall a friend of mine who, during the wake of her mother who died of cancer at the age of 55, was told by a presumably well-meaning born-again Christian that her mother's death "served God's higher purpose". She asked that person pointedly : "Is that God's purpose according to how YOU interpret it?" I don't remember the details of the rest of that conversation but it went pear-shaped from there because, as one would expect of these born-again types, this "Christian" didn't know when to quit.
When will Filipinos quit flashing a dumb-looking smile to cover up their lack of an ability to take care of themselves? I don't know. As long as these idiotic displays of "positivity" keep being used to prop up this perverted brand of "resilience" used to bolster our ill-conceived notions of the "Filipino spirit", we will always behave like that baby with the bowl of spaghetti on her head — utterly devoid of personal accountability for the misfortunes that befall us.
Frustrated artist doing geek for a living.