Philippine President Benigno Simeon "BS" Aquino is not only good at making people angry; he is also good at making people laugh. In fact, he doesn't seem to mind being the butt of his own jokes. In a forum held recently at Hope Christian High School in Manila, he warned his captive audience – impressionable students — against voting for a successor who doesn't have substance.
Most people would agree that the President was talking about himself when he referred to "ampaw" candidates, or as he described "people who look and sound good when they deliver speeches, but have no substance." For those who don't know, Ampaw "is a Filipino bread that is not filling or satisfying."
Reading about BS Aquino's advice on what to look for in the next Philippine President is like reading something out of a joke book. He truly is not aware of his own incompetence and has totally forgotten the campaign promises he made but never delivered. Instead of eradicating corruption, he encouraged it. Instead of prioritising the Freedom of Information bill, he said it wasn't a priority. He obviously over-promised and under-delivered. Here are some excerpts of his advice:
"Syempre, number one, you have to–well, not in the precise order, ano–pero 'yung competence has to be demonstrated. 'Yun bang, alam niyo ba kung ano 'yung ampaw na pagkain? 'Yung pagkain ha, hindi 'yung kulay pulang envelope. So, 'di ba, 'yung ampaw malasa pero sa loob hangin. Baka, 'di ba, 'yung… Paano ko ba ide-describe na hindi nakakainsulto?"

"Pag napapakinggan mo…May punto ba 'yung sinasabi niya? Mukha bang totoo 'yung lumalabas sa kanyang bibig or maganda lang pakinggan? 'Pag 'yung nanood ka ng talumpati nito o ng isang kampanya niya, meron ba siyang pinag-usapan na may saysay, o sumayaw na lang, o kumanta na lang, or 'di ba nagpa-cute na lang? 'Yung sa sinasabi ba niya at saka mga nagawa na niya tugma?
There was never an occasion when BS Aquino talked with substance in the first place. He is not even easy on the eyes and doesn't sound good when he delivers his speeches. When he appears in front of the camera, he has this permanent smirk on his face as if mocking or insulting his subjects. On one occasion, his facial expression actually made Hong Kong Chinese residents angry after they saw him smiling during his press conference in the aftermath of the Mendoza hostage crises in 2010. They even gave him a nickname "smiling dog". Apart from that, he uses a lot of lame metaphors to explain himself, which indicates his lack of breeding. He is living proof to the saying "money cannot buy good taste".
There were even times when the President was interrupted by fits of uncontrollable smoker's coughing in the middle of his speeches, which was quite annoying for his audience, indeed.
Even when he was still campaigning, all BS Aquino was ever good at was badmouthing his perceived political enemies. His speeches were mostly littered with the previous administration's "faults". Unfortunately, he has carried on the tactic of blaming other people even for his own shortfalls to deflect from his own until today and quite possibly will continue to do so until his last days in office.
The current President must be delusional if he thinks that he is a hard act to follow. Sadly, his staunch supporters who treat him like some kind of god are partly to blame for his arrogance. In the past, rabid Aquino supporters quite often pat him on the back even when he does an awful job. This has not helped him stay grounded in reality.
Unfortunately for BS Aquino, his slow response to the devastation in central Philippines particularly in Tacloban brought about by Typhoon Yolanda will be his real legacy. The government's lack of genuine concern and respect for the victims was quite evident in the first few days and months after the tragedy. It is still evident now with reports that a lot of the donated goods had to be thrown out because they were left rotting in the Department of Social Welfare warehouse instead of being distributed to the victims.
A lot of people will not forget how BS Aquino dismissed a businessman's grievance after his store was looted and ransacked. He also walked out of a press conference after addressing the businessman with an insulting remark that was totally un-statesmanlike: "But you are still alive, right?"
Likewise, In an interview with CNN's Christiane Amanpour just a few days after the typhoon, the President was more concerned about looking good by downplaying the number of deaths and saying stuff that would make it appear like his government is in total control of the situation even when it was not. The policeman who gave an estimate of 10,000 dead was also reportedly sacked obviously because he highlighted the unpreparedness of the government before the typhoon arrived.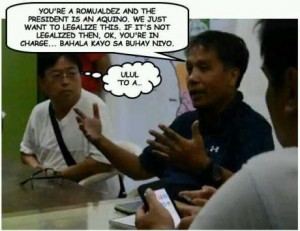 Another disturbing incident followed when Department of Interior and Local Government (DILG) Secretary Mar Roxas berated Tacloban mayor Alfred Romualdez at a meeting during the height of the crises. Roxas reminded Romualdez that help from the national government had to be formalized with an ordinance because "You are a Romualdez and the President is an Aquino." A rationalization that will only make sense to people obsessed with partisanship even in times of crisis.
Those two incidents should remind the voters of the fact that it seems like BS Aquino and his allies in the Liberal Party are just after their own vested interests. Meaning, it was really hypocritical of BS Aquino to warn the students at the forum about candidates who are only after their own interests rather than the people's interests, when he himself doesn't know his own priorities.
With less than two years to go before he steps down from office, BS Aquino is trying to play catch-up now by mobilizing the completion of infrastructure projects like roads and highways in Luzon. Too bad it will not make a dent on people's perception when they look at the results of the job of his administration overall. Clearly Filipinos from other regions will feel left out once again since only Luzon is reaping the benefits from the current government. Currently, some parts of Mindanao are still suffering from a debilitating power crisis with reports saying that Mindanao residents will continue to experience scheduled power interruptions until 2015.
Speaking of the energy crisis, an Aquino ally could not help but speak out against the President for his arrogance in solving the crisis. Reports quoted Senator Sergio Osmeña III as saying BS Aquino continues to be "hardheaded" and an "awful manager". He said this about the President for "his refusal to fire Energy Jericho Petilla despite various problems in the power sector":
Osmeña added that Petilla is clearly focused on politics and not on solving the country's energy woes.

"I've been observing him. I don't like what I see, not because he's not intelligent, but his mind is elsewhere," the senator said.

Osmeña, who chairs the Commission on Appointments (CA) energy panel, likewise said he has been deferring hearings on Petilla's confirmation because he does not want to embarrass the Cabinet official with "difficult questions."
While Osmena should be lauded for the audacity to say that BS Aquino is "hardheaded" and an "awful manager", he should be shamed for not having the balls to "embarrass" Petilla by asking him "difficult questions". Osmena also contradicted himself when he said BS Aquino is an "honest man" and "a good man" for sticking with the people he appointed. How can BS Aquino be honest and good for wasting people's time and money by hiring someone incompetent to solve the energy crisis in the country? It just doesn't make any sense. Perhaps Osmena is just looking after saving his own skin as well. Or perhaps he is just being ampaw just like the President.
Well, it looks like President BS Aquino is reluctant to endorse Mar Roxas as the Liberal Party Presidential candidate for 2016. Probably because he knows Roxas is going to lose. One thing is for sure though, the President's mode is now shifting to campaign mode. The Filipino people can say goodbye to the hope of achieving real reform under BS Aquino government. The least they can do is to follow BS Aquino's advice not to vote for an ampaw again. After all, who would want another six-years with a mediocre commander-in-chief just like him?
In life, things are not always what they seem.