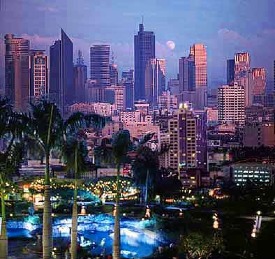 Now that paralyzing floods are an almost weekly occurrence in Metro Manila, I now view what were once considered "improvements" on the city differently. Often, some balikbayan friends visiting Manila would gaze in wonder at the gleaming highrises that tower above the city skyline and gush about how modern it all looks now. The presence of trendy cafes, restaurants, and night spots populated by young urbane cityslickers makes us feel like Manila has "arrived" and joined the ranks of its cosmpolitan counterparts in Singapore, Kuala Lumpur, and Hong Kong.
Yuck!
After having, yet again, spent irreplaceable hours of my life stuck in another flood, all those new features of Manila that supposedly make it look modern have become objects of loathing. Just like everything else to do with the illusion of "development" in the Philippines, Manila's towering highrises to me now represent the same old shortsighted excess that has underwritten Pinoy-style "progress".
SUPPORT INDEPENDENT SOCIAL COMMENTARY!
Subscribe to our Substack community GRP Insider where you can opt to receive by email our more comprehensive and in-depth free weekly newsletter GRP Mail. Consider also supporting our efforts to remain an independent channel for social commentary and insight by sponsoring us through a small donation or a monthly paid subscription.
Subscribe to our Substack newsletter, GRP Insider!
Learn more
In hindsight, it seems that while we were all busy celebrating the virtual "overnight" tranformation of Manila into a modern Hong Kong-style metropolis, we missed the inconvenient fact that building up of important infrastructure to support all these "transformations" crawled along at a snail's pace and failed to keep up.
For example, for every additional liter of water that could be flushed down each of the new kubetas installed in one of those millions of cramped apartments in these hastily-built high rises, I wonder how many additional liters of drainage capacity in our city's sewerage system had been added over the same period?
As a kid in school, we used to be told the old parable of the house built on sand…
Therefore everyone who hears these words of mine and puts them into practice is like a wise man who built his house on the rock. The rain came down, the streams rose, and the winds blew and beat against that house; yet it did not fall, because it had its foundation on the rock. But everyone who hears these words of mine and does not put them into practice is like a foolish man who built his house on sand. The rain came down, the streams rose, and the winds blew and beat against that house, and it fell with a great crash. (Matthew 7:24-27)
What sort of foundation does Metro Manila have? From what I am seeing today, it seems that it is a disaster slowly unfolding before our very eyes.
Frustrated artist doing geek for a living.