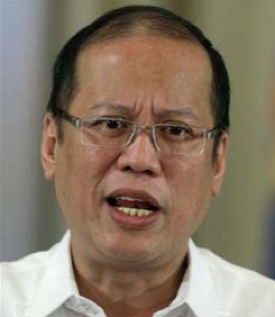 Seems like a campaign is being mounted by Malacanang to backpedal on prior calls to "abolish" most forms of discretionary funds within the budget — such as Congressional pork barrel and "special funds" at the President's disposal which many have described as Philippine President Benigno Simeon "BS" Aquino III's personal pork barrel. It has, indeed, begun and is reportedly starting with an appeal to the Supreme Court to dismiss complaints being lodged at their office against the continued disbursement of these funds…
Saying "reforms are already underway," President Benigno Aquino III and fellow respondents have asked the Supreme Court to junk petitions seeking to have the pork barrel system declared as unconstitutional.

In a 23-page comment filed Monday, the Office of the Solicitor General also urged the high tribunal to lift the temporary restraining order on the Priority Development Assistance Fund (PDAF) in 2013.

The respondents argued that the TRO would "work to the damage of innocent citizens who rely on the operations of the PDAF for educational and medical assistance purposes."
In mid-July of this year, no less than presidential spokesman Edwin Lacierda issued a categorical challenge to all members of Congress to give up pork citing the way former Senator Panfilo Lacson had refrained from using his own pork barrel allocation while he was a member of the Senate — an achievement Lacierda described as "worth emulating".
An announcement made later by President BS Aquino that he will see to it that these pork barrel funds will be "abolished" was seen to be a wily attempt to water down a growing public clamour against pork that reached a crescendo in the "million people march to Luneta" rally held on the 26th August in Luneta.
Unfortunately for President BS Aquino, his credibility as an objective determiner of the fate of these controversial funds has been put to question following revelations that he has in a few occasions in the past consorted with alleged pork barrel scam ringleader Janet Lim Napoles following the emergence of photos of Aquino posing with members of Napoles's family including Janet herself.
Not many people are surprised. As Get Real Post writer Ilda had earlier observed…
It's no secret that President BS Aquino uses the pork barrel funds to wield power over members of Congress, which is supposed to be an independent branch of government. This was evident when he strong-armed members of the lower house into signing a hastily and badly written impeachment case against former Chief Justice Renato Corona. After months of relentless trial-by-media propaganda against Corona before and during the trial, BS Aquino and his army of "little-ladies" who helped gather "damning" but false evidence managed to rile up the public against Corona. Members of Congress were eventually compelled to convict him for what they interpreted as his failure to fully disclose his dollar savings in his statements of assets, liabilities and net worth (SALN).
A skeptical public has long suspected that there is no way in hell pork barrel politics will ever be eradicated in the Philippines. For many politicians, pork has become the whole point of campaigning for a seat in Congress. The business community, for its part, have strong interests in keeping the pork flowing from the public coffers into the dubious "public works" that dot the country. And, of course, where else do dole outs to social parasites like squatters and vote sellers come from but from all these virtually unauditable sources of illicitly-appropriated taxpayers' funds.
Seeing that the President himself is now trying to weasel his way out of a promise to "abolish" pork makes it difficult to maintain any hope that true reform is in the Philippines' cards over the foreseeable future. So much for daang matuwid.
benign0 is the Webmaster of GetRealPhilippines.com.