To a jaded moviegoer who thinks he has seen it all, "Metro Manila" offers a compelling reason for viewers to revisit Philippine cinema. I was recently invited for the press screening of "Metro Manila" last Tuesday August 13, at "The Block" in SM North Edsa. "Metro Manila" was directed by the UK's Academy Award nominee Sean Ellis whose recent renown came from other critically films such as "Cashback" and "The Broken". The film stars Jake Macapagal, Althea Vega and John Arcilla to name a few. Prior to the press viewing the film has managed to bag the "Audience Award" in the 2013 Sundance Film Festival. With such credible accolades, expectations run high; especially for one who had to drive unexpectedly for 50 kilometers and back just to see the film.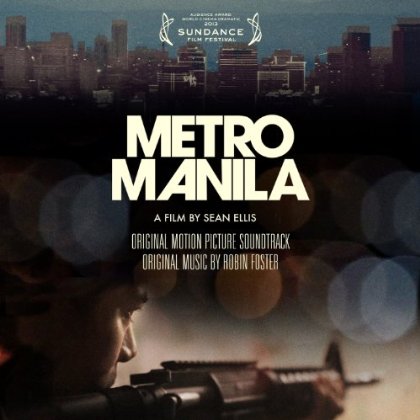 The title and tagline: "Metro Manila" – Desperate Men Take Desperate Measures, trite and cliché as it may seem reveals very little about the film's content. It may even be setting itself up for possible disappointment. The movie poster depicts the silhouette of a man wearing a Kevlar helmet, shotgun in one hand and metal case in the other. There is a backdrop of a woman (the obvious love interest). I thought I was about to see a Filipino action movie. While cliché seem to be the order of the day, here is another one: "Do not judge a book by its cover!"
The film begins with a situational for the characters' beginnings under a tranquil and majestic visual landscape of the Rice Terraces. It starts in the highland rice farms of Banaue where the couple with their two children struggles to survive, only to be caught up in a vicious cycle of rural poverty. They make a move to the city with everything they have in hopes of better fortunes in Metro Manila. The decision is shortly followed by a series of unfortunate events. Starting with a stalled jeepney that foreshadows the rest of the film in poetic portrayal. While in the jeep over to Manila his daughter finds a shiny coin and hands it to his father; a symbol of luck and hope despite the difficult circumstances. The first few moments in the film almost seemed draggy and perhaps it was meant to be so. I asked myself: "Where is the writer / director going with this?" Upon the family's arrival in Manila, the film changes its tempo to a choppy and frantic pace. The family desperately walks through the mad crowds of Quaipo's Feast of Nazareno. The viewer is bombarded by a flurried chaotic congestion. It is visually overwhelming yet carefully premeditated. It is a visually eloquent film, stark and crisp to its brutal details. You could swear that the director is a photographer who also has mastery in the medium of "moving pictures".
Beyond the visuals, we have a story well told. An innocent and unassuming provincial couple that is pushed into a hostile environment by circumstance makes for characters we can all sympathize with. To make a long story short without spoiling it (as there is great danger), the couple falls into a vicious cycle where the man as a last resort finds a job as an armed personnel for an armored vehicle and the woman out of desperation to feed her child is pushed into prostitution. While this may all seem quite typical, the other characters in the story do so well in making a simple scenario deep and complex (Credit to John Arcilla and Miles Canapi). With such naïve and unassuming characters played by Jake Macapagal and Althea Vega, it makes the viewer ask about people and their intentions. Are people generally good or evil? Is there any hope within the thick slurry of social degradation? Is there any redemption from the typical scenarios that ensnare the common man and woman in poverty? The story is rendered in indelicate rhetoric and delivery that punctuates the desperation with further insult and debasement. The viewer in his sympathy says prayers in breaths hoping for some breakthrough and relief from the bitter and naked realities of city life. While this is no action movie, the film spares no details in moments of brutal violence.
The story does however have its undulations of hope and happiness: enough for the viewers to press on with the characters. This however is interrupted by a thickening plot. There is an escalation of complex twists. The story was never predictable. It is progressively involving. While watching, I lost any sense of when and how it was going to end. I was clinging only to hope in honest desperation yet resolved in accepting the tragedies of reality. A tragedy it might have been at dismissal, but who am I to spoil it? Having seen the film, I could only urge the reader to unravel the clever plot by himself. The story is really that good.
To be devoid of the glare that comes with mainstream stardom is a good thing. It makes for more authentic and believable characters. Combined with skillful writing and directing, this makes for a very engaging and effective story that is progressively and towards the end absolutely engaging. With such dramatic performance these actors are worthy of even deeper respect. It is a film that does not sugarcoat poverty, as we would usually have it, but exposes its brutal and naked realities in visual and dramatic poetry. It is a story that is saturated with social relevance yet does not fail to engage its audience in crisp artistic drama. A copy of this film is making it to my shelf for posterity.
John is a Senior Management Consultant for Strategy and Planning and has consulted with some of the most famous local and international companies. He has a combined experience of 15 years in the area of Enterprise Development and Corporate Strategic Planning. He has been a Professional Manager, a Management Consultant a Development Economist and an NGO Executive Director.