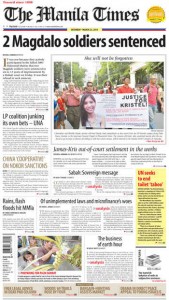 Later on this evening (between 8:30 and 9:30 pm, to be precise), the Philippines will join 151 other countries around the world in celebrating Earth Hour, an annual exercise in environmental slacktivism that began in Sydney, Australia in 2007. The main activity of Earth Hour is, of course, switching off one's residential and other non-essential lighting for one hour as "a symbolic gesture encouraging people from all over the world to commit to more sustainable lifestyles through smarter choices," according to the Earth Hour page on the WWF (World Wildlife Fund) Philippines website. Fueled by heavyweight corporate sponsorships and a global population who have become accustomed to social media-inspired "symbolic gestures," Earth Hour has become increasingly elaborate, with dozens of "events" scheduled to mark the occasion.
To be fair to the WWF, the organization behind Earth Hour, at least some attempt is made to deliver the message that the single hour is not an end in itself, but should be used as inspiration to become more attentive to the environment and our impact on it. New this year is the "I Will if You Will" challenge, wherein people are invited to pose an environmentally-related challenge to others; for example, Earth Hour Philippines Ambassador Mikee Cojuangco-Jaworski has posted a challenge that she will donate 500 trees to the Abuan Watershed if 500 people stop smoking for at least 5 days. On a somewhat sillier note, WWF-Philippines Ambassador Marc Nelson has pledged to kiteboard from Boracay to Panay wearing a panda hat if 1,000 people pledge to use reusable coffee cups.
Inasmuch as we might give the organizers and supporters credit for good intentions, when one begins to take a hard look at who's behind Earth Hour and what it really accomplishes, the entire event seems a bit dubious.
Read the rest of the article here.
I write a column for The Manila Times on Tuesdays, Thursdays, and Saturdays. Most of the energy sector and the heads of several government agencies probably wish I didn't.